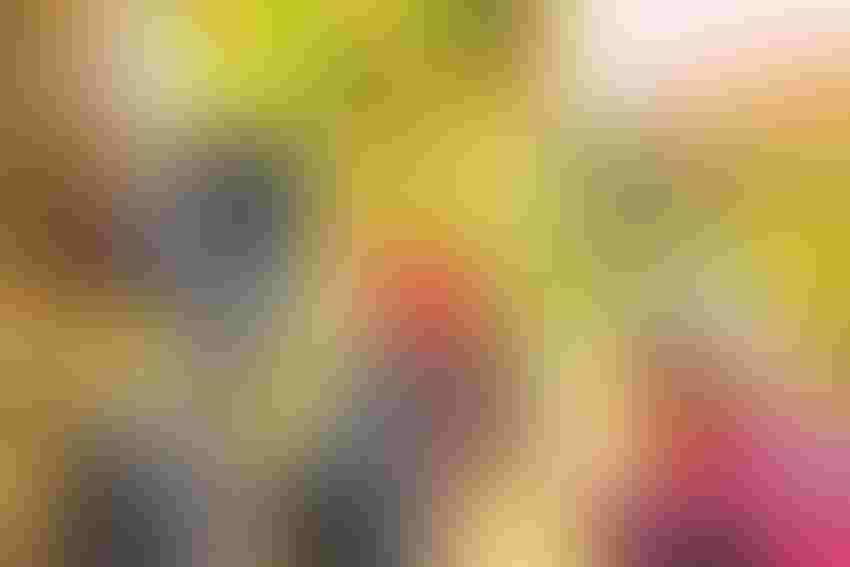 fotoluk1983/iStock/Getty Images
Vineyardists in California's prime winegrape growing region are gearing up to begin harvesting a crop that's likely to top the 4 million ton mark statewide for the third straight year.
The Napa Valley Grapegrowers organization reports that veraison, an annual benchmark of the winegrape growing season, has been under way since about the third week of July. Known as the onset of ripening, veraison "marks the colorful transition from grape growing to grape ripening, resulting in several changes in fruit development," the organization explains in a news release.
In veraison, grapes not only change color but also begin to increase in weight, volume, and sugar content.
"Reports of veraison are starting to come in," says Brittany Pederson, director of viticulture at Renteria Vineyard Management and a NVG member. Coastal temperatures that were to average in the high 80s to mid-90s were expected to prompt veraison at a steady rate, she says in the release.
MONITORING VERAISON
Vineyard managers have been monitoring veraison daily as red winegrapes have slowly turned from green to red, and purple and white winegrapes changed from green to a golden yellow. Each grape variety ripens at a different rate.
The prospect of veraison occurring at about its normal time means that crop development in many areas has nearly caught up after spring rains and cool temperatures got grapes off to a slow start. Hot afternoons in July in many areas likely sped things along.
In anticipation of the harvest, wine suppliers have been pushing to move some of their large inventory to make room, Ciatti Company, a San Rafael, Calif.-based wine and grape brokerage firm, reported earlier this summer.
"Fruit is developing at a nice, steady rate," said Duckhorn Wine Co. viticulturist Courtney Shifflett. "This will make for a later harvest than last year, but we predict the fruit quality to be excellent."
Vintners say the 2018 growing season has been consistent, if progressing a little later than last year. Overall, the majority of clusters are uniform, creating ideal conditions for veraison, according to NVG.
LEAF REMOVAL, WEED CONTROL
At this point in the season, growers go through the vineyard and remove some leaves to eliminate excess shade and allow sunlight and air flow through canopies, and they practice weed control to preserve soil moisture and minimize pests.
Last year's crush totaled just over 4.23 million tons, up less than half a percent from the 2016 crush of nearly 4.22 million tons, according to the California Department of Food and Agriculture. The two vintages were a sort of return to normal for the industry after drought-related water shortages led to lighter crops in 2014 and 2015.
Industry leaders have expected production to flatten out at about 4.25 million tons a year statewide as growers have been planting at an attrition rate since 2015, meaning they have planted at the same rate as they have removed vines due to age.
In the Napa Valley, the industry signaled that harvest was around the corner by holding the seventh annual "Dia de la Familia" July 22 for more than 2,500 farmworkers and their families. Nearly 50 community organizations took part in the street festival hosted by the Napa Valley Farmworker Foundation, according to a news release.
For more information about the Napa Valley Grapegrowers, visit https://napagrowers.org/
Subscribe to receive top agriculture news
Be informed daily with these free e-newsletters
You May Also Like
---