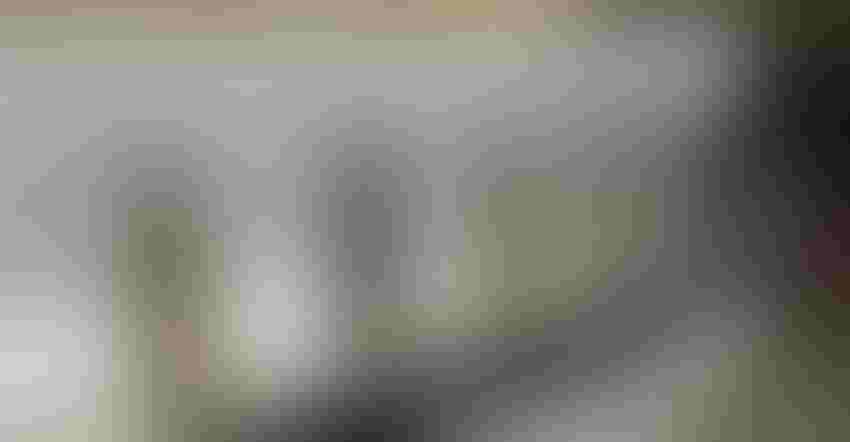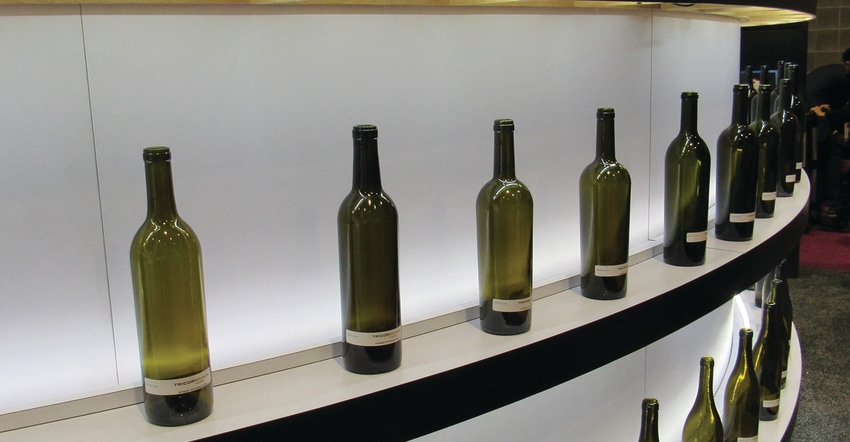 Wine bottles are on display at the 2022 Unified Wine and Grape Symposium in Sacramento. This year's crush could amount to about 4 million tons.
Tim Hearden
Given the benefit of hindsight, we sometimes adjust earlier computations…as in this case.
In the Allied Grape Growers Winter Report released in late January, President Jeff Bitter provided his annual General Industry Outlook that included a 10-year estimate of annual wine grape yield and an admission that, "Costs associated with grape production and vineyard development have escalated to an unsustainable clip over the last year as vineyard businesses are not immune to the rise in inflation."
Acknowledging that, "Current inflationary pressures seem likely to have a significant disruptive effect on our economy, our lives, and our businesses that will last well beyond 2022," he said.  "Central to winegrape growing are cost factors like fuel, fertilizer, labor, utilities, and water that I argue are not going to go back to 'normal'.  Does anyone really think these will get cheaper?  If they do, they should be reminded that they are in California.
"Winegrapes are simply going to cost more to produce.  Winegrape growing has never been near the top of the list of highest-margin ventures to begin with but jumping input costs are really pinching any margin that might actually exist."
An Allied Grape Growers yield chart over the past decade [2012-2021] graphically indicates general average yield to be about seven tons per acre across the state with the last two years being significantly less.
Tallying up tonnage of grapes previously crushed and adding in anticipated modest plantings --- somewhere in the range of 15,000 to 18,000 vineyard acres this year --- Bitter termed the situation "stable with a chance of oversupply."
And the annual Silicon Valley Bank State of the U.S. Wine Industry Report seemed to corroborate his opinion that California's supply of grapes had been brought back into temporary balance — despite the fact there was an overage of vineyards to support sustainable farming.
The global wine and grape brokerage firm of Ciatti reported in mid-February that the California Department of Food and Agriculture had issued a Preliminary Grape Crush Report for 2021 indicating the harvest was just a few grapes short of 3.6 million tons — 3,613,909 tons — and was larger than the year before, but still below what would be considered a normal crop.
Year of recovery
Bitter also addressed the Unified Wine & Grape Symposium earlier this year in a presentation titled, "Experiencing Recovery."  He categorized 2019 as a year of adjustment; 2020 was labeled a year of correction; he called 2021 a year of uncertainty and termed this year one of recovery.  As part of a historical decade chart showing grape supply, he estimated that this year's crush would run in the range of 4 million tons as would estimated yields in 2023 and 2024.
Predicting the future is a dangerous business as changing variables modify possible outcomes.  That said, Bitter was offered a do-over, a second chance at guesstimating how this year might turn out ---"When speaking about the big picture, I'll stick with what I said earlier.  The 2022 crush will be a result of average production, but it's hard to predict accurately when we're in the early stages --- hard to envision the crop when it hasn't even been grown.
"But nothing has really changed from what was said in January and the February crush report confirmed exactly what we were saying in terms of production trend and where we could potentially go in the future.  The next prediction point will come at the end of April when we can kind of see what's out there and get a feel about bunch counts, but based on what I'm currently seeing, I don't expect any major surprises beyond some pessimism about an average crop."
Subscribe to receive top agriculture news
Be informed daily with these free e-newsletters
You May Also Like
---