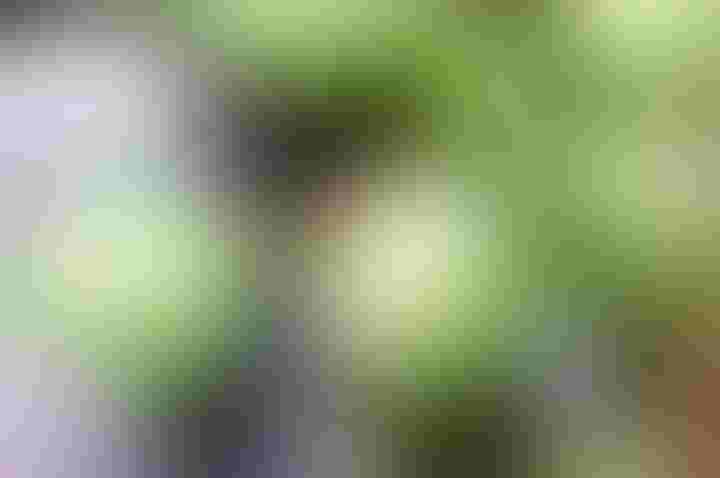 Add Santa Clara County to the eight other California counties where infestation levels of European grapevine moths (EGVM) have been trapped and quarantines established.
Three EGVM moths were snagged in pheromone traps in mid-September in south Santa Clara County which prompted state and federal officials to establish a 93-square mile quarantine area bounded by Gilroy, Morgan Hill and the eastern edge of Santa Cruz County, according to Kevin O'Day, Santa Clara County acting agricultural commissioner.
This brings the total for statewide quarantine areas to more than 2,000 square miles in Mendocino, Sonoma, Lake, Napa, Solano, Merced, Fresno, San Joaquin and now Santa Clara counties.
Although large, this total area represents a small part of the state's total 40-county grape growing area.
However, the latest find of third-generation moths in Santa Clara must heighten concern statewide for the $4 billion grape growing industry.
EVGM was first detected in Napa County in September of 2009. It was the first time EGVM had been detected in the U.S.
EGVM feeds only on grape bunches. It is a pest of major economic importance in Europe, North Africa, the Middle East, southern Russia, Japan, and recently Chile.
Second and third generations cause the most damage by direct feeding on mature grape berries and indirectly by predisposing the crop to bunch rot.
Damage is greatest in grape cultivars with compact clusters or sensitive to rot.
The initial infestation in Napa County can only be characterized as significant. At least one grape grower lost his entire crop to the pest that year. This prompted the state to begin an aggressive trapping program statewide to see if it had spread. The state deployed 47,000 traps in all grape growing areas of the state.
With the multiple finds in widely separated areas of the state, government officials have urged growers to aggressively treat for the pest. They have ordered homeowners in quarantine areas to destroy backyard grape crops.
In the spring of 2010, trap counts in the Napa area numbered in the thousands, indicating a well-entrenched, if not resident EGVM population. Growers have been aggressively spraying to prevent an established population and have had success.
Pheromone trap success
The 4,000 pheromone traps (one per 20 acres) in Napa County are telling the success story.
 "At the end of last season there were vineyards with really bad EGVM infestations," says Martin Mochizuki, Napa County's EGVM grower advisor. "We were seeing almost one larva per berry."
This year, about 99,000 first-generation moths were caught in 4,000 pheromone traps deployed countywide. "During sunset, at the peak of the first flight, you could see the moths swarming like mosquitoes," says Napa County EGVM grower adviser Martin Mochizuki.
Following an aggressive first-generation treatment effort by growers in the infested area, only 1,300 moths were trapped in the second generation. By the third generation, the trap count had dwindled to only about 100. No grape damage was reported from the second EGVM generation. So far, he has heard of only one vineyard being damaged by third-generation larvae.
Napa growers have spent about $150 per acre for conventional insecticides to control EGVM and $250 per acre for organic products.
Grower costs like that statewide to control EGVM would have a significant impact on many economically struggling wine grape growers.
The quarantines triggered by multiple moth finds are particularly insidious where fresh fruit crops other than grapes are grown since the quarantines involve hosts of crops. It doesn't cause major damage in non-grape crops, but it can survive on olives, plums, apricots, cherries and many other crops and ornamentals.
When a quarantine is triggered, growers and all processor within the quarantine boundaries must sign "compliance agreements" to sanitize equipment moving in an out of the areas as well as agree to other measures to prevent the spread of EGVM. These quarantines remain in effect for at least year, even if no more EGVM are detected in the area.
Single moths also have been trapped in Santa Cruz and Monterey counties. It takes at least two EGVM moth/larvae finds to trigger a quarantine. Also, at least one county, Yolo, is monitoring the movement of grapes into that county from know EGVM quarantine areas.
When EGVM moths were trapped in early spring outside of the North Coast, regulators were adamant about the fact that these catches did not mean EGVM populations were established outside of the North Coast.
Most want to be optimistic that EGVM can be eradicated. However, with each find comes growing concern that the state's grape industry is in a real fight to keep EGVM from becoming established statewide.
Subscribe to receive top agriculture news
Be informed daily with these free e-newsletters
You May Also Like
---