Researchers seek clues for using the latest insecticides even more effectively to control mealybugs
Researchers seek clues for using the latest insecticides even more effectively to control mealybugs
At least five mealybug species can be found in California vineyards. The vine mealybug tops the list of threats, followed by the grape mealybug. Depending on the region, the native grape mealybug and the invasive Gill's mealybug, longtailed mealybug and obscure mealybug can also be a concern.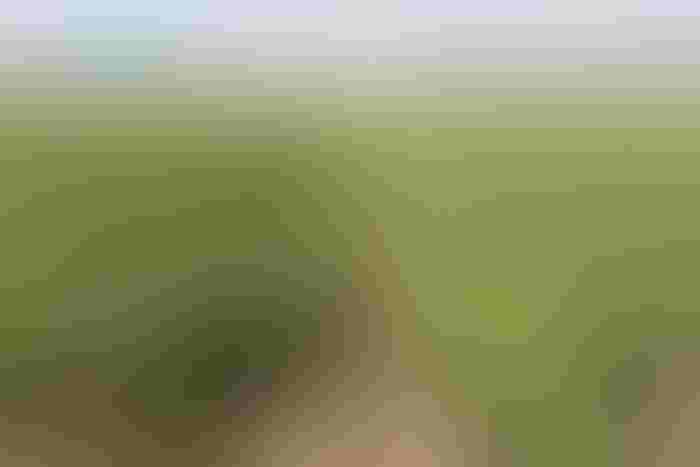 The chemical weapons available to help California grape growers limit mealybug damage in their vineyards have never been better, but industry and university personnel are still looking to improve control.
These latest generation materials include 1) foliar-applied systemic insecticides that travel throughout the vine to kill mealybugs feeding on the leaves and fruit as well as under the bark and in the roots, 2) soil- and foliar-applied neonicotinoids that provide contact action to kill mealybugs in the canopy and 3) growth regulators (IGR) that kill immature mealybugs on contact. Most of these systemic and IGR materials cause little or no harm to key beneficial insects.
Growers are making the most of these products, says entomologist Kent Daane, a University of California Cooperative Extension Specialist. "By and large, California growers are doing an excellent job in using these tools in their IPM programs to manage mealybug populations."
However, as good as these tools are, he and other UC researchers are exploring ways for growers to make even more effective use of the products. In one study, Daane is using analytical chemotography to determine where spirotetramat, the active ingredient in the systemic product Movento, and its enol are translocated within the plant. "By knowing where this material ends up, we may be able to develop new approaches for improving treatment efficacy, Daane says.
In the meantime, he recommends growers follow University of California guidelines for managing mealybugs (www.ipm.ucdavis.edu) as well as industry recommendations. Some growers may use tools other than insecticides, such as cultural or biological controls as well as pheromone dispensers for disrupting mating. "Still, insecticides remain the best and most common mealybug control tool," Daane says.
At least five mealybug species can be found in California vineyards. The vine mealybug tops the list of threats, followed by the grape mealybug. Depending on the region, the native grape mealybug and the invasive Gill's mealybug, longtailed mealybug and obscure mealybug can also be a concern.
Each of these species can feed on the roots, trunk, cane, leaves and fruit clusters of the vine. In doing so, they excrete sticky honeydew, which can build up on the trunks, leaves, and grape clusters, leading to sooty mold and bunch rot. What's more, each species can transmit at least one of the viruses (GLRaV) associated with grapevine leafroll disease.
This disease is characterized by reddening of the leaves of red grape varieties in the fall. In white varieties, symptoms are less apparent and include light chlorosis of the leaves. Leaf margins of both red and white grapes roll downward.
Grapevine leafroll disease delays bud break and flowering and affects coloring of the fruit, while cutting yields by as much as 40 percent and shortening life of the vineyard. The pathogen can be difficult to get rid of – both the mealybugs and viruses can survive on the vine roots many years after the vine above ground has been pulled.
Typically, mealybugs aren't considered as much of a problem in California raisin vineyards. However, these pests will infest clusters of all grape commodities (raisin, table, juice and wine grape) and can lower fruit quality. Also, the presence of any live or dead mealybugs and the honeydew or sooty mold reduces the marketability of table grape. In the case of wine grapes, the GLRaV viruses transmitted by mealybugs can reduce fruit quality by delaying Brix development.
The vine mealybug is the most difficult to control due to its prolificacy. "Populations of this species are much more explosive," Daane says. "In the Fresno area, they can produce six to eight generations in a year, building up greater numbers and causing more damage in the vineyards."
By comparison, in a given year, the grape mealybug produces just two generations a year and the obscure mealybug may have three, Daane reports.
"Development of the grape mealybug is very synchronized," he says. "It tends to grow under the bark on the trunk and spurs of vines before it moves out in a uniform pattern to the leaves and fruit clusters. The vine mealybug can be found throughout the year in every possible stage of life feeding almost anywhere on the vines. At harvest, some might be in the fruit clusters, some underneath the bark and others under the soil surface. This makes it more difficult to time application of the spray when it will be most effective."
Nymphs of mealybugs can enter a vineyard through a variety of mechanisms – even being blown in on air currents. More commonly, mealybugs can be brought into a vineyard on infested nursery stock or cuttings as well as on machinery, equipment and just about anything else that contacts infested plant parts. Close inspection and cleaning equipment can help prevent or reduce that risk, Daane notes.
"If you're concerned with the ability of mealybugs to transmit viruses associated with grapevine leafroll disease, there's nothing in the tool kit that provides high enough level of control needed to eradicate this pest," Daane says.
To reduce development of resistance to insecticides, Daane recommends rotating among products with different modes of chemical action, using products with the same group number no more than twice a season.
Frequency of treatment depends on an individual grower's level of tolerance of the pest and vineyard conditions, he notes.
"Vineyard managers must adjust their control tools to fit their vineyard," Daane says.
For example, a 35- to 40-year-old table grape vineyard with an overhead trellis and wide variation in trunk diameters provides numerous places for mealybugs to hide among cracks and crevices in the bark and a large canopy. In this case, insecticide coverage may be more difficult and several insecticide sprays may be needed for adequate coverage, he explains.
In contrast, a  wine grape vineyard with vines less than 5 years and with less foliage, due to lower rates of fertilizers and irrigation water to produce the desired fruit quality, one application of a neonicotinoid insecticide may provide season-long control of mealybugs, Daane adds.
About the Author(s)
Subscribe to receive top agriculture news
Be informed daily with these free e-newsletters
You May Also Like
---