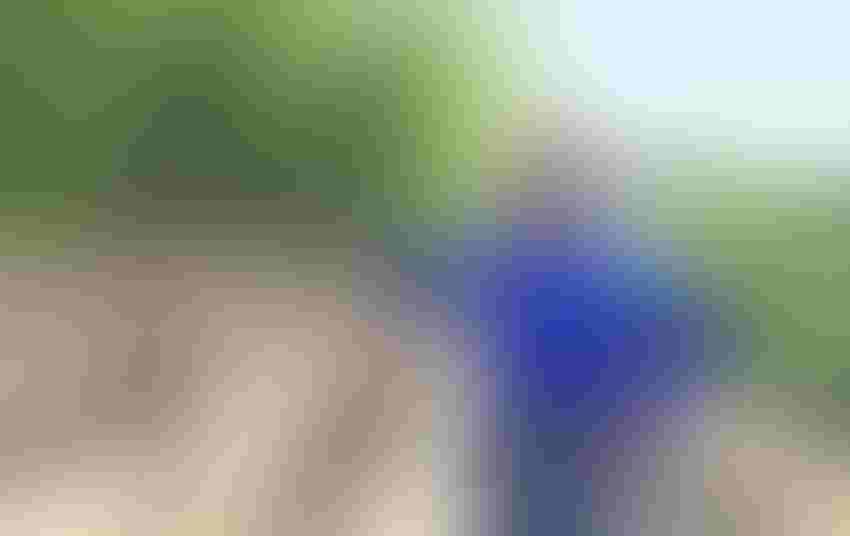 Kaan Kurtural, University of California-Davis viticulture specialist, discusses his mechanized vineyard project during a recent grape field day at the university's Oakville, Calif., station in the Napa Valley.
UC Division of Agriculture and Natural Resources
Kaan Kurtural started working on a fully mechanized vineyard to help growers save on labor costs, but then he noticed it also produced grapes with superior quality.
"We made wine from these last year and compared it to our traditionally-farmed vineyards," says Kurtural, a specialist in the University of California-Davis Department of Viticulture and Enology. "Until we tell people what it is, they can't distinguish the quality of the fruit or the wine."
He demonstrated the 40-acre experimental vineyard during a recent field day at the UC-Davis Oakville Station north of Napa. About 200 winegrape growers, vineyard consultants, and other industry representatives attended.
Kurtural designed what he calls the "no-touch" vineyard to help growers reduce the need for hand labor. The mechanized vineyard is one of six trellis systems he is studying for water use, nitrogen use efficiency, yield, and fruit quality of the grapes, a UC-Davis news release explains.
The vineyard started as a demonstration project, but when grower interest picked up, it turned into "a full-blown research project," Kurtural told attendees of the field day in early June. Video footage of his remarks can be found on the University of California Division of Agriculture and Natural Resources' website.
"It started as a way of saving labor costs, but when we started looking at the physiological aspects of how these plants grow, we saw the benefits from a quality point of view, in addition to the labor savings."
TALLER CANOPY
While grapes in a traditional vineyard are about 36 inches above ground, trunks are taller in the mechanized vineyard, with the bilateral cordon placed about 62 inches above the vineyard floor, Kurtural says. "That way we can push the rows a lot closer."
Plants are 1.5 meters by 2 meters apart, or roughly 1,340 plants per acre. A traditional vineyard on California's North Coast has about 1,300 plants per acre.
About 35 percent of leaves in the mechanical vineyard are on the outside of the plant, he says. The taller canopy protects grapes from sun damage. "These clusters set far fewer berries than a traditionally-managed vineyard, but berry size is also very small, which is what winemakers like." Leaves grow down, generating the same leaf area as a traditional vineyard, but leaves in the mechanized vineyard use water more efficiently.
Each plant in a traditional vineyard costs about $1 to manage, but the "no-touch" plants cost about 7 cents for labor operations, Kurtural says.
"The biggest expense is pruning. After that, we go through what we call trunk suckering, which is also done mechanically here, and after that they will do some sort of shoot removal to open up the canopy. That's also done mechanically. After that, if there's need, they will do a leaf removal that's also done mechanically. And as one last resort, if there's too much crop, they will shake off excess berries with a harvester."
During harvest, grapes picked by machine are sorted on board the harvester, so they go into the winery in uniform sizes, while hand-harvested grapes have to be sorted on a tray. The mechanized vineyard yields between 7 tons and 8 tons per acre — well above the 5 tons to 6 tons per acre in the conventional system, university experts say. 
HIGH-TECH PUSH
The project comes as growers of various commodities in California are starting to rely more on mechanization in response to water and labor shortages, as well as changes in state wage and overtime laws.
Agriculture across the country has increasingly been going more high-tech, with ag and food sectors investing $10.1 billion nationwide in digital technologies in 2017, including $2.2 billion spent in the Golden State, according to a UC study.
The UC Cooperative Extension has been testing and promoting new technologies in recent years. Recently, UC advisors and others met with growers in almond and walnut orchards near Red Bluff, Calif., to show the latest advances in irrigation efficiency.
At the grape field day, several vineyard equipment representatives brought their machines to demonstrate weeding, pruning, and canopy management capabilities.
Subscribe to receive top agriculture news
Be informed daily with these free e-newsletters
You May Also Like
---