European grapevine moth on the run in California
European grapevine moth on the run in California
Lucia Varela, UC North Coast IPM advisor in Santa Rosa, Calif., told the 39th annual CAPCA conference that she is "cautiously optimistic" that a major EGVM infestation in the Napa Valley has been turned back.EGVM was first identified in Napa in late 2009 where it destroyed the wine grape crop in at least one vineyard.Possibility: EGVM found its way into the North Coast on plant material or machinery imported from Chile.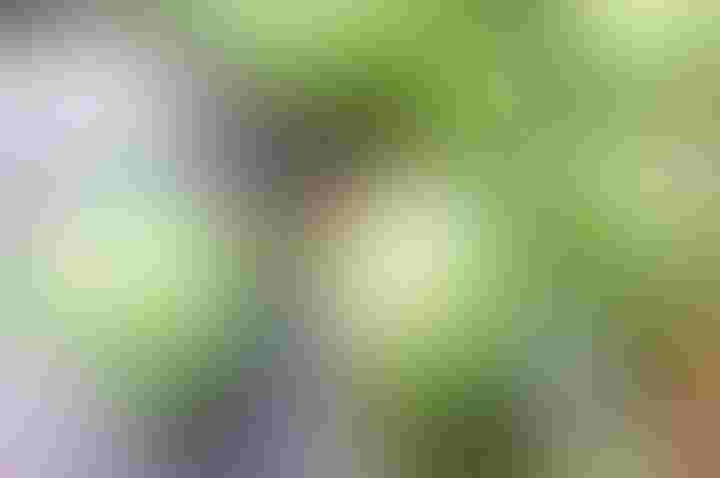 Napa Valley, Calif., grape growers, pest control advisers (PCAs), University of California entomologists and state and federal regulators have the European grapevine moth (EGVM) on the run — out of California.
Lucia Varela, UC North Coast IPM advisor in Santa Rosa, Calif., told the 39th annual California Association of Pest Control Advisers (CAPCA) conference that she is "cautiously optimistic" that a major EGVM infestation in the Napa Valley has been turned back.
She detailed some dramatic numbers to back up her optimism.
Last season 100,000 first-generation EGVM moths were trapped in the EGVM core infestation in Napa; 1,000 moths from the second generation were caught and just 250 from the third. Second- and third-generation EGVM are the most damaging.
EGVM was first identified in Napa in late 2009 where it destroyed the wine grape crop in at least one vineyard. That sparked a herculean effort in Napa around the core infestation area surrounding the towns of Oakville and Rutherford.
It has been surmised that EGVM found its way into the North Coast on plant material or machinery imported from Chile. However, Varela said federal and state regulatory officials "have not (yet) found a smoking gun."
Acting quickly after the 2009 infestation, state and federal officials blanketed grape growing areas of the state with more than 40,000 pheromone traps to see where EGVM might have wandered from Napa.
It was identified last growing season in relatively isolated portions of nine counties and eight areas were quarantined. These quarantines are triggered by trapping two or more adult EGVM within a three-mile area during one life cycle. Fewer than 100 moths were trapped statewide outside of the Napa core infestation.
Populations trapped outside of Napa this growing season were "were very, very low," she said.
By the end of the 2010 season, more than 2,000 square miles were under quarantine, which called for strict sanitation rules for moving product and equipment out of quarantine areas. Although trapped EGVM numbers were low, growers, UC entomologists and PCAs were recommending an aggressive control effort to prevent the establishment of a breeding population in those areas.
Ground zero, however, was Napa County.
(Western Farm Press offers an online, California CE accredited course on its website www.westernfarmpress.com. It is accredited for one hour of credit)
EGVM (lobesia botrana) is native to Southern Italy and is now found throughout Europe, North and West Africa, the Middle East and eastern Russia. It found its way to Japan and in 2008 was detected in Chile. That is where Varela, Walt Bentley, UC IPM adviser in the Central Valley and others first researched it on a trip there. What was learned there proved invaluable when EGVM invaded California high value premium North Coast vineyards.
Key to knockout
One of the keys for the quick, apparent knockout bunch in California was treatment of the first generation of moths. That first generation, Varela said, does not do much damage to the grape flowers, and vines often compensate if the worms cause damage.
However, that first generation, left uncontrolled, can explode into berry-damaging second- and third-generation larvae.
Europeans do not control that first generation, she said, because it does not cause damage. That could be the primary reason EGVM widely infests so many areas across the Atlantic.
Another key factor playing into California getting a quick handle on this pest is that it only feeds on grapes. It can be found in other crops, however, but does not thrive on anything but grapes.
Spurge laurel is a preferred EGVM host in Europe, but that plant is not found in the U.S. except in Washington state forests. Varela said it is imperative to keep that plant out of California.
Varela said the pest is relatively easy to control, since it does not travel far. It is not a strong flier.
Unlike its cousins in the tortrix family, EGVM moths lay only one egg. However, a single female can lay more than one egg in her life cycle. This single egg lay often localizes damage in a grape bunch to three or four berries.
Although the first generation does not damage flowers, it can build webbing. It is the second and third generations that feed on berries, penetrating the skin and causing bunch rot.
UC entomologists recommended a very aggressive control program where first-generation moths were trapped. Altacor and Intrepid were the preferred pesticides, although Avaunt, Success and Delegate also offered control.
UC worked off a European-degree model to time peak EGVM emergence, but the model was found to be off a bit in the start and end of generations. Varela said this model is being revised for next season and will be available on the UC IPM website.
Regardless, emergence of the first generation of worms can be very drawn out. Last season growers often times treated twice to catch as much of that first generation as possible. With a new degree day model, Varela said growers can better time that first spray to catch peak larvae emergence and may forego a second spray.
Organic growers and EGVM
The long first generation is particularly nettlesome for organic growers. They are relegated to basically using slow acting Bt insecticides, primarily Dipel.
Dipel is effective, said Varela, but timing is critical and it may take repeated applications. She said one organic grower in the Napa infestation zone treated first-generation EGVM four times with Dipel. She recommended organic growers examine flowers very closely, opening them up to detect any first-generation larvae.
She also recommends trapping extensively to time sprays, monitoring them weekly from bud break to harvest.
"Put out as many traps as you can monitor," she recommends.
There is also a vine-tie pheromone product to be used as mating disruption with low populations.
EGVM larvae can be confused with leafroller larvae when the worms are young. However, black or dark brown thoracic legs are the telltale sign of EGVM. The segment behind the head is darker than leafroller. The fourth and fifth instar EGVM larvae can be dark maroon.
The EGVM has at least three full generations. There may be a partial or full fourth generation, depending on climate.
Varela said while the Napa control program has been very successful and trapping last season has indicated a low population elsewhere; she said no one should let down their guard next season.
"We must continue to be very, very vigilant in 2011," she warned. After her presentation, she said that she expects more moths to be trapped next season, even in areas where trap counts were very low in 2010.
However, she does not expect a repeat of the infestation like that experienced in Napa in 2010.
"I believe we caught it earlier than Chile, since all grape growing areas of Chile are infested."
Subscribe to receive top agriculture news
Be informed daily with these free e-newsletters
You May Also Like
---