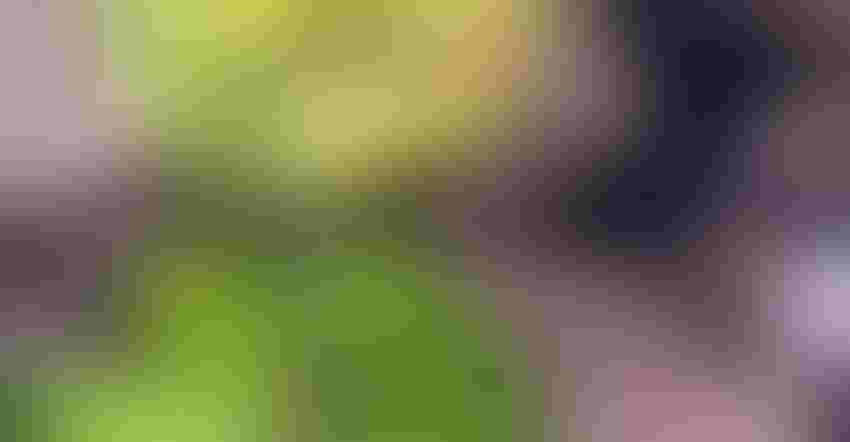 Chardonnay grapes remain one of the four-leading varietals grown in California. Of the more than 15 million wine grape vines sold in California for planting in 2020, nearly one-fourth of those were Chardonnay, which tied for first with Cabernet Sauvignon as the most popular planted varietals.
Todd Fitchette
Between the COVID-19 pandemic and California wildfires, the state's wine grape industry fared better than one might expect, though not all was worthy of a toast.
Wine industry insiders last year sounded alarms of oversupply and growth realities that did not match the optimism of a few years ago. Among those leading the call to significantly reduce supply was Jeff Bitter, president of Allied Grape Growers in Fresno, Calif.
While a pandemic that nobody predicted quickly killed on-premise wine sales, the oversupply of grapes that growers flooded the markets with over the past decade was diminished in 2020 by a short harvest and a reduction in marketable grapes due to wildfires.
Danny Brager of Brager Beverage Alcohol Consulting in California scored the industry's performance last year at an A-minus during his portion of the State of the Industry address during the annual Unified Wine and Grape Symposium, which this year was held virtually.
Aiding in that score was how the industry adapted to the pandemic and marketing channels that were created as others were shut down. Still, part of that score came as California's annual wildfire conflagrations did what the industry never suspected but benefitted from nonetheless: cut supply so much that it moved it closer to a balanced position among flatlined sales.
In the race to win consumers between wine, beer, and spirits, the clear winner based on data are spirits, according to Brager. Wine has been largely flat since 2016, and any gains in spirits has been at the expense of beer, he said. Tequila is said to lead the way among spirits.
Smoke taint
As pressing as the marketing battle is for wineries, smoke taint is an ongoing challenge as massive wildfires are a common annual occurrence across the West.
In 2020 wineries refused to buy grapes in a move with no firm basis in science that Bitter chided for how it unnecessarily hurts growers. As the industry wrestles with the science of how smoke does and does not affect wine varietals, Bitter said growers need to be cautious of contracts handed to them by the wineries that he says clearly benefits the buyer. Bitter is not alone in that counsel.
"As a grower, speaking to the grower community, be aware that when the contract is presented to you it's going to be presented from the buyer, and unless you help them craft that paragraph or clause, you want to be fully aware of what it says and understand what the implications are," he said.
Bitter continued: "Some buyers found it acceptable to reject grapes with any detection of smoke compounds. We don't think that's reasonable. We think it's an extreme position to say that just because you can measure something at a half a part per billion, that it makes the grapes or that wine unsound and unmarketable."
Not out of the woods
Bitter is continuing to sound alarms on the industry's oversupply, while trying not to "pour cold water" on the industry.
"The structural oversupply issue that existed a year ago still exists today, but to a lesser degree," Bitter said during his portion of the state of the industry address. Framing a year that will remain marked by uncertainty, Bitter worries that an industry that averaged a four-plus million-ton crush over the past decade can easily return to that and further exacerbate oversupply issues, absent an unprecedented growth in demand.
Though growers did step up their vineyard removals with some permanent moves to other crops like almonds and pistachios, Bitter said vineyards that were replanted in the past several years will soon return to bearing, bolstering the supply, and leading to a likelihood of another four-billion-ton crush.
Growers replanted about 15,000 acres of new vines in 2020, a move Bitter says is "manageable" given flat growth in sales and attrition rates of old vineyard removals.
Historically, growers have overplanted by about 20 percent since 2010, Bitter said. Roughly 70 percent of current non-bearing acreage exists in four varieties: Pinot Noir, Cabernet Sauvignon, Chardonnay and Sauvignon Blanc.
Bitter expects a reduction in the rate of vineyard removals in 2021, though he sees a couple of scenarios that could continue to shock the industry.
If 2021 yields return to record levels and the industry produces 4.5 million tons of grapes on existing acreage, this will immediately backfill the industry's shortage and return the industry to a need for increased removals. Conversely, if yields in the upcoming growing season remain below average by at least 10 percent, this will exacerbate the shortage and perhaps keep lower-performing vineyards in production.
Subscribe to receive top agriculture news
Be informed daily with these free e-newsletters
You May Also Like
---