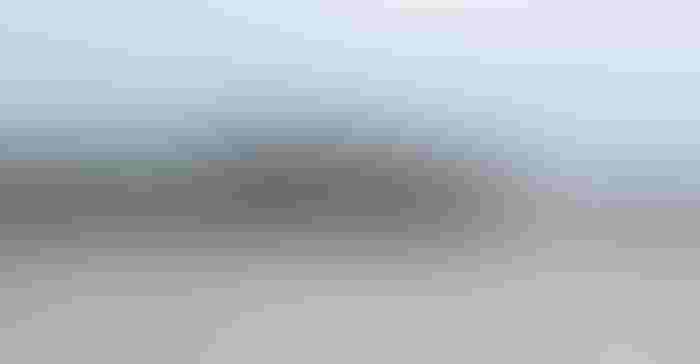 After last year's soggy spring, it looked as though the 2020 planting season was progressing quite nicely. By early May, planting was wrapping up for many, including Ben Ritter, who farms about 850 acres of corn and soybeans in the northeast corner of Saginaw County only a few miles west of the Zilwaukee Bridge.
But then the rain came. It started May 17, and it came hard and fast. Within 48 hours, Midland, Bay and Saginaw counties were pounded with 3 to 4 inches of rain. To the northeast, the towns of Au Gres, East Tawas and Sterling all got hit the hardest with between 7 to 8 inches of rain.
In this area, 5.15 inches of precipitation in 24 hours is considered a 100-year storm. The storm packed the punch of a 500-year flood event, meaning it is only likely to occur once every 500 years.
The storm's wrath damaged farm equipment, farmland, homes, automobiles and forced more than 10,000 people to evacuate after two dams were breached, one eventually destroyed and another damaged. Remarkably, no one was seriously injured or killed.
Without the dams, Wixom and Sanford Lakes are reduced to puddles, as they drained into the Tittabawassee River, which crested at 35 feet — short of the 38 feet that was predicted.
Good start
With the rainy spring of 2019 hanging heavily in his mind, Ritter, who farms with occasional help from his retired father, Gilbert, increased his crop insurance for the year to 80% from 75%.
"The Army Corps had been saying right along that we should be ready for the Lake Huron/Michigan water levels to go 1 to 2 feet higher than they had been in 2019," he says. "We brought in dirt for dikes and prepared for that, or at least thought we did."
Planting wrapped up May 11. A nice, quarter-inch rain followed right after planting, noticeably saturating everything. Two days later, another 2.8 inches of rain fell to create some standing water.
"It was nothing to freak out over, but we were doing what we could to trench it off and the surface water had started to disappear," Ritter says. "But then we hit the beginning of the dam storm surge."
Ritter, 43, farms on two different elevations. On his high ground, he lost about 5 acres of corn to rainfall, not touched by the flood. In early June, water was still standing.
On the lower elevation, he was waiting for an adjuster, but expects to take 160 acres as a crop failure.
He's got another section that includes 120 acres of beans in three, 40-acre parcels. At the time of this writing, he was debating on the course of action, as 40 acres has some good-looking beans, while 50 of the 80 remaining acres are washed out.
So, if he writes it off and can't replant, he loses 40 acres of potential profit on the good beans. "I'm trying hard to get it planted," says Ritter, who estimates 65% of his crops look pretty good.
Beyond Ritter, on an even lower elevation, he says there's a farmer with 12-foot dikes that maintained through the surge and, with pumps, did not lose anything.
Another perspective
Michigan Farm Bureau District 10 director Leona Daniels, 64, farms with husband Ken, 69, in northern Arenac county. They've downsized considerably in recent years, but they still are farming about 350 acres and raising corn, soybeans, hay and steers. Their farm is on the highest geographic point in the county.
"We don't have flooding, but we do have water after getting 8 inches of rain in 40 hours, including 6 inches in one day," she says. "With super wet fields, we were concerned about corn emergence, but our corn came up fine, just as most in the area."
Flooding ranges vary from one end of Arenac County to the other, she says. "It's the worst in the southern and eastern edges, but it's definitely impacted every single farmer. Many worse than us."
Only a few miles away in the Au Gres-Twining area, a farm of 2,000 acres had finished planting when the rains hit. "Weeks later, they are estimating only 450 acres are not under water," Daniels says.
Other problems
Numerous roads are washed out and closed, Daniels says. "Culverts are gone, and the substrate of gravel and stones was carried into fields upward of 100 feet — maybe 6 to 8 inches deep," she explains. "Farmers want to know who is responsible and where they can go for help. They are faced with issues they've never had to deal with before. It's a cumulative effect that is beginning to wear on farmers."
The road Daniels lives on has been sliced to one lane. "If they don't get to fixing that, instead of us running a half-mile down the road, we'll have a 4-mile detour," she says.
In Ogemaw and Gladwin counties, Daniels says she's hearing reports of major crusting, requiring rotary hoes to break it up. "And now there's a lot of erosion in fields."
Cost estimate
Tim Stein, Arenac County Farm Service Agency executive director, wouldn't be surprised if the loss in yield income alone is more than $1 million.
"It's early in the growing season," he says. "In Arenac, Iosco and Ogemaw counties, if you figure $500 to $600 gross an acre, times 6,000 impacted acres, times 35% of lost yield, that's about $1.2 million. It could be more."
Stein expects it to take three months to totally assess damage, from prevented plant, failed crops and those subject to low yield. "It is really bad in the Au Gres area where it flattens out," Stein says. "At one time, the water was 4 or 5 miles wide and 7 miles long when the Au Gres River escaped its banks," he says.
State climatologist Jeff Andresen says, "These heavy rainfall totals are abnormal, and in some cases almost triple the normal precipitation depending on location. But they are becoming consistent with a longer-term trend of wetter springs."
Since 1895, 2019 was the wettest year on record for the state with 41.82 inches of rain — a full 10.69 inches above long-term normal, Andresen points out. The old record was 39.27 inches set in 2017. "That's not just eclipsing the old record, that's shattering it," he says.
Jim Zook, executive director of Corn Marketing of Michigan, says other major rainfall occurred in and around Ionia, Lake Odessa and into Barry County. "With farmers putting in more tile, it's reduced the amount of ponding, but nothing can compensate for 5- to 8-inch rainfalls," he says.
While these were major rain events, he expects the state's corn yield to be relatively unaffected. "As a percentage of the state's whole crop, maybe we'll be down 2% to 4%," Zook says.
Subscribe to receive top agriculture news
Be informed daily with these free e-newsletters
You May Also Like
---