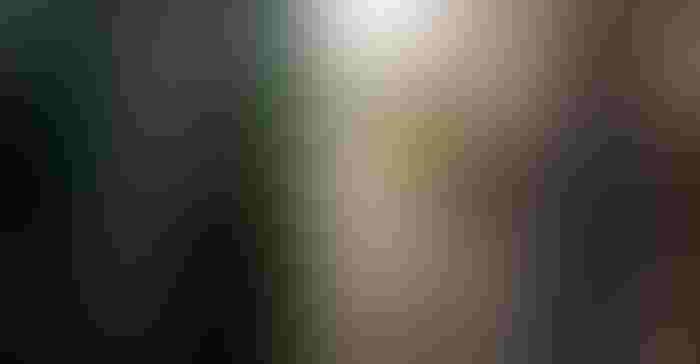 From the heart of Iowa, Shannon and Cory Eldridge are helping Midwest dairy and beef producers advance their herd genetics with new in-vitro fertilization technology. Through this simple IVF process, producers speed up genetic progress in their herds and improve reproductive efficiency while reducing costs.
Shannon and Cory own Diamond Bar E Genetics at State Center in Marshall County. In June, an Oregon-based company, Vytelle, partnered with the couple to open a satellite ovum pickup (OPU) site. There, certified Vytelle reproduction specialists collect oocytes from donor heifers and cows using the company's hormone-free procedures.
The Diamond Bar E Genetics location is a short drive from a newly opened Vytelle laboratory in Ames. At the lab, technicians clean, sort and fertilize collected oocytes and mate them with semen from the producer's choice of sires.
Producers also have the option of using the ST Genetics reverse sorted semen technology to produce sex-specific embryos according to their needs. After a few days in culture, where the development process from oocyte to embryo progresses, the company delivers high-quality embryos for transfer into recipient animals or use a frozen and direct-thaw method for future implantation.
"The lab in Ames produces embryos that can be immediately transferred fresh into the recipients or frozen for later use," Cory says.
Easy for animals, owners
The Vytelle process eliminates the need for follicle-stimulating hormone to stimulate follicles for the collection of oocytes. Traditional IVF procedures require a series of FSH shots to set up donor animals for oocyte collection, requiring additional animal handling, expense and stress.
The non-FSH process is easier on cattle and less labor intensive for producers. Cows and heifers can be kept in their pastures or pens up until the time they go through the chute for collection. Heifers can be collected as short yearlings through pregnancy as long as the ovaries are accessible. After 15 days post-calving, cows can be collected at any time throughout the breeding cycle.
"Producers are impressed with how quick the process is," Cory says. "They find it is easy and economical. There's not a huge time or labor investment, and less hassle compared to other IVF practices that require additional hormones. Collection takes about 12 minutes, and the donor animal is able to return to her natural environment."
Showcasing new tech
The Diamond Bar E Genetics recently hosted a Vytelle-sponsored OPU event, when 21 donor animals were collected by William Garcia, a Vytelle-certified reproductive specialist. The day gave producers an opportunity to view the ultrasound-assisted OPU process, while the technician collected oocytes from individual animals.
"William explained what he was doing throughout the collection process and why, giving our customers a deeper understanding of how the technology works," Shannon says.
So far, Shannon and Cory have hosted seven OPU events, where they have seen a variety of breeds and ages among the donor cattle. Both pregnant animals and young heifers have been successfully collected at Diamond Bar E Genetics, with some animals returning as repeat donors, producing embryos every two weeks.
Feedback from producers has been positive. The advanced OPU process yields high numbers of oocytes that then yield higher numbers of high-quality embryos due to the proprietary media used in the Vytelle embryo development process. The IVF process yields pregnancy rates on par with traditional artificial insemination. with some Midwest producers reporting pregnancy rates as high as 77%.
Another benefit of the Vytelle system is its payment structure, according to Michael Bishop, Vytelle director of strategy. "Producers pay one price for Grade 1 embryos that are produced. Some producers request the Grade 2 embryos as well, and we selectively provide them to the customer for a lower price," he says. "There are no hidden fees and no charge if the process yields zero embryos. Furthermore, we are dedicated to customer service and their success. If a customer has a problem, we take care of it immediately."
Options for producers
In addition to serving as a Vytelle satellite OPU site, Diamond Bar E Genetics also provides donor cow housing and a recipient cow supply. Offering donor cow housing alleviates the stress of trucking and time it takes for producers to haul donor cows for collection. Producers also have the option of using on-site recipient cows for implantation of embryos.
From producers who have been doing embryo work for years — whether through traditional IVF or conventional flushing — to new customers who know only a little about the process, Vytelle's non-FSH IVF process and Diamond Bar E Genetics help producers reach their genetic goals.
"This technology is going to change the industry because it's a simpler, more natural process that's better for the cow and more efficient for the producer," Cory says.
New IVF lab to serve Midwest
Vytelle recently opened a laboratory in Ames in central Iowa, to make its advanced reproductive services more widely available to Midwest dairy and beef producers. Ames is Vytelle's second laboratory in the U.S., with the other lab located at the company's headquarters in Hermiston, Ore.
The new lab will process oocytes collected from female cattle at Vytelle satellite ovum pickup centers in Iowa, South Dakota and Ohio. The Iowa collection site is Diamond Bar E Genetics at State Center. Ames lab technicians clean and sort collected oocytes, then fertilize them using the cow owner's choice of sires.
The location is integral to Vytelle's future growth plans in the U.S. and around the world. "Ames is a great hub with an excellent university and source of veterinary students from Iowa State University to help us service the Midwest and grow into other regions," says Michael Bishop, Vytelle's director of strategy.
Source: Vytelle, which is responsible for information provided and is wholly owned by source. Informa Business Media and all its subsidiaries are not responsible for any of the content contained in this information asset.
Subscribe to receive top agriculture news
Be informed daily with these free e-newsletters
You May Also Like
---