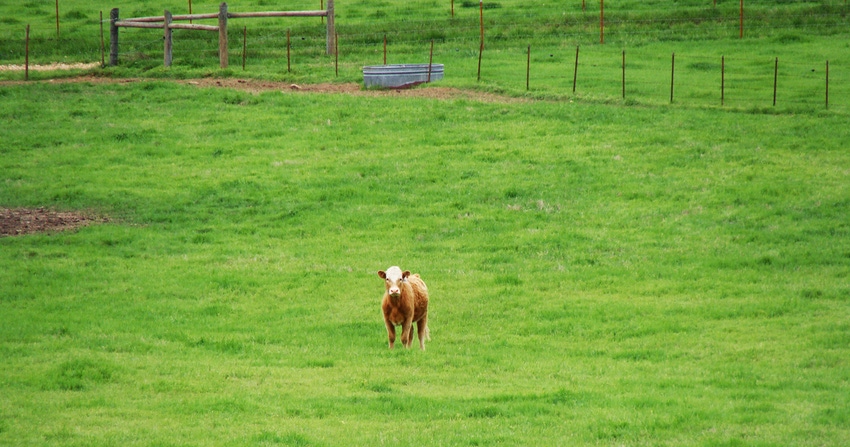 Native species of grass tend to have deeper roots that make them more nutrient frugal and water efficient, according to Dirk Philipp.
University of Arkansas Division of Agriculture
As addressing climate change and curbing global warming trends becomes more urgent, agricultural researchers have been lending their data to the discussion. 
Dirk Philipp, associate professor of forage agronomy for the University of Arkansas System Division of Agriculture, said the possibility of increasing soil carbon stocks through grazing practices carries some promise.
"There are several future opportunities for grassland farmers to produce food, while also enhancing carbon stocks and getting paid for it," Philipp said. "But at the same time, one has to be realistic about substantially increasing soil carbon and keeping it that way."
Philipp said several factors determine soil carbon sequestration that pertain to grassland agriculture.
"It's a good idea to look at them so landowners can make informed decisions in which direction to develop their properties," he said.
Topography and forage selection
Important factors include landscape topography and the forages selected for the process.
"The richness and high soil organic matter of lands in the Midwest is well known, but Arkansas is not generally blessed with deep arable soils, with exception of the Delta," Philipp said. "In areas with livestock agriculture, soils are much shallower with less total amounts of soil organic matter, prone to more drastic changes in soil water content throughout the growing season and with a less advantageous topography.
However, prairie-type grasslands are perfectly suited to Arkansas and pre-date European settlement in certain parts of the state. Today's farmers can take advantage of that information to select forage species that are well adapted to the Arkansas climate.
As such, Philipp recommends relying more on native species when selecting forage species, rather than species introduced from outside the region.
"Introduced forages such as tall fescue and bermudagrass are resilient, and their root systems are relatively shallow to take advantage of fertilization and collect nutrients from the upper soil layer," Philipp said. "Native grass species, however — particularly the taller ones such as big bluestem, indiangrass, switchgrass and little bluestem, have a very deep root system that makes them nutrient frugal and water-use efficient."
Additionally, the ratio of below-ground biomass — i.e., roots — to aboveground biomass is about 3:2 or better in native grasses.
Carbon sequestration
But the question remains: How does one actually get carbon out of the air and into the ground?
"This heavily depends on the amount of generated aboveground biomass," Philipp said. "In general, the higher the aboveground biomass, the higher the belowground biomass that at some point dies. Part of it is then converted to stable carbon compounds which remain sequestered in the soil.
"The life span of roots correlates with thickness and may last as long as a year," he said. "To continuously translocate metabolites to the roots and grow new ones, it is necessary to generate plenty of above-ground biomass." This requires conscious grazing management and an appreciation of pasture species diversity as different plants provide different rooting depths that translocate carbon to different soil layers.
"'Take half/leave half' of the forage is a good starting point," Philipp said. "But all too often pastures are grazed well beyond the point of a speedy recovery. The more leaf area left after a grazing event, the quicker the grass stand will recover."
There is evidence that rotational stocking will help increase soil organic matter — but the effect is not indefinite. Additionally, the feasibility of the rotational gambit greatly depends on the soil conditions before starting. Increasing soil organic matter for the long term, in a way that will be marketable, will likely require a substantial increase in both deep- and shallow-rooted pasture species diversity and adjusted grazing management.
It's not easy to reliably measure either amounts or gains in soil organic matter, Philipp said, but there are academically accepted methods.
"The current 'gold standard' is total carbon measured with the dry combustion method, from which soil organic matter can be approximated," he said. "About 58% of soil organic matter is carbon, and soil organic matter percentages of the total volume of soil range from 3% to 5% for most agriculturally used soil.
"Gains in soil organic matter take a long time in systems that have been static," Philipp said. "Gains are highest when converting land with temporarily exposed soil, such as cropland, to land with covered soil, such as grassland. Even in reconstructed prairies, soil organic matter gains will level off in a decade, post-establishment."
Above all, Philipp urged patience with the process.
"Gains in soil carbon will take a long time to materialize," he said.
Source: University of Arkansas System Division of Agriculture, which is solely responsible for the information provided and is wholly owned by the source. Informa Business Media and all its subsidiaries are not responsible for any of the content contained in this information asset.
Subscribe to receive top agriculture news
Be informed daily with these free e-newsletters
You May Also Like
---