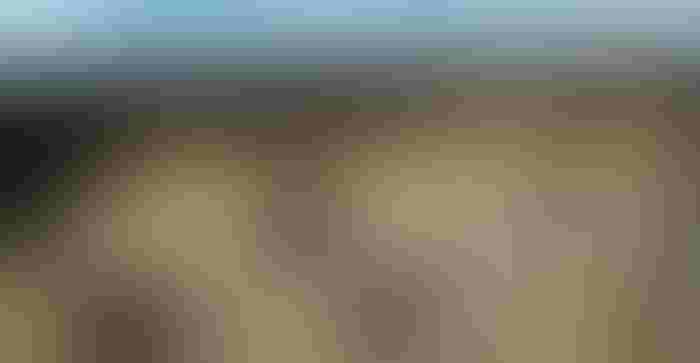 Hay has become a hot commodity in Iowa this spring, and producers with hay for sale have hauled home high prices from auctions. Demand is simply greater than supplies available.
As winter weather stretched into spring and pounded the Upper Midwest, cattle producers were running out of hay. Snow stunted the growth of spring pastures, so hay had to be fed longer before cattle could be let out to pasture. "The need to feed hay has extended further into spring than normal," says Brian Lang, an Iowa State University Extension field agronomist in northeast Iowa.
Buyers have flocked to hay auctions, looking for hay to feed their livestock. Dale Leslein, manager of Dyersville Sales Co., says attendance at that weekly hay auction in northeast Iowa, held each Wednesday, has been up. Carl Shirk, owner of Fort Atkinson Hay Auction, also in northeast Iowa, says prices have been extremely strong at his weekly sale, too.
Dry weather impacted supply
The short supply situation this spring is due to two main factors: Weather conditions in 2017 reduced hay yields in parts of Iowa and in some other states. Drought in Kansas, Texas and other areas in 2017 resulted in a lot of Iowa-produced hay being sold to buyers outside of Iowa.
Paul McGill, owner of Rock Valley Hay Auction in northwest Iowa, sells hay to buyers in Iowa and Minnesota. He says the tight supply started in his marketing area with last year's drought in the Dakotas and Montana. "We get a lot of our hay from those states. At the beginning of last summer, the drought out there didn't hurt our supplies coming in too much. But the ranchers in the Dakotas and Montana began thinking ahead and knew they'd have to feed more hay later, so they held on to the hay they had, rather than sell some of it."
Earlier this spring, Leslein at Dyersville saw something unusual. The low-quality hay used for grinding for beef and dairy cattle was fetching unusually strong prices. At one weekly sale in early April, prices for large squares of utility grinding hay topped $165 per ton. That's five times the price from a year earlier, when it was $30 a ton.
At the auction on April 25, the market was sharply higher and lower all in the same day. "That was a unique sale day," Leslein says. "We saw the low-end hay, very poor quality, drop down in price. I think the grinding market has run out of gas now. But the top-end, high-quality hay in big square bales fetched really strong prices in late April — highest prices of the year."
Demand from local buyers
A load of big square bales came in on April 25 (first-cutting hay from a year ago), and it was average quality. "We sold it by the bale, and it brought $155 per bale," Leslein says. "That figures out to $320 to $330 a ton."
The Dyersville auction sold 1,085 tons of hay that week, mostly to local buyers in northeast Iowa.
What about demand coming out of Kansas and Oklahoma where they've had range fires with dry weather this spring? Leslein has had some calls from that area, but as of late April hadn't shipped any hay down there yet. Those areas of Kansas and Oklahoma are now getting some new-crop hay out of Texas, a shorter haul compared to northeast Iowa.
Best time to sell new-crop round bales?
For the past month or so, tonnage of hay available at auctions has been down, but prices are good. Leslein recommends if you will have new-crop hay for sale this spring, "take advantage of these strong prices we have now. Because we're not going to have the number of cattle to feed six months from now that we have today."
His current observation: "We're going to have a lot less cattle on feed later on in 2018 and in the coming year. Also, I don't think dairy farmers are going to take this low $12 milk price into next winter and continue milking the number of cows they are milking today. In total, with both beef and dairy cattle, we're going to have fewer animals to feed. So the best time to sell your new-crop round bales may be when they stop rolling as they come out behind your baler."
Iowa 2017 county estimates
Last month, USDA released its final estimates for hay production in Iowa for 2017. The six maps in the slideshow below provide a statewide look at hay production.
• Alfalfa hay: Iowa's northeast crop reporting district had the state's largest alfalfa production in 2017 with 555,000 tons. The south-central district was second with 465,000 tons.
Looking at production by county in Iowa, Dubuque County was the leader in alfalfa hay production last year with 109,000 tons. Allamakee, Winneshiek, Jackson and Clayton counties rounded out the top five.
Lyon County led all counties with an average yield of 5.2 tons per acre. Monona, Delaware, Hancock, Clinton and Mitchell counties all also averaged 4.5 tons per acre or better.
• All other hay: The south-central crop reporting district had the largest production of all other kinds of hay in 2017 with 262,600 tons. The northeast district was second with 134,800 tons.
Appanoose County led all counties in "all other hay" production with 19,300 tons. Monroe, Davis, Wapello and Van Buren counties produced at least 10,000 tons.
Hardin County led all counties with an average of 3.65 tons per acre of "other hay." Scott, Palo Alto, Jackson and Dickinson counties rounded out the top five with yields above 2.75 tons per acre.
Subscribe to receive top agriculture news
Be informed daily with these free e-newsletters
You May Also Like
---