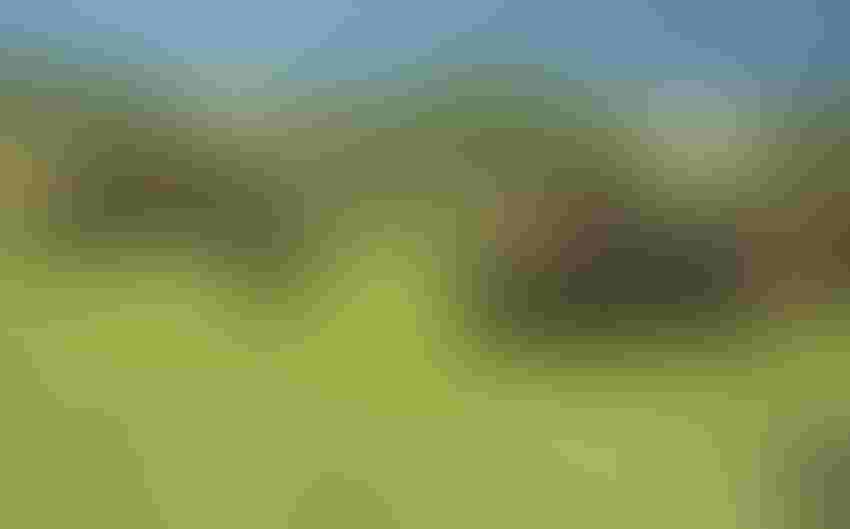 Although grass finishing takes longer and requires more acreage, good grazing management can sequester soil carbon and ultimately reduce greenhouse gas production.
Alan Newport
A new study from Michigan has boosted the case for adaptive multi-paddock grazing with data showing less greenhouse gas (GHG) emissions from grass-finishing cattle than from feedlot finishing.
When the researchers included soil organic carbon (SOC) in the GHG footprint estimates, finishing emissions from the adaptive multi-paddock (AMP) system were net negative 6.65 kg CO2-enteric per kg of carcass weight, compared with feedlot (FL) emissions of 6.12 kg CO2-enteric kg, which was aggravated by soil erosion, the authors reported.
Perhaps just important, I believe, is the fact their data shows increased soil organic matter from AMP grazing. Researchers showed a four-year carbon (C) sequestration average of 3.59 Mg C ha/yr in AMP-grazed pastures. The feedlot system showed a potentially small net loss of soil carbon, as you might expect.
Researcher Jason Rowntree adds this paper may underestimate the amount of carbon sequestered by AMP grazing because of ongoing disagreements about the dynamic equilibrium theory of carbon sequestration. Compromises were made for the publishing of this paper, but he says plainly, "We are not measuring all the carbon being accrued."
As we have described scores of times in Beef Producer, increased soil organic matter and soil life increase water capture and water-holding capacity, dramatically enhance fertility, provide better nutrient availability, and increase land and forage productivity.
Further, we showed in Richard Teague's Texas A&M research that AMP grazing increases soil health over continuous grazing, including more soil carbon, and we showed from research led by Allen Williams in Mississippi that AMP grazing increases soil organic matter and soil health more rapidly than slower, less-intense "rotation" type grazing management.
This new research -- besides reiterating that the right kind of grazing management can improve soil health -- challenges the poor science which has been aimed at the beef industry from the outside, and more incomplete science aimed at grazing managers from inside the industry.
It has been claimed beef cattle are the largest livestock-sector contributor to greenhouse gas (GHG) emissions, and that grass finishing systems create more greenhouse gases than feedlot finishing systems. These authors make the point that soil organic carbon sequestration has never been included in those calculations, and they did so.
The researchers used on-farm data collected from the Michigan State University Lake City AgBioResearch Center for AMP grazing. Impact scope included GHG emissions from enteric methane, feed production and mineral supplement manufacture, manure, and on-farm energy use and transportation, as well as the potential carbon sink arising from SOC sequestration.
Paddock rotation frequency focused on preventing overgrazing and assuring forage recovery, allowing appropriate regrowth before being grazed again, researchers said. Pastures were not fertilized, irrigated or treated for pests for more than seven years prior to this management implementation in 2010.
This new study is published in the journal Agricultural Systems under the title "Impacts of soil carbon sequestration on life cycle greenhouse gas emissions in Midwestern USA beef finishing systems."
We will cover this news and similar data in more depth for the soil health issue of Beef Producer in June.
Subscribe to receive top agriculture news
Be informed daily with these free e-newsletters
You May Also Like
---