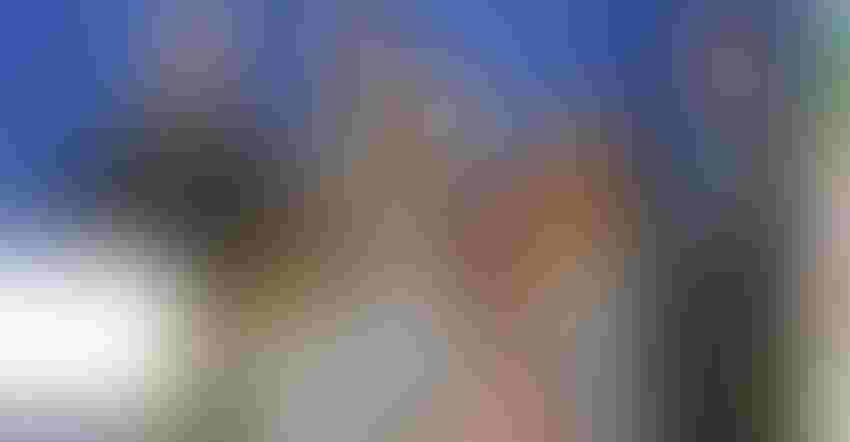 GRAND CHAMP: Harry F. Adams Jr., holding son Benjamin, was named grand champion of the World Forage Analysis Superbowl. Pictured with him are Eugene Rodberg, Kemin Animal Nutrition and Health (back left), wife MaLyssa holding Marianne, and Bill Hageman, WDE board president. In front are Abagail, Adelaid, Annabelle and Harry Adams.
Speaker Kevin Jarek asked 165 people attending the 36th World Forage Analysis Superbowl Awards Luncheon if any of the forage producers in the room had experienced drought during the 2019 growing season. Not one person raised a hand as the University of Wisconsin-Extension crops and soils agent from Outagamie County went on to discuss the challenges of this year's record wet growing season in the Dairy State and across much of the U.S.
Banquet Master of Ceremonies Doug Hartland with Dairyland Laboratories Inc. said a total of 336 entries were evaluated for the World Forage Analysis Superbowl. Winners shared cash prizes totaling more than $26,000. Awards were presented to the top five finishers in each category during the luncheon, held Oct. 2 at World Dairy Expo in Madison, Wis.
Despite a challenging growing season, several dozen producers in the room received awards for their entries in the 2019 competition. With a relative feed quality of 342 and a milk per ton score of 4,015 pounds, a dry baled hay entry by Harry F. Adams Jr. of Byron, Ill., netted the award for grand champion forage producer. Adams received a $2,500 check for that honor. The grand champion first-time entrant cash award of $2,000 went to Ro-La Dairy of Rexville, N.Y.
Additionally, two Quality Counts awards were presented. In the area of Quality Counts Corn Silage, Nor-Rich Acres, Pulaski, Wis., took home top honors. The top award for the Quality Counts Hay/Haylage went to Hardrock Farms, Wheatland, Wyo. Each of these growers received a check for $2,000.
Following is a list of the top five winners and the number of entries in each category. The grand champion (first place) in each category received a check for $1,500.
Baleage (24 entries)
Vogel Family Farms, Minden City, Mich.

Kendall Guither, Walnut, Ill.

Katherine Guither, Walnut, Ill.

Trevor Lisson, Browerville, Minn.

Rainbows End, Waldo, Wis.
Commercial Hay (17 entries)
Rooster Ranch, Casper, Wyo.

Hardrock Farms, Wheatland, Wyo.

Berney Ranch Inc., Okanogan, Wash.

Bappe Farm, Riverton, Wyo.

T&J Peterson Farms, Clinton, Wis.
Dairy Hay (23 entries)
E&H Milkers, Sigourney, Iowa

Reimer Dairy, Capron, Ill.

Evergreen View LLC, Waldo, Wis.

Rainbows End, Waldo, Wis.
Grass Hay (28 entries)
Cozy Nook Farm, Waukesha, Wis.

Indianhead Farms Ltd., Barron, Wis.

Rosedale Seeds, Oxford, Wis.

Tristan Swartz, Gilman, Wis.

College of the Ozarks, Point Lookout, Mo.
Alfalfa Haylage (43 entries)
Aaron Barclay, Seymour, Wis.

Sand Creek Dairy, Hastings, Mich.

Ethan Haywood, Hastings, Mich.

Austin Haywood, Hastings, Mich.

Degrave Farms, Brussels, Wis.
Mixed/Grass Haylage (17 entries)
Opportunity Acres, Lena, Wis.

Wilstar Holsteins, Pine River, Wis.

Egan Family Dairy, Omro, Wis.

Woldt Farms, Brillion, Wis.
Standard Corn Silage (49 entries)
O'Harrows Inc., Oconto Falls, Wis.

Acker Farms, Middleton, Wis.

Mossy Creek Holsteins, Shiloh, Ohio

Austin Haywood, Hastings, Mich.

Nor-J Farms, Celina, Ohio
BMR Corn Silage (135 entries)
Rothlisberger Dairy, Upper Sandusky, Ohio

Pine Tree Dairy, Marshallville, Ohio

Nighthawk Dairy Farm LLC, Stratford, Wis.

Jauquet Hillview Dairy, Luxemburg, Wis.

Lightland Farms, Stanley, N.Y.
The World Forage Analysis Superbowl is organized in partnership with Dairyland Laboratories Inc., Hay and Forage Grower, US Dairy Forage Research Center, University of Wisconsin and World Dairy Expo.
Sponsors of the 2019 World Forage Analysis Superbowl were led by Platinum Sponsor, Mycogen Seeds, and Dairy Forage Seminar Broadcast Sponsor, Protexia. Other sponsors included division sponsors Enogen Feed, Mycogen Seeds, Agri-King, W-L Research, Kemin Animal Nutrition and Health, Croplan by WinField, Scherer Inc., Ag-Bag, Lallemand Animal Nutrition, Barenbrug USA and Nexgrow Alfalfa. Additional support is received from general sponsors, Dairyland Seed, Passion Ag Inc., National Hay Association and Provimi.
Subscribe to receive top agriculture news
Be informed daily with these free e-newsletters
You May Also Like
---