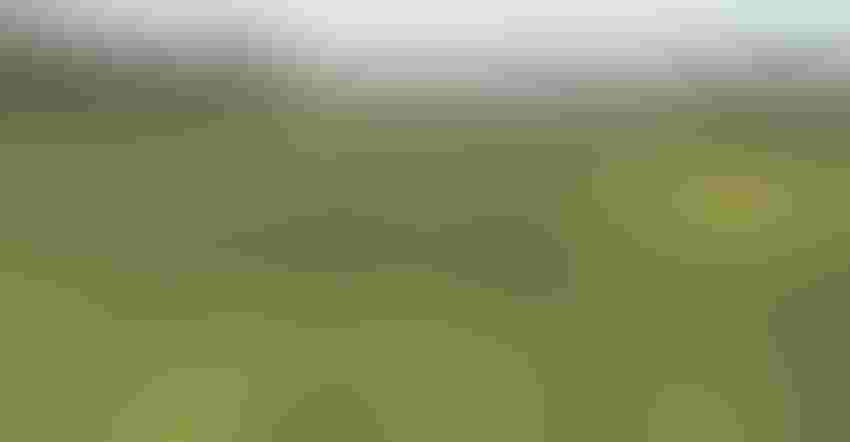 ESSENTIAL NUTRIENT: Potassium plays a vital role in plant-water relations, photosynthesis, movement of sugars, charge balance and enzyme activation in alfalfa.
By Jamie Patton
With continuing low commodity prices, many farms are looking for ways to "tighten the belt" and save money where they can. Machinery upgrades are likely a farm's first expenditure to hit the budget chopping block, with crop inputs not far behind.
To save money yet this year, some farms may be considering forgoing fall fertilization of alfalfa fields. While this offers a potential short-term savings, the long-term consequences of poor soil fertility may prove deadly — not only for the alfalfa, but for the farm's pocketbook, as well. As the old saying goes, "an ounce of prevention is worth a pound of cure," and in this case, a fertilizer application may save the heartache of having to tear out a winterkilled field next spring. 
Importance of potassium nutrition
While many environmental, genetic and agronomic management factors influence alfalfa's ability to overwinter, research has shown alfalfa stands deficient in potassium while going into dormancy are more prone to winterkill and/or decreased stand vigor in subsequent years, particularly as a stand ages. 
Potassium plays a vital role in plant-water relations, photosynthesis, movement of sugars, charge balance and enzyme activation. For example, optimizing potassium concentrations within the plant often has a positive impact on photosynthetic and translocation rates. This means alfalfa not only produces more sugar when potassium tissue concentrations are adequate, but the rates at which those sugars, nutrients and water move throughout the plant are positively impacted as well. More sugars, moving more efficiently through the plant, typically translates into better yield and better energy storage for regrowth in the spring and after harvest.
Additionally, adequate potassium levels enhance the use of protein and starch by the plant, facilitating new growth as well as the formation of vegetative storage proteins, or VSPs. VSPs are responsible for providing the necessary nitrogen required for the alfalfa to regrow after defoliation and are also believed to influence its ability to withstand cold temperatures. 
Fertilizer recommendations
It is estimated that 1 dry ton of alfalfa contains 60 pounds of K2O. Therefore, it is recommended that when soil-test potassium levels are in the optimal range, a stand with an average dry matter yield of 5 tons per acre per year should receive 300 pounds of K2O topdressed per acre annually (5 tons alfalfa per acre times 60 pounds K2O per ton equals 300 pounds K2O per acre). For soils testing higher than optimum, application rates are 50% or less than the suggested rates at optimum soil-test levels. For soils testing less than optimum, potash applications should be increased by at least 40 pounds K2O per acre. If alfalfa stand persistence is of primary importance or if the stand is to be kept more than three years, consider increasing application rates by 20%. 
For any nutrient recommendation where more than 500 pounds per acre of a fertilizer material will be applied annually, the fertilizer should be split into two applications, with half applied after first cutting and half applied in early September. Fertilizer should be applied immediately after alfalfa harvest and before regrowth begins, with care taken to avoid application to wet foliage and when soils are soft, as crown damage can occur. Annual topdressing at the recommended rate reduces the likelihood of luxury consumption (the plant taking up more than it needs) and excessive forage potassium levels (which can result in hypocalcemia in early-lactation cows), and promotes accumulation of energy substrates in the taproot to aid in winter survival.
While this article focuses on potassium, it is important to note that alfalfa production is enhanced when fields are routinely soil-tested, and pH, macronutrient and micronutrient levels are optimized. Suspected nutrient diagnoses can be confirmed using field, crop and weather history, along with analysis of soil and plant tissue samples collected from good- and poor-producing areas of the field.
Here is additional information on plant analysis. More information on University of Wisconsin-Extension recommendations for potassium fertilization of alfalfa can be found in Nutrient Application Guidelines for Field, Vegetable, and Fruit Crops in Wisconsin and Potassium in Forages.
Patton is the senior outreach Extension specialist for nutrient and pest management for northeast Wisconsin.
Subscribe to receive top agriculture news
Be informed daily with these free e-newsletters
You May Also Like
---