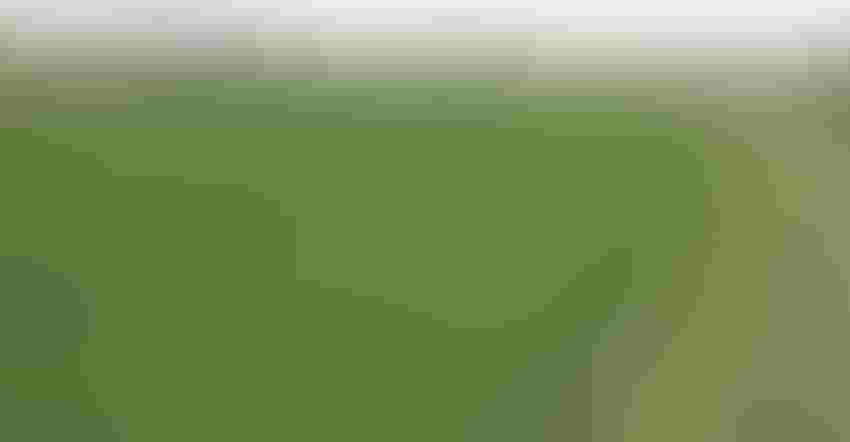 HEALTHY ALFALFA: The goal is to have an alfalfa stand like this for the third or fourth cutting late in the season. You need an adequate number of plants starting the season to deliver this yield.
Winter isn't always kind to alfalfa. Chris Parker says heaving due to freezing and thawing deserves evaluating this year.
"Winter has featured many ups and down in temperatures around freezing," says Parker, a beef and forage producer from Morgantown, Ind.
"Freezing and thawing tends to cause heaving in alfalfa," he explains. "Heaving causes crowns to move above the soil line and can result in more plant death."
Older stands may be more at risk, Parker says. The sudden cold snap without snow cover in late January added to potential problems. If a stand won't be productive in 2020, decide early so you can make other plans, he says.
Reseeding alfalfa immediately back into an old alfalfa stand isn't recommended, Parker adds.  
Evaluate stands
Keith Johnson, Purdue University Extension forage specialist, suggests you need at least 35 robust stems per square foot to expect a reasonable yield. He refers to stems, or actual shoots, not crowns, which represent individual plants.
"'Robust' is key," he emphasizes. "I'm looking for healthy, productive stems."
Johnson's advice is backed by Jeff Volenec, a Purdue agronomist. Volenec and co-workers conducted a study measuring number of stems per square foot as stands aged. Here are number of shoots per square foot they found in late May at first harvest in the fourth, fifth, sixth and seventh production years, respectively: 48, 37, 31 and 30. The mean was 36.5.
"Keith's estimate is definitely in the ballpark based on our results," Volenec says.
Volenec adds that these plots were well-fertilized, with 200 pounds per acre of actual potassium and 25 pounds per acre of actual phosphorus per year. Number of stems observed would differ if P or K were limiting, and at other harvest dates.
Volenec observed yield was more closely associated with shoot size than number of shoots per square foot.

POSSIBLE STAND LOSS: Heaving due to freezing and thawing and exposure to very cold temperatures can damage alfalfa crowns, especially in older stands.
Some people evaluate stands based on number of live crowns per square foot, assuming four stems per crown.
"You can't assume four stems per crown," Johnson says. "I've seen robust plants with probably 40 stems per crown. There can be much variation in stem number per crown. Sometimes two plants intertwine taproots and it appears as one crown."
Volenec backs up Johnson's observations. "Our work shows that you may have 16 plants per square foot after the first year — a great stand; maybe 9 plants per square foot on an older stand — still a good stand; down to four plants per square foot — a fair stand — on an even older stand," Volenec says. "As the number of plants per square foot decreases, number of shoots per plant increases as plants compensate. Older varieties tend to compensate more than newer ones."
Johnson says you can begin making serious "keep or don't keep" stand assessments within a week after green-up. However, even before, you can cut crowns and taproots to determine if crowns are healthy or diseased.
Subscribe to receive top agriculture news
Be informed daily with these free e-newsletters
You May Also Like
---