Aphid problem this spring in some California alfalfa
Aphid problem this spring in some California alfalfa
Alfalfa producers in California's Kern County and Imperial Valley are finding higher than normal aphid numbers this spring.The pea aphid and blue alfalfa aphid are the two problematic species from Kern County south.Larry Godfrey, University of California, Davis entomologist, believes hot summer conditions will help alleviate the high aphid population.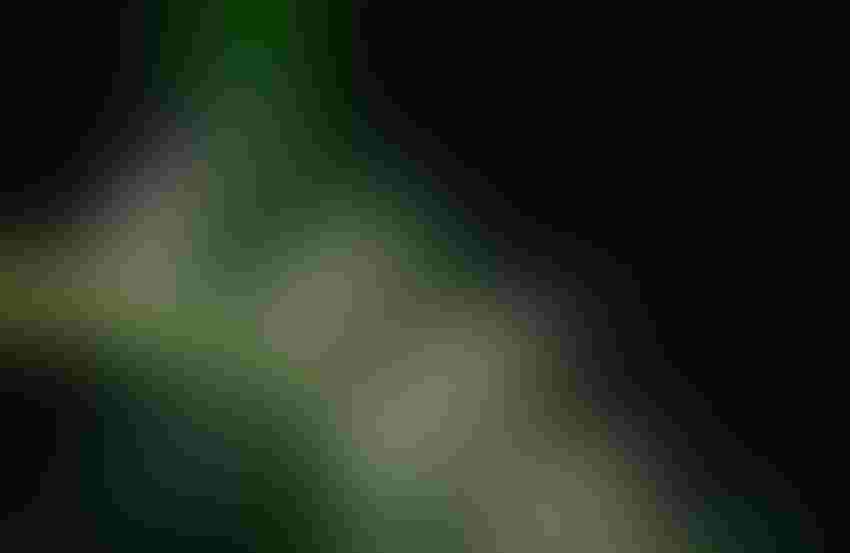 Alfalfa producers in California's Kern County and Imperial Valley are finding higher than normal aphid numbers this spring. Why? University of California Extension entomologist Larry Godfrey shares an article he wrote in late March on the higher aphid numbers.
Spring is the optimal time for aphids to flourish. The cool weather is perfect for many aphid species to build high numbers.
Some aphid species prefer hot conditions. As a general rule, cool weather and aphids go hand-in-hand. Cole crops, roses, and other ornamentals are stressed by aphids in the spring.
Four species of aphids infest alfalfa. The pea aphid and blue alfalfa aphid favor cooler conditions. The spotted alfalfa aphid prefers hot weather. The cowpea aphid appears to like hot conditions but populations have also been found at other times of the year.
Separating the pea aphid and blue alfalfa aphid is of utmost importance. This can be done with a hand lens and a good eye.
Both aphids are blue-greenish. The pea aphid has a biotype that is pinkish but is less common.
When examining the aphid antennae which stick out from the front of the insect, the pea aphid has three-to-four narrow dark bands along the antennae which are tan in color. The antennae of the blue alfalfa aphid are uniformly brown.
Based on my observations and received reports, these two species are problematic in alfalfa this spring from Kern County south. The blue alfalfa aphid is causing the most problems. Some areas with high, persistent blue alfalfa aphid populations exist and are very problematic.
In the central San Joaquin and Sacramento valleys presently, pea aphid populations are common.
Want access to the very latest in agriculture news each day? Sign up for the Western Farm Press Daily e-mail newsletter.
Management
Host plant resistance: One of the great success stories in alfalfa integrated pest management is the host plant resistance bred into commonly grown alfalfa varieties. The resistance differs by variety. This information is summarized in this online document.
This host plant resistance functions against pea aphid, blue alfalfa aphid, and spotted alfalfa aphid (probably most active against the latter two species).
So why are some alfalfa growers seeing high populations of pea and blue alfalfa aphid this spring?
One fact is the resistance is not fully functioning during cool periods. One published paper showed that at 59 degrees Fahrenheit, the resistance was only partially effective against the aphid pests. At 68 degrees F., the plant resistance was fully functioning.
These temperatures would correspond with daily average temperature, not daily high temperatures. It is not uncommon to see some build-up of blue alfalfa aphid and pea aphid in the spring before the temperatures warm. The outbreak of blue alfalfa aphid this year is more serious than normal.
Once conditions climb to 85 degrees F. for the daily high and 70 degrees F. for the average night temperature, the resistance should be 100 percent active. Blue alfalfa aphids develop down to 38 degrees F. so cool temperatures really do not stop this species. The pea aphid prefers slightly higher temperatures.
Insecticides: The suite of insecticides registered in alfalfa with activity on aphids is fairly small; much less than on many other crops. Chlorpyrifos, malathion, and dimethoate are organophosphate materials with good activity against aphids. Several pyrethroid active ingredients may also control aphids.
There are premix products of these active ingredients. I have seen good control of pea aphid with these materials.
In the upper San Joaquin and lower Sacramento valleys where I am located, there are not large populations of blue alfalfa aphids. Reports received suggest the knockdown of this species is satisfactory with these products but the residual control is limited to 3-4 days.
After this, damaging aphid populations reappear from a build-up of surviving aphids and from re-infestation from winged aphids.
Biological Control: Numerous biological control organisms help with aphid management. Several species of lady beetles, green lacewings, bigeyed bugs, damsel bugs, and syrphid fly larvae also play a role.
Parasitic wasps can be important in some situations. Large, golden-brown aphid mummies on the upper surfaces of leaves indicate parasitization. Aphids may also be controlled by a naturally occurring fungal disease which is most prevalent during cool, rainy weather.
Summary: Rumors of insecticide resistance in blue alfalfa aphid have been common. At this point, there is no scientific evidence of this.
Aphids characteristically develop resistance. This has been seen in other crops to several classes of insecticide chemistry. Since there are only two classes of chemistry available to control aphids in alfalfa, these need to be preserved for the long term.
Following good IPM practices including proper sampling, appropriate treatment thresholds, and using non-chemical controls as much as possible will also help preserve these chemistries.
While these cool spring conditions are very nice for human activities, I believe some hot summer conditions will also help alleviate the aphid outbreak.
News from Western Farm Press:
Solutions to hunger in agriculture's toolbox
Biotech crops are not silver bullets
Subscribe to receive top agriculture news
Be informed daily with these free e-newsletters
You May Also Like
---