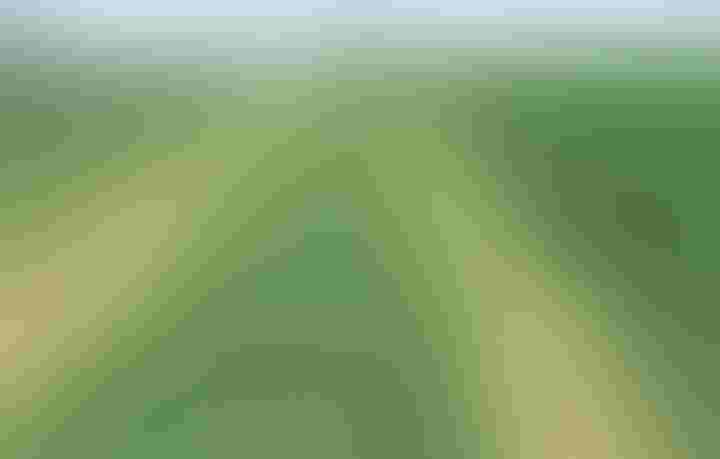 This year's UC Davis Alfalfa Field Day was held on May 15 and was designed to educate attendees on a variety of topics. The annual Field Day attracts a diverse group of people and is a great opportunity to network with those across the industry as well as gain exposure to cutting-edge research developments that will have a direct impact on production practices. Attendees climbed aboard bale-line tractors and were given a guided tour of new varieties, integrated pest management, and advances in irrigation management.
Pete Goodell from the UC IPM Program provided an update on the blue alfalfa aphid outbreak in spring of 2013 and suggested a number of factors that may have contributed to the increased numbers and impact of this damaging pest. These potential contributing factors included high initial aphid populations, smaller populations of beneficials, favorable weather conditions for aphid growth, and temperature-dependent plant resistance to the blue alfalfa aphid's toxin. Those interested in learning about winter survival, fall dormancy and pest resistance ratings (including blue alfalfa aphid) should consult the National Alfalfa & Forage Alliance's annual variety publication. (http://www.alfalfa.org/varietyLeaflet.php)
Dan Putnam, UC Davis Extension agronomist and forage specialist, presented information on low lignin trials in alfalfa and the possible benefits brought about by improving yield and quality while reducing the number of cuttings. This exciting research explores how delayed cutting in low lignin varieties can increase yields without compromising quality.
Want access to the very latest in agriculture news each day? Sign up for the Western Farm Press Daily e-mail newsletter.
One of the most exciting topics of discussion was the use of subsurface drip irrigation (SDI) in alfalfa. Dan Putnam presented an even-handed summary of the potential advantages and disadvantages of SDI in alfalfa. In addition, he introduced the three-year project currently being conducted that is designed to: understand the yield impacts of SDI compared with surface irrigation systems, measure the difference in water use under the different systems, and develop rodent management strategies for SDI. In an effort to allow grower collaboration and sharing of their SDI experiences, UC plans to launch an online sharing group. More information will be available in June 2013 and can be viewed at http://alfalfa.ucdavis.edu/. Rick Martinez, a grower from Dixon, Calif., shared his experience with subsurface drip irrigation.
Many other topics were discussed at this free and informative event that provides a snapshot of current and ongoing research. Not only did attendees have an opportunity to network with individuals from across the industry, but many product vendors were also on hand to educate and demonstrate their newest products. This was truly a valuable event and all those with interests in the industry should set aside a day for in-the-field education in 2014.
Announcement: The CAFA website, www.calhay.org, has been relaunched and will continue to develop as an informational resource for its members and the public.
More from Western Farm Press
Agriculture's burden of technological intolerance
Drip-tape salvation for California farmers?
US farming hardly a recipe for riches
Walking agriculture's path along the U.S.-Mexico border
Farmer's death puts national focus on killer bees
Subscribe to receive top agriculture news
Be informed daily with these free e-newsletters
You May Also Like
---