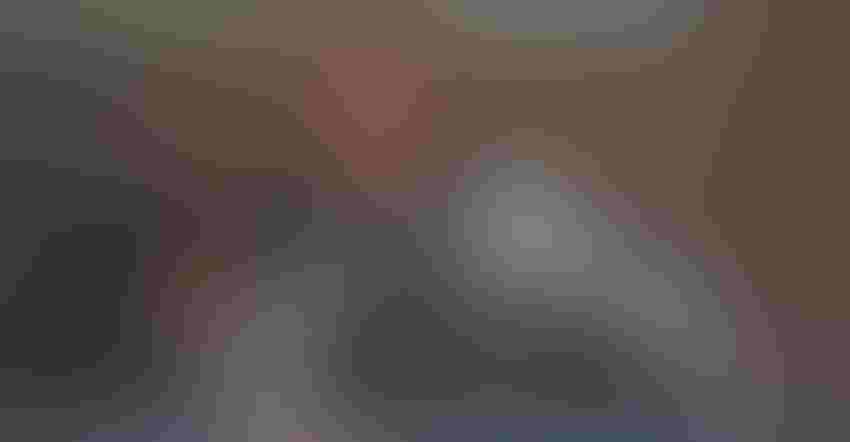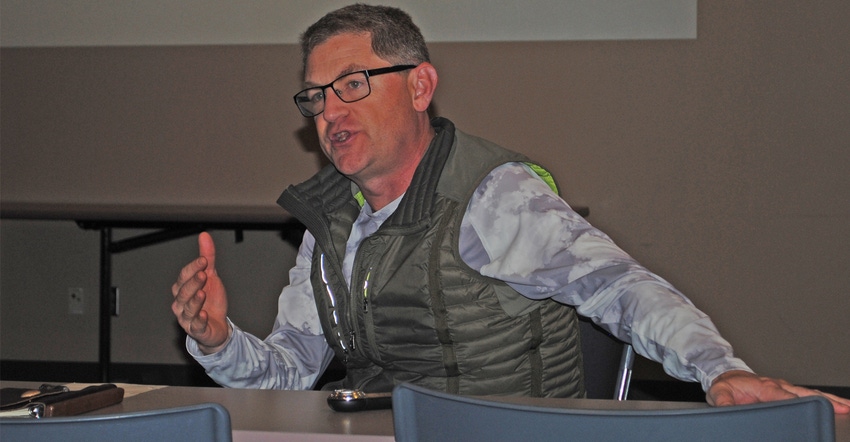 ON THE ROAD: Michigan State University beef researcher Jason Rowntree speaks during a Nebraska Grazing Lands Coalition workshop recently.
It took two massive hurricanes that devastated Louisiana farmers to change the trajectory of Jason Rowntree's life.
Working through Louisiana State University Extension as a first responder for food insecurity, relief and recovery during hurricanes Katrina and Rita, Rowntree realized that his life's work needed to shift toward developing resilient food production systems that could withstand and recover from such disasters.
Since then, Rowntree has moved north, working as a professor of animal science at Michigan State University and as the coordinator of the Lake City and Upper Peninsula Research and Extension Center AgBioResearch Centers, where he is carrying out that life work.
Rowntree, who spoke recently in Norfolk, Neb., as part of the annual Nebraska Grazing Lands Coalition traveling road show, told producers that one of his early career influences was the late Terry Gompert.
Gompert, who passed away in 2011, was a veteran Nebraska Extension educator in Knox County and a longtime managed-grazing and grass-finishing advocate, mentor and expert. Rowntree, who is an accredited holistic management educator through the Savory Institute, met Gompert through the Institute and used Gompert's experiences to shape his career and life goals during his research at MSU.
After learning about his grass-finishing and grazing research online, Rowntree reached out to Gompert and other grazing experts to learn more.
"I basically tried to find people who knew more than I did, and I had them come out to our research farm," Rowntree said. "What we tried to do with the farm is to come up with something that would be more apt to serve people and more apt to think about what this regenerative agriculture would look like."
Ten years ago, there wasn't much research along those lines at land-grant institutions. "I immersed myself in holistic management," he said. "I want to look at any system to make it better for the environment."
Over that time at MSU, Rowntree has put his convictions into practice. He has marketed over 400 head of beef cattle into grass-finishing markets. As an affiliate of a center for regional food systems, he is striving to increase local food systems that strengthen local communities. He's been involved in the development of a local beef model on campus that sources 60% of its total needed beef from campus sources. He is studying how grazing livestock can improve the land, capture carbon and provide other ecosystem services. To top it off, on his own farm, he raises grass-finished beef, pastured poultry and eggs.
Grain-fed systems
Rowntree clarified that he doesn't have any problem at all with grain-fed systems. "I'm not pitting systems against each other," he told the group. "We are just doing research from a global perspective. And globally, we lose about 1 billion tons of soil through erosion each year from agriculture. We've done some things that have pushed our soil in the wrong direction."
Today, Rowntree's research focuses on three areas that work to mitigate soil loss and improve soil health, including:
improving energy efficiency at the farm level through proper managed grazing and an integrated cropping system

gaining a greater understanding of the impact of grazing systems

developing pasture-based local beef production systems
"We have the tools in our toolbox to rectify the situation," Rowntree said. "That's what we spend a lot of time thinking about."
Much of his work now involves developing beef genetics for the Upper Midwest that fit into that grass-finishing system. When he came to MSU, the cow herd was built around large framed cows that weighed in excess of 1,500 pounds, with some weighing in at 2,200 pounds.
At first, he tried lowering the size of the cows in the herd through breeding, but that took too much time. He eventually liquidated the herd with the exception of a few study cows and purchased a base Red Angus herd, with average cows weighing about 1,100 pounds, that would fit better into his research model.
Over time, his research staff worked less at haying for the larger cows in the original herd and more at research, including extending the grazing season and lowering feed costs, even in a region that receives more than 100 inches of snow each winter. The summers near the farm are rather short, but the area receives between 35 and 40 inches of precipitation annually, with relatively dry months in July and August.
His former research herd averaged about 1,400 to 1,500 pounds per cow, and the new herd averaged about 1,100 pounds. Looking at overall grazing trends on the farm, in 2009 with the larger cows still in the herd, they grazed 74 cow days per acre and grazed the herd 142 total days, amounting to 190 animal unit months at the farm.
In 2012, which was an extremely dry year, they raised their cow days per acre to 83, extending the grazing season to 165 days, with more than 300 AUMs with the smaller cows in the herd and an evolving managed grazing system in place.
By 2015, they were grazing 110 cow days per acre, with 191 grazing days and 325 AUMs off the same land. "We didn't put up hay at all, but were able to extend our grazing season and increase our AUMs by more than 100," he said. "We moved out of the haying business and into the research business," Rowntree told the group. "If we need hay, we purchase it now."
They stopped using fertilizer of any kind, except lime. "We were able to increase the value produced from that land and cut costs at the same time," he said. This trend worked into their long-term holistic goal for the farm.
Learn more about Rowntree's research by contacting him at [email protected].
About the Author(s)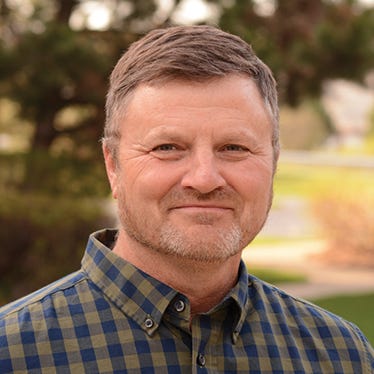 Curt Arens began writing about Nebraska's farm families when he was in high school. Before joining Farm Progress as a field editor in April 2010, he had worked as a freelance farm writer for 27 years, first for newspapers and then for farm magazines, including Nebraska Farmer.
His real full-time career, however, during that same period was farming his family's fourth generation land in northeast Nebraska. He also operated his Christmas tree farm and grew black oil sunflowers for wild birdseed. Curt continues to raise corn, soybeans and alfalfa and runs a cow-calf herd.
Curt and his wife Donna have four children, Lauren, Taylor, Zachary and Benjamin. They are active in their church and St. Rose School in Crofton, where Donna teaches and their children attend classes.
Previously, the 1986 University of Nebraska animal science graduate wrote a weekly rural life column, developed a farm radio program and wrote books about farm direct marketing and farmers markets. He received media honors from the Nebraska Forest Service, Center for Rural Affairs and Northeast Nebraska Experimental Farm Association.
He wrote about the spiritual side of farming in his 2008 book, "Down to Earth: Celebrating a Blessed Life on the Land," garnering a Catholic Press Association award.
Subscribe to receive top agriculture news
Be informed daily with these free e-newsletters
You May Also Like
---