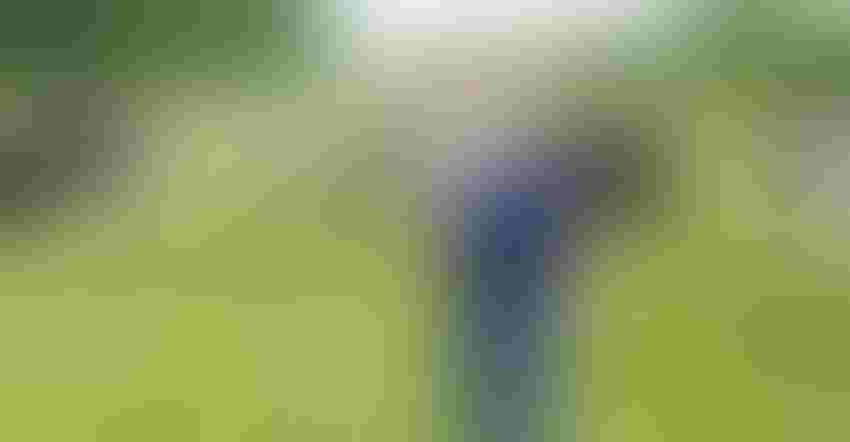 DREAM DAIRY: Jack Dill's wish to live and work on the family dairy farm started in his 20s. Today he is a partner in his father's legacy — Alva Dill and Sons Dairy Farm.
Photos by Mindy Ward
Editor's note: This is the first of two articles with a Missouri dairy farmer who runs a low-cost dairy operation. On Tuesday, he shares lessons for young dairy farmers on managing finances for a generational impact.
Jack Dill has one word to describe his dairy farm — "simple." From his feed source to cattle to buildings to business style, he likes to keep things easy. The approach works as the next generation is home and managing different aspects of the family dairy business.
"If you're dairy farming, you're doing it because it's a lifestyle choice," he says. "You want to raise your family on the farm and because you absolutely love it."
Today, the Alva Dill and Sons Dairy Farm in Conway, Mo., supports five families. Dill's mother still lives on the farm after his father, Alva, passed away. Dill is the third generation on the land purchased by his grandpa, Ores Dill, in 1915. Back then, the farm was only 40 acres.
His voice quickens as he talks about the next generation already active on the farm. "We have my brother Jerry, my nephew Jarrod and my son Jordan all still dairying," he says. "As a farmer, you always want your kids to be able to come back to the dairy if they want to. I've been blessed to see that happen here."
Dill graduated high school in 1978 and formed a farm partnership a year later with his father and brother. Over the years, he learned how to manage the farm for profitability and longevity.
Low-input feed production
At Alva Dill and Sons Dairy Farm, there are no row crops, just forage.
"I always tell people we're not really dairy farmers," Dill explains. "We raise forages, and we market the them through the cows."
The family focuses on pasture quality by analyzing growth. It is mainly a mix of clover and grasses on the more than 1,000 acres. Fertilizer is used sparingly on pasture ground. "We try to let it be all natural," he adds.

MILD MILK HOUSE: The milking barn at Alva Dill and Sons Dairy Farm near Conway, Mo., may not have all the modern touches, but it is paid for. Jack Dill says avoiding debt is one way to keep the dairy farm in the family.
Dill would rather the cows harvest the forage than use equipment. Equipment costs money, he adds. Still on wet years with ample growth, the excess grass mix is baled for use during winter months.
The farm produces ample forage for both the 125 milking cows and 70 replacement heifers.
Sensible cattle size
"Our cows are not big animals," Dill says. Actually, he does not worry about the size of the cow or how much milk she produces.
"I'd rather have a cow that gives 5,000 pounds a year and make a profit than have one that gives 50,000 pounds a year and lose my butt," he says. As near as he can figure, the farm has a rolling herd average of 14,000 pounds per head per year.

FUNCTIONAL FEED TROUGH: Recycled plastic barrels serve as feed bunks for replacement heifers out on pasture. Dairyman Jack Dill does not use them much during the summer, but he says they are easy to move and cheap.
Dill looks for cows who can consistently produce milk in a forage system over time. "The smaller-frame animals require less input," he explains, "and low input cows seem to last forever." His oldest cow in the milking herd is 12.
Milk from the farm is marketed through the Dairy Farmers of America cooperative with much of it going to Hiland Dairy Foods plant. Dill is not only a DFA member, but he also serves on its council representing both large and small dairy operations. Some of these farms have large, state-of-the-art facilities, but not Dill.
Ordinary dairy facilities
A tiny metal building right next to State Road M out of Conway holds all the family farm needs to milk cows.
The milk room consists of a stainless steel bulk tank. In the corner is a small, wall-mounted pink sink that came from Dill's father's old home. "It dates our dairy a little," he says with a laugh. "But we don't mind it. It reminds us of our past every time we wash our hands."
Through a white door is the milking parlor with a double Herringbone 4 system. "It's nothing fancy," he adds, "but it gets the job done."

FAMILY FARM: Jack Dill and his wife, Patty, are working to pass down the dairy farm to the next generation, including grandson Hendrix Fletcher.
There is no large loafing shed for cows to gather, rather a small galvanized metal barn serves as a pass through as cows come in from the pasture. It also provides a break from winter's cold weather, but mostly the cows stay out on grass.
Dill says the family farm isn't looking to expand or upgrade facilities. "It is all about keeping costs low when you are trying to provide a living for the five families that work here on the farm," he says.
Subscribe to receive top agriculture news
Be informed daily with these free e-newsletters
You May Also Like
---