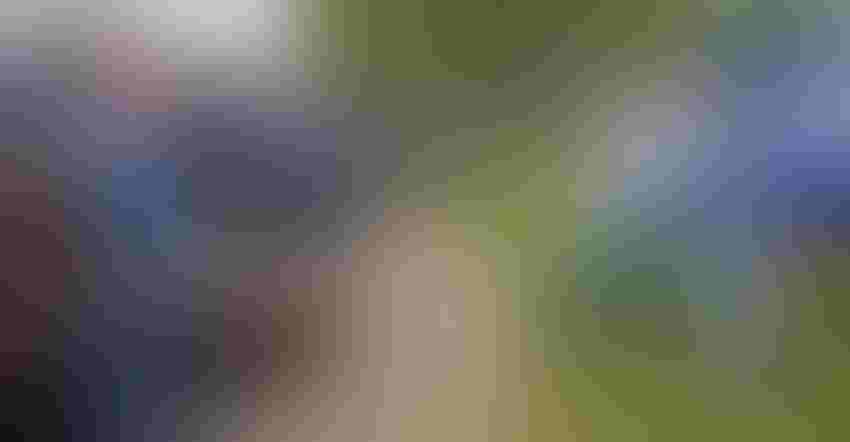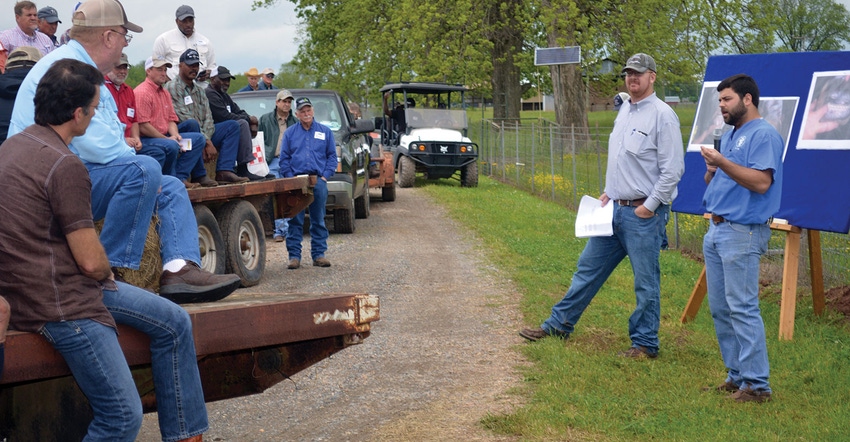 Attendees of the Northwest Beef and Forage Field Day listen to presentations by veterinarian Murphy Colvin, right, and LSU AgCenter agent Lee Faulk, second from right. The event was at the AgCenter Red River Research Station in Bossier City, La.
Karol Osborne/LSU AgCenter
Cattle producers can expect prices to remain the same or be slightly higher than last year as supply and demand dynamics provide some stability in 2019, according to LSU AgCenter economistKurt Guidry.
"It may not be the most optimistic outlook, but considering the number of animals we have, it is probably as positive an outlook as we can have given the supply situation," Guidry told attendees of a field day at the AgCenter Red River Research Station in Bossier City, La.
There are currently about 460,000 mature beef cows in Louisiana. The state's total cattle inventory, which includes beef and dairy cows and calves, is about 800,000 head.
Weather conditions during the winter and spring months have influenced beef production, limiting any big increases that may have been expected and having a positive effect on the market, Guidry said.
Domestic demand remains strong as prices among the competing proteins — pork and poultry — have been fairly balanced due to a stronger economy.
"As incomes rise and people have more money to spend — even when prices fluctuate slightly — if they prefer beef, they will still buy beef," he said.
There are some domestic and export demand concerns in terms of when a substitution effect among competing proteins may surface.
"At this point we haven't seen that happen yet," Guidry said.
Export demand
Guidry said the export demand picture remains relatively positive, although there are some uncertainties in export demand having to do with trade agreements.
"The economic forecast may not be as optimistic as we have seen in the past, so producers need to identify approaches to maximize their profits," said Patrick Colyer, director of the AgCenter Northwest Region. He added that the field day program was planned to provide information to optimize forage and beef operations.
AgCenter livestock agent Lee Faulk said Louisiana producers can increase their return on calf sales by taking steps to increase weight and product quality.
Adding value to calves begins with genetics and high-quality bull selection. "The bull is half your herd," he said.
Misconceptions over calf color can be confusing, with little evidence to support a significant price spread between dark- and light-hided cattle. However, producers should avoid spotted or striped cattle, which typically bring lower returns, he said.
Other ways producers can add value to their calving operations include deworming, dehorning, castrating bull calves, implanting yearlings with growth stimulants to increase weight gain and "creep feeding," or supplementing nursing calves' diet with grain or forage, he said.
"Some years it pays to creep feed calves and some years it doesn't," Faulk said. It can be beneficial when running short of hay and with fall-calving cows or first-calving heifers that need a little bit of help, he said.
Mouthing
Dr. Murphy Colvin, a veterinarian with the NW Veterinary Clinic, explained a technique called mouthing used to determine cow age by examining the teeth. The process is helpful in making more profitable cattle management decisions.
Colvin also said calves should be vaccinated, preferably at 3 to 4 months of age, and calves should be vaccinated against tetanus if using a bander for castration.
Alluvial soils adjacent to the Red River offer opportunities to use tall fescue for winter cattle forage, said AgCenter forage specialist Wink Alison.
"If we could find a cool-season perennial grass to match with warm-season perennials such as bermudagrass, bahiagrass and dallisgrass, it would be big benefit," Alison said.
Fescue provides good nutrition and will tolerate wetter soils, but it does not like flooding, can become stressed in Louisiana's hot, dry summer months and is not adaptable to all soils along the Red River, he said.
Establishing hybrid bermudagrass on heavy clay soils presents many challenges, but once established, it will provide good pastures on bottomland soils, said AgCenter forage specialist Buddy Pitman.
"If you really want a stand of hybrid bermudagrass on a clay soil, the old sprigging approach of planting root material of Sumral and Jiggs in January or February can be successful," he said.
In plot yields on the station, Tifton 85 and Sumral showed the highest yield, but Sumral and Jiggs are showing the best spring growth this year, Pitman said.
Conservation education
AgCenter Louisiana Master Farmer Program coordinator Ron Levy encouraged cattle and forage producers to enroll in the three-phase conservation education program.
"We are seeing many positive environmental improvements as a result of this program," Levy said.
"It is a function of sustainability and best management practices that over time will increase the value of land and productivity for you and your family for future generations," added Rogers Leonard, AgCenter associate vice president and agriculture and natural resources program leader.
Lee Faulk can be contacted at [email protected] or 318-927-2578.
Source: LSU AgCenter, which is solely responsible for the information provided and is wholly owned by the source. Informa Business Media and all its subsidiaries are not responsible for any of the content contained in this information asset.
About the Author(s)
Subscribe to receive top agriculture news
Be informed daily with these free e-newsletters
You May Also Like
---