Variable rate irrigation can save water resources
Variable rate irrigation can save water resources
• Variable rate irrigation (VRI) is a technology that was developed at the University of Georgia and is now being sold commercially by Advanced Ag Systems, Inc.• We already know water is a premium commodity, and one day it could become an allocated resource.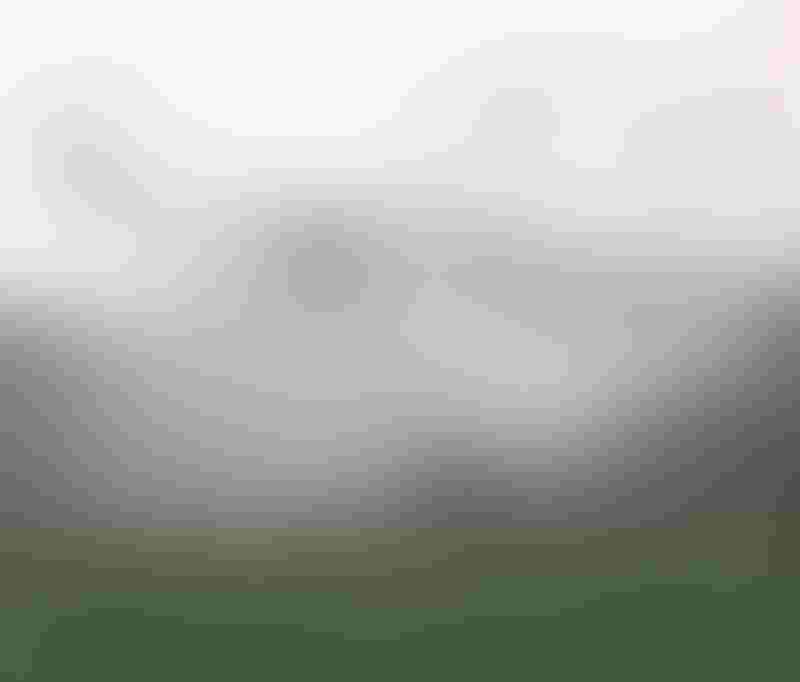 Considering the severe drought suffered by Southeastern farmers during the past two years, it was not surprising that this year's Sunbelt Ag Expo Field Day was focused to some extent on irrigation.
Variable rate irrigation (VRI) is a technology that was developed at the University of Georgia and is now being sold commercially by Advanced Ag Systems, Inc.
"The idea is that if you farm, you know there are a lot of variables," says Calvin Perry, superintendent of the Stripling Irrigation Park in Camilla, Ga.
"Typically, you have several soil types and textures. We already know water is a premium commodity, and one day it could become an allocated resource."
Perry along with a representative from Advanced Ag Systems gave a demonstration of variable rate irrigation during field day on July 7, in Moultrie, Ga.
"We're trying to be proactive and help growers do a better job of using our water resources," says Perry.
The VRI system being demonstrated at the Sunbelt Expo site has a control box mounted at the pivot point and a control valve on the sprinklers, he explains.
"We're able to develop an application map, similar to a chemical or fertilizer application map. But instead of a truck going out and following this map, the pivot point has GPS on it. So as it makes its way around the circle, it knows how much water to apply," he says.
The Farmscan 7000SL system also controls pivot travel speed and end-gun function for optimal efficiency.
In today's environment, says Perry, most growers are interested in turning it off in non-crop areas. "We've had more interest in growers putting small sensors on their pivots and taking out small sections, such as when the system runs across temporary ponds and other non-crop areas," he says.
Sprinklers are grouped into banks and these banks are controlled by either an air or a water pilot line that turns off the water. The VRI system also takes into consideration that with several crops under production, harvest timing and watering regimes often are different.
Also at Field Day, Antonio Fleming, tech services manager for the Georgia Soil and Water Conservation Commission, reminded growers that there's more than one use for their state-mandated irrigation water meters.
"The state passed a law a few years ago requiring that permanent agricultural irrigation sites should be metered," says Fleming.
"This helps us to keep up with the amount of water our farmers need in Georgia. We have been sued by other states over water rights, and if we ever have to go through our court battle, we have to know the water needs of our farmers."
Can provide critical information
Many growers considered the current meters just another piece of equipment in the field, but it can yield some important information for farmers, he says. It can be an on-farm management tool to help increase water-use efficiency, he adds.
"If you have an irrigation system that's 10 or 15 years old, odds are that it isn't operating as it did when you first bought it. You may think you're putting out 1 inch when you're actually putting out 7/10 inch.
"Through the course of a season, each time you shorten that crop's water supply, it adds up. If you can get that system to put out what you want when you want it, then by the end of the season, you'll know how much water is out there," says Finley.
Recording the water amounts from the meter before and after irrigating can help farmers know exactly how much they're applying, he says.
"Simply open your meter and record the beginning reading. Then, when you finish the irrigation cycle, write down the ending numbers. This will help you calculate the number of inches you're putting out. Most of our meters record in acre-inches, and an acre-inch is 27,154 gallons.
"You know that 60-day-old peanuts need about 2/10 inch of water per day to make it during that particular growth stage. If you put an inch out, hoping it'll get you through five days, but you're actually putting out 7/10 inch, then by the fifth day, you're stressing that crop unnecessarily."
Also at Field Day, it was announced that Reinke Manufacturing, Inc., a leading manufacturer of mechanized irrigation systems, is donating a new, highly efficient, eight-tower center pivot irrigation system to the Darrell Williams Research Farm at the Sunbelt Ag Expo.
"Reinke has long been a partner with Sunbelt Expo for more than 30 years now, and we both remain dedicated to advancing the science and technology of agriculture," says Reinke President Chris Roth.
"Reinke looks forward to continuing our relationship with Sunbelt Expo and making investments toward agricultural growth in the Southeast for years to come."
"We just can't thank Reinke enough for their donation and ongoing commitment to our mission," says Sunbelt Agricultural Exposition Executive Director Chip Blalock.
"This is a great partnership for Sunbelt Expo as we continue to educate farmers on increasing agriculture efficiencies, being good stewards of water resources and utilizing technological advancements to achieve a more positive bottom line."
The new center pivot will replace an aging model currently located on the farm and will help researchers provide better reliability, apply water more uniformity, and increase efficiencies for the research plots in the 150-acre coverage area.
Reinke's donation also includes technology advancements at the research facility where computer-based telemetry will link many of the irrigation machines and pumping plants to a central computer.
The eight-tower center pivot irrigation system will incorporate an on-site weather station that will report real-time weather conditions and historical weather data. That data, coupled with the operating history and plant water requirements, will make the facility the most modern and most efficient growing operation in the region.
Sunbelt Ag Expo Field Day is a preview of the tradeshow, now in its 35th year, held each October. The Expo features about 1,200 exhibitors showcasing the latest in farming technology.
Subscribe to receive top agriculture news
Be informed daily with these free e-newsletters
You May Also Like
---