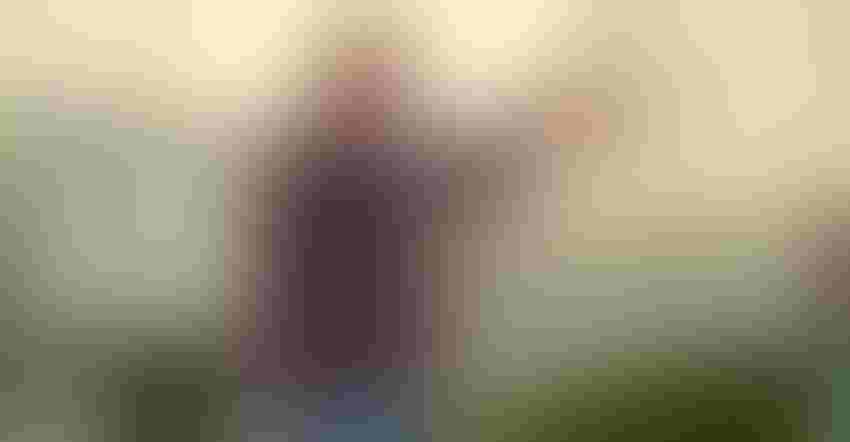 DON'T PUSH IT: Purdue's Fred Whitford warns that cheap pins may save a few bucks at the time, but if they buckle under the load and fail, results could be catastrophic.
Darrell Boone
In football, some teams use a "bend don't break" defense, where they give up a few yards to avoid giving up touchdowns. Fred Whitford, director of pesticide programs at Purdue University, says that concept doesn't work so well when it comes to hitching up farm equipment. And if there is such a thing, this is hitch pin season. Thousands of grain wagons and grain carts and other implements go up and down the road each fall, usually connected to the tractor or pickup by a hitch pin.   
"When you wind up with a bent hitch pin, that means the good Lord must be on your side — because it didn't shear, and that's a victory," Whitford says. "But it also means the pin is underdesigned for what you're using it for, and you're pushing it to capacity. Folks, everything you do, and your whole farm is riding on a stupid pin, and you don't want to be depending on luck."
Whitford says the danger of a trailer, tank or wagon coming unhitched is especially a problem, because once unhitched, most insurance companies consider it a separate vehicle that isn't covered. He urges farmers to check with their insurance companies, and if your agent says such items are covered, get it in writing.
Whitford cautions that being proactive before you get in a hurry can be the difference between safe transportation and putting your farm at risk from litigation.
"Why would you not think about what you would do in case of a mishap or spill?" he asks. "Whenever you go on the road, think lawsuit."
7 tips
Here are seven tips from Whitford to keep your equipment hitched and avoid a serious incident that could lead to equipment damage, personal injury and a liability nightmare:
1. Don't send a boy to do a man's job. Make sure you have hitch pins that are equal to the task. Whitford says the most important factor is shear strength. Hitch pins are simply "graded bolts," he says. Grade 2 bolts are "garbage," he says. For most applications, use the largest diameter pin that will fit, in either Grade 5 or 8. There is information available from Purdue University Extension to help select a hitch pin with adequate shear strength.
2. "If it ain't broke, don't fix it" doesn't apply here. Over time, use will cause hitch pins to become notched, bent or rusty, which weakens them and may lead to failure. Discard damaged pins and buy new ones, Whitford says.
3. Never use homemade or makeshift pins. Purchased pins are carefully manufactured to optimize strength and other qualities. Using a bolt or other item that's not designed to be a hitch pin is asking for trouble.
4. Match the pin to the intended load. If you're pulling a loaded grain wagon with a gross weight of 30,000 pounds, make sure your pin is strong enough to not shear. But if you're pulling a wagon in tandem of equal size, the equation changes. While the stress on the pin connecting the first and second wagon needs to be able to handle 30,000 pounds, the tractor will now be pulling a total load of 60,000 pounds. The pin connecting the first wagon to the tractor needs to be upgraded accordingly, Whitford advises.
5. Make sure the keeper is in place. Most of the time, a pin will stay in place even without a keeper. But "most" won't cut it if your wagon or tank hits a pothole and the pin bounces out. To keep the keeper in place, even in cornstalks or other debris, put a washer of greater diameter above the keeper to protect it. There are any number of other good, creative solutions and specialized pins to make sure your pin stays in place.
6. Make sure the right pin is available. Possible solutions include:
Keep Grade 8 pins separate and available.

Buy the correct size and grade of pin for the heaviest load each implement will pull and attach it to the pulling implement.

Put a chain on the pin and attach it to the implement to be pulled.
7. Use safety chains for backup. In the case of a pin failure, safety chains of appropriate size and strength are a good backup measure. They can keep the towed and towing vehicle together long enough for the operator to pull onto the shoulder. 
Protect your farm and more
The future of your farm can literally be riding on whether you use the right or wrong hitch pin. But Whitford says that's not all that's at stake.
"Nobody wants to be that person whose trailer or implement slammed into a school bus or into a van carrying a family, or spilled pesticides or fertilizers into a pristine creek," he says.

WRONG PIN, WRONG TIME: This pin was once straight. Obviously, it couldn't handle the pressure of the load it was asked to pull. Use the right equipment for the job.
For more in-depth information on hitch pin safety, find "The Tractor Hitch Pin: A Critical Component in Keeping Control of Implements," PPP-94. It is available from Purdue Extension at The Education Store. 
The liability issue goes far deeper than hitch pins. You can also face liability issues if one of your truck drivers hauling a load of grain is involved in an accident on the highway. Whitford worked with others to prepare another publication with advice for preventing these situations and dealing with them if they occur. Check out PPP-91, "Farm Truck Accidents: Considering Your Liability Management Options."
Another publication, prepared with the help of a farm couple who experienced a situation where an employee was involved in a wreck with a semiload of grain, outlines the aftermath of dealing with legal issues in detail: "The Aftermath of a Farm Truck Crash; Lawsuits, Settlements and Court Proceedings."
You may also want to check out one of Whitford's latest publications, "Learning From Equipment and Truck Collisions," which provides graphic illustrations, plus case histories on several actual crashes and the aftermath for incidents with ag equipment.
All are available from The Education Store, or go to ppp.purdue.edu and click on "PPP publications" under the Resources tab.
Boone writes from Wabash, Ind. Tom J. Bechman contributed to this story.
Subscribe to receive top agriculture news
Be informed daily with these free e-newsletters
You May Also Like
---