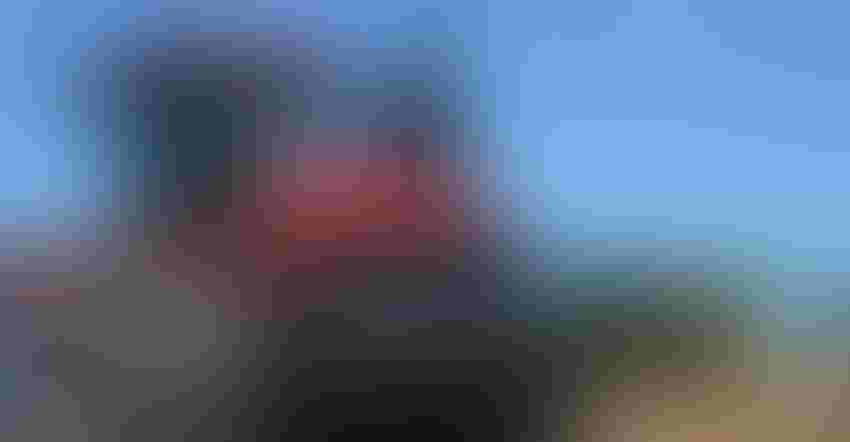 REDUCE SOIL COMPACTION: Most tire experts agree that lower tire inflation pressure can minimize soil compaction. One of Goodyear's solutions is to run LSW Super Single tires at lower pressure versus duals.
Ask someone knowledgeable about ag tires how to minimize soil compaction, and lower tire inflation pressure will come up in the conversation. You'll also likely learn that some believe it's easier to minimize soil compaction with specific types of modern tire designs. Various companies use different technologies to attempt to achieve a tire setup that should create less soil compaction.
Two ag tire industry specialists shared their thoughts on reducing soil compaction. Both refer to their specific products. Other companies would likely offer other solutions using their products.  
These two specialists are Scott Sloan, ag products manager for Titan and Goodyear farm tires, and Brad Harris, manager of global field engineering for Firestone Ag.
Inflation pressure
"To minimize soil compaction, we need to outfit our tractors with a tire combination that carries the axle load at the least amount of inflation pressure," Harris says. "A good target inflation pressure for tractors is 15 pounds per square inch or less."
Firestone Ag offers a tire inflation calculator on the web. Using the calculator, farmers can input the axle load, tire size and tire configuration, Harris says. The calculator will provide the minimum tire inflation pressure required to carry the load.
"I recommend using the calculator and inputting various tire configurations to find the best configuration that fits your farming operation," he adds.
Here's an example using the calculator: Select "tractor," then "rear axle" and "duals." You could select any type of farm machinery, either axle and various tire setups.
In this example, select "standard" and choose "18.4R34" for the tire size. The calculator asks for axle load. Input "6,000." Click on "calculate" and the recommendation is 6 psi.
This is just an example. Input your actual values to find the recommended inflation pressure that should minimize soil compaction in your situation, Harris says.
Other options  
Choosing a technology such as IF (increased flexion), VF (very high flexion) or LSW (Low Sidewall Technology) that allows for carrying heavier loads at lower inflation pressures is a great way to reduce soil compaction, Sloan notes. However, he emphasizes that this is effective only if you take time to adjust inflation pressures to the recommended level for the weight load and task at hand.
"One other great way to reduce soil compaction is to choose flotation tires," he says. In the ag lineup he represents, that could be Goodyear LSW Super Singles rather than a traditional dual setup for tires.
"If a machine isn't doing any fieldwork postemergence, running traditional duals is unnecessary and causing extra soil compaction," Sloan says.
Here's his example: Sloan says if you switch from a traditional mechanical front-wheel drive, dual setup with 420/85R34 fronts and 480/80R50 rears to Goodyear LSW1000/40R32 fronts and LSW1100/45R46 rears, you'll lower your inflation pressures significantly and spread that weight out over a 20% larger footprint. At the same time, you reduce overall machine width.
"That leads to a significantly lower ground-bearing pressure, and ultimately less soil compaction, providing potential yield benefits," Sloan concludes.
Subscribe to receive top agriculture news
Be informed daily with these free e-newsletters
You May Also Like
---