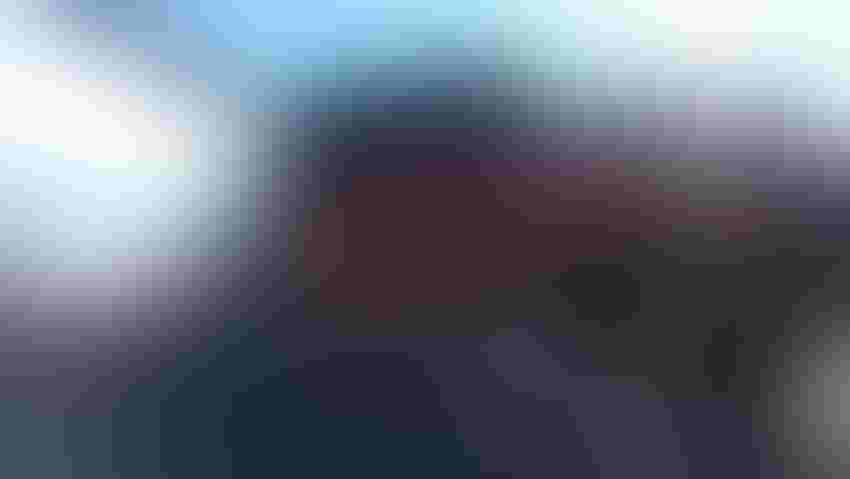 Amidst all the buzz surrounding Versatile's entrance in the combine market, Farm Industry News landed a 20-minute interview with Adam Reid, Versatile director of marketing, to get further details on its new RT490 combine made in Russia. Reid spoke to us from Alberta, having just returned from the official unveil at the Western Canada Farm Progress Show in Regina, Saskatchewan. Here's the dirt on the company's bold move.
Q. What was the response at the show?
It was one of the star attractions. We were consistently having 40 to 50 people walking around the combine at any one time. We were expecting more negativity. We were expecting customers to come in and directly compare what we are offering with combines they already own and say, "Well, this isn't as nice as my Deere," or "This isn't as nice as my yellow one." But it wasn't what we expected. For the most part they have been judging the combine on own merits. That said, I don't think any of them wrote us a check. But we certainly have started building a bridge to get to that point. And we have had many requests for demos this fall, so we will be following up on those. It was interesting because it was a novelty. So it is unfair to assume that its popularity at the show will translate directly into sales. But considering this is the first new brand of combine launched in North America in over a decade, the response overall was very positive.
Q. Where will the Versatile RT490 combine fit in the North American combine market?
Versatile has been known for the last 40-plus years for building products that are durable, reliable and easy to service and maintain. This new combine lines up with that [position] very well. The big difference from product standpoint, in addition to its simplicity, is the threshing system, which is unique to North America. As the rotor is intaking grain, there is a concave that surrounds the rotor and moves counter to the rotor at 8 rpm. So it is moving very slowly in relation to the rotor and stands to achieve better cleaning and more threshing capacity. There are three threshing points within that rotor system, and that is unique to North America as well.
Q. What is the background on the combine?
This combine was first developed in 2003 by our parent company Combine Factory Rostselmash, headquartered in Russia. The company started building it in 2007, and the response has been fantastic in Russia and the Commonwealth of Independent States. So we thought we could make a case to bring it to North America.
Q. Has the combine been tested here in North America?
We started testing it two years ago with three combines in Western Canada, primarily in cereal grains—wheat, oats and barley—and also in canola, lentils and beans. We found that regardless of the application, it performed well both in terms of its own merits and also compared to the competition. Farmers who were doing some of the testing had run combines of all different colors and found that our machine could keep up with everyone's. Last year we tested five machines across North America, again in all the cereal crops and canola and also in corn and soybeans, and even rice in Arkansas, and found once again that the machine performed very, very well. We were pleased with the results and felt comfortable in launching it in North America this year.
Q. What market share do you anticipate?
We are taking a measured approach to marketshare. We know the combine market will be tough to get into. Our major competitors are very protective of their combine customers, so we have tempered expectations for the first few years. We want to be successful. But we also want to be successful in measured fashion. We want to make sure we approach this market right and that we can provide service and parts at same level as our competitors and make sure customers who do buy our combine are 100% satisfied. That said, a lot of our existing Versatile customers who understand the simplicity, durability, and ease of maintenance of our tractors and sprayers will understand what we are bringing to market and how that lines up with our overall brand strategy. We will approach our faithful Versatile customers first and then look at the broader market base as a whole.
Q. What do you expect will be buyers' key concern? What do you have to prove to them?
The machine itself will perform as well as everything else. Once they have a demo of it and get a feel for it, they will understand capacity is not an issue. I think the biggest hurdle we will have to overcome is the fact that it is not built in North America. That will be a concern for some customers in terms of parts and service, but we've taken a lot of steps to address that. The combine, built in Russia, has a lot of global componentry. The hydraulic drive system is from a German company that is well known in industry and is a supplier for one of the major combine manufacturers already. The engine will be a Cummins QSX 11.9 L, which is a brand customers in North America are very familiar with. And we are using pickups and headers supplied to us by MacDon out of Winnipeg. Our combine can be adapted to fit most of the combine headers out there. It shares a common attach bracket with Claas from Germany, so if customers can fit a Claas corn head, they can fit it on our combine as well.
Q. What percent of the market are Versatile customers?
We don't share actual market share numbers. But I can tell you that there is greater penetration in Western Canada and northern U.S. states like Minnesota, North Dakota, and South Dakota and pockets in the U.S.
Q. When will the combine be available?
We've already started selling it in western Canada and have a couple of machines on ground.
Q. How much will it cost?
We are offering two models, one with all-wheel drive and one with a basic drive system. The basic machine is $379,000 suggested retail price, and the machine with all-wheel drive is $399,000. Pickups and headers will be in addition to that.
Subscribe to receive top agriculture news
Be informed daily with these free e-newsletters
You May Also Like
---