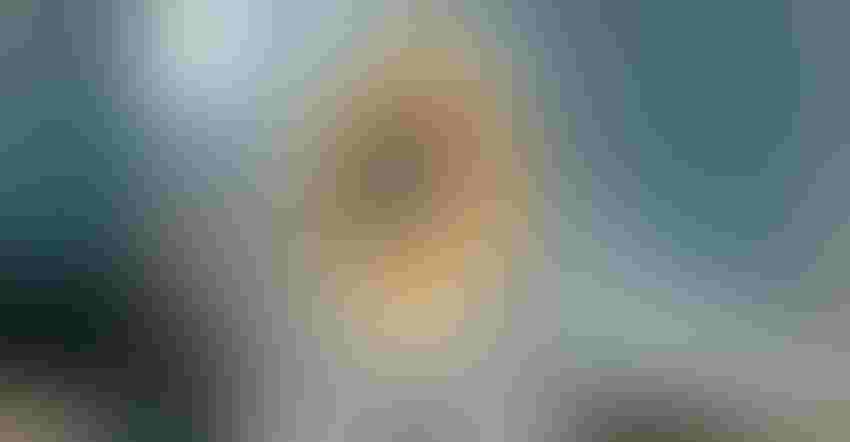 AERATION STILL HELPS: Take advantage of cool nights to aerate and hold grain temperature near 50 degrees F. Both insect activity and spoilage become bigger issues in warmer grain.
GSI
Problems with stored grain from 2019 started early this year. If you still have grain in bins, keep an eye on it and continue to manage it until the moment it leaves the farm. That's the advice offered by Gary Woodruff, a GSI district manager and grain conditioning expert.
Here are his answers to specific questions you likely have about storing grain into and through summer:
We're already into summer and 80 or even 90-degree-F days. Is it still necessary to run fans? Aeration practices have changed somewhat over the past 20 years. Experts once recommended keeping grain within 10 to 15 degrees F of the average two-week ambient temperature at all times. That still works OK, if not the best, for storage late into the summer. Some farmers started getting grain cold and leaving it into late summer, but that led to severe condensation on the corn after May due to humid air hitting very cold grain.
So, [recommendations were] modified to leave grain cold if it will ship by the time average temperatures hit 50 degrees in April or May. Today, most recommend bringing corn up to the average temperature in 10- to 15-degree increments until it hits 50 degrees. Then hold it there, strategically aerating when temperatures are cool, often at night. Keep it at that temperature as long as possible to keep insect activity down. An aeration controller is very convenient for that purpose. It gets the grain down to 50 degrees after harvest much faster than you can manually.
If it's necessary to run fans, how do you know when to do it and for how long? This one is again difficult to manage manually. Find local temperature charts that track average temperatures or keep a daily record yourself. When the average changes 15 degrees, you should aerate. You then aerate until the mass of grain has all come to the new temperature. How long it takes depends on the aeration rate. Remember that rates above ¼ cubic foot per minute per bushel are considered high-speed cooling and 1 cfm per bushel or more is considered drying.
Here are examples. If the air rate is 1/10 cfm, allow approximately 128 hours or 5.4 days. For 1/5 cfm, it's 90 hours or 3.3 days. At 1/4 cfm, it's 80 hours or 2.9 days.
What if you have corn in a bin with only small fans? Can you aerate, or should you sell sooner? When aeration became more common on commercial sites in the '50s, the standard rate was 1/20 cfm per bushel because of the limits to electrical supply at the time. That rate works as well as any other. It just takes roughly 200 hours, or just over eight days, to change the entire mass of grain.
The magic to grain storage is grain moisture being right for the intended storage life and the temperature being as cool as possible where condensation issues are not a problem. Whether it takes two days or eight days doesn't really matter as long as it gets done.
About the Author(s)
Subscribe to receive top agriculture news
Be informed daily with these free e-newsletters
You May Also Like
---