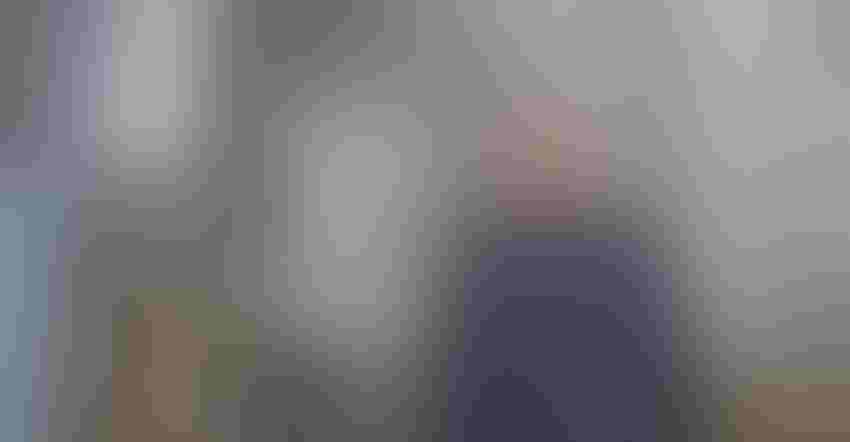 STAY FLEXIBLE: Dan Coapstick has taken advantage of the flexibility in his grain system to adjust how he uses it over time.
Tom J. Bechman
Do you know how much grain storage you will need this fall? What about in five years? In 10 years? Grain industry experts say most people aren't sure because they don't know how their farming operation will change. The best advice is to plan, and if you're starting a new grain storage installation or adding to an existing one, keep the future in mind. Leave room for expansion and be flexible.
Dan Coapstick, Frankfort, Ind., started his grain center in 2010 with what he needed for how he was farming then, but he also thought about the future. He went with GSI's TopDry system because he felt it was efficient, and he didn't have a continuous-flow dryer. The TopDry system consists of a 1,000-bushel chamber at the top of the bin. Originally, Coapstick used it as a batch dryer. At the same time, he erected a 42,000-bushel GSI bin next to it.
"I built a small pit when I built the bins, and augered grain from the pit to the dryer," he recalls. "It worked well at the time."
Soon, he outgrew the system and saw a need to move to the next phase. Fortunately, he had planned well and left space for two larger bins that could sit opposite the original bins. He relied on help from Keith Hodgen with Hoosier Agri-Matic, Lebanon, Ind., as he planned and developed his new system from the start.
This time, he added a 5,000-bushel-per-hour leg with a bucket elevator, a 250-bushel-capacity dump, another bin and a wet bin in 2013, greatly increasing capacity and efficiency.
"The leg was a big investment, but it certainly simplified moving grain within the storage system," Coapstick says. "I no longer needed the auger and original small pit to feed corn into the dryer."
Flexibility pays
Coapstick switched from using the TopDry system as a batch dryer to an AutoFlow dryer when he installed the leg in 2013. That required extra investment, but greatly increased dryer capacity. Just recently, he added another 42,000-bushel GSI bin.
By choosing a relatively large wet bin, 7,000 bushels, he now has plenty of storage for incoming corn.
"We can keep things moving, and with the leg and augers, I can move corn from one bin to another, or from the dryer to wherever it needs to go," Coapstick says.
If grain is dry enough, he can bypass the dryer. It's a matter of adjusting the control wheel so grain goes where it should.
The new bin looks like it belongs because Coapstick allotted space for it from the start. His original intent for this new bin is for soybeans, which don't go through the dryer. "We have a good local market for soybeans, but sometimes the facility gets really backed up in the fall," he explains. "I wanted a safety valve, so I didn't have to shut down the combine to wait to unload trucks.
"We will see how it goes this fall. The beauty is I can shift and use it for corn if that's what I need most."
With manufacturers backed up trying to meet demand, flexibility may be key on lots of farms this fall, experts say. You may not get that extra bin and may have to adapt. Experts believe grain bin supply and demand will level out over the next several months.      
About the Author(s)
Subscribe to receive top agriculture news
Be informed daily with these free e-newsletters
You May Also Like
---