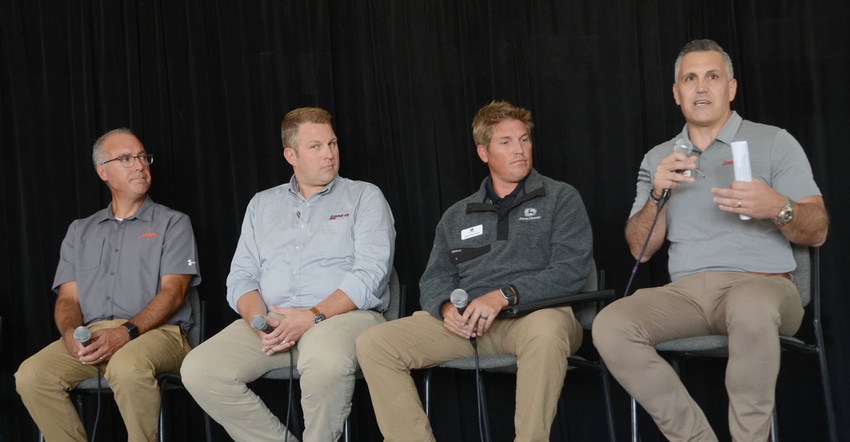 TALKING MACHINERY: The Nebraska Ag Technology Summit covered a range of topics including how machinery advancements are impacting the industry. Panelists included (from left) Eric Raby, Claas; Ryan Schaefer, Case IH; Dan Paschke, John Deere; and Gustavo Oberto, Lindsay Corp.
Willie Vogt
Editor's note: This is the second of three reports from the first Nebraska Ag Technology Summit held during Husker Harvest Days. In this installment, speakers share insights on next-generation machinery. The first installment looked at agronomy technology. And the third will look at the advancing bio-economy.
As ag technology advances, there's a sense that progress is accelerating. During the Next-generation Equipment Panel at the Nebraska Ag Technology Summit, Dan Paschke from John Deere offered some insight: "There's a quote we talk a lot about when we talk about precision. It actually comes from the prime minister of Canada, Justin Trudeau, from 2018 when speaking at the World Economic Forum, where he talked about technology coming into our lives. He said, 'The pace of change has never been this fast, and it will never be this slow again.'"
Paschke, who is division business manager for John Deere covering Iowa, Nebraska, Kansas and Colorado, paused after he dropped that quote on the crowd attending the summit. "When we talk about precision, I think that is a great statement, not only about how technologies are coming in and making our lives easier, but particularly, in the space of precision ag," he said.
Paschke was one of four panelists speaking about farm equipment at the summit, each sharing their views on the fast-changing equipment market. "When you look at data technology, machine learning, analytics, robotics, all of this is a new path that all of us manufacturers are going toward," he said.
The advancement of technology in equipment isn't always apparent to the operator. Eric Raby, president and general manager at Claas, noted that technology comes in different forms. "We phrase this in different ways — it's on board or off board; it's visible, it's invisible," he said. "Some of us are further along in the autonomous vehicle market in terms of unmanned vehicles, but there's still a lot of autonomy in all of our products."
The "invisible" are those systems that make decisions during operation — whether that's crop flow in a combine, autosteering or autopilot in the forage harvester. "All of those are really inherent invisible-type technology that makes sure your operation is more efficient," he said.
It's that pace of change that has ramped up new systems designed to make it easier for less-skilled operators to perform high-quality work with a modern machine.
Raby noted that as technology moves forward, the idea of a farmer's data and its ownership comes into play. "We are absolutely clear that the data belongs to the farmer to use how they want to. All we ask is to give us the opportunity to help and to work on how we can exchange data between platforms more effectively," he said.
He points to DataConnect, a new service in partnership with CNH, Claas and John Deere, that makes it easier to move key information across mixed-fleet platforms.
Labor and equipment
Many advances in agriculture have been driven by a lack of labor. "One of the areas I'm really passionate about is workforce development," said Ryan Schaefer, director of sales at Case IH.
While getting a lot of attention outside of agriculture, the labor issue is also a challenge for farmers. Schaefer referred to June results from the Purdue Ag Barometer, noting that two-thirds of respondents said they'd had some challenge or significant challenge finding adequate labor for 2021.
"That's up from zero percent in 2020," Schaefer said. "Sure, we've had a bit of a black swan event since then, but that's not all COVID-influenced either."
To meet that shrinking labor pool, Schaefer pointed to the rising use of technology across the Case IH equipment line, including combines built in Grand Island, Neb. But the company also announced at Husker Harvest Days a new partnership with dealers, and technical and community colleges across the country to create a program focused on technician recruitment.
Precision and management
As agriculture talks about managing at an acre level, John Deere is working to manage at the plant level, said Deere's Paschke. "That's the path we're going toward using machine learning analytics to be able to manage every single plant that a farmer plants, every single piece of soybean and corn that goes into the ground," he said.
That perspective is driving advanced connectivity for John Deere, and Paschke said the company now has more than 270,000 connected machines that also share information with dealers for expert alerts that flag challenges if the machine is about to fail. "It allows a farmer to get ahead of downtime," he added.
Automating beyond rolling equipment
Also on the panel was Gustavo Oberto, president of irrigation at Lindsay Corp. He said technology now allows farmers to manage multiple fields from a distance. "The productivity gains are also amazing today, when you think in terms of scalability for farmers that operate in multiple fields with multiple pivots," he said. For "those fields that are not contiguous, this shows the value of the technology."
He noted that the climate is changing, and Oberto got a taste of that during a trip to Michigan in late April where pivots were running. That's early, but changing weather conditions are forcing farmers to look at new solutions.
Automation is coming to this market segment as well. Lindsay has launched its smart pivot, which collects information and helps farmers make precision decisions regarding water use. It's another sign of automation for the equipment industry.
Panelists all agreed that farmers will see more technology to help with the labor situation and to provide increasing efficiency for their operations.
Subscribe to receive top agriculture news
Be informed daily with these free e-newsletters
You May Also Like
---