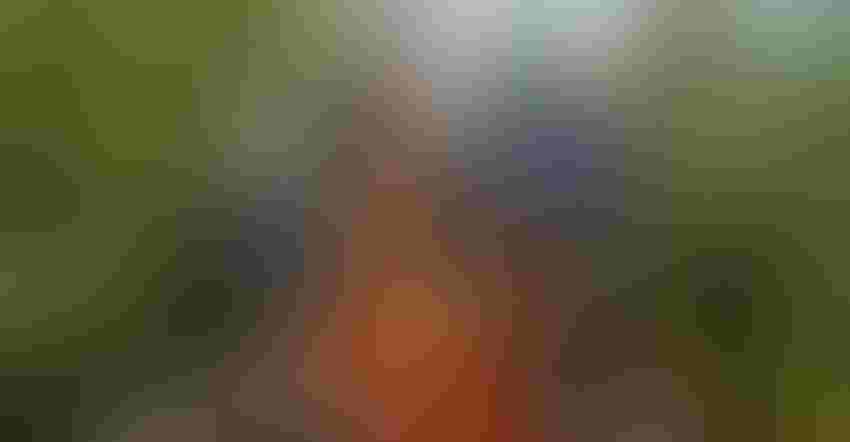 VACUUM HARVESTER: The DBR Bandit Cyclone, manufactured by Automated Ag, takes harvest-assist technology to the next level with a self-propelled machine that goes through rows.
Photo courtesy of Automated Ag
Harvesting platforms have come a long way since they started rolling out in the early 2010s.
Whereas older machines merely provided a flat, stable place to harvest apples, today's machines are high-tech, taking advantage of technology to not only provide a stable place for pickers, but also make it faster and without damaging the fruit.
Daniel Weber, horticulture Extension educator with Penn State, says the future of harvesting platforms are self-propelled machines that can drive down a row with little need for a driver and can cut down on harvesting time by 50% or more.
Speaking at the Mid-Atlantic Fruit and Vegetable Convention in Hershey, Weber talked about his research with a self-propelled vacuum prototype being marketed by Automated Ag, called the DBR Bandit Cyclone.
The company is well-known in the fruit and vegetable industries for developing several harvest-assist machines, but this new machine has some unique features for growers in need of a fast, mechanized way of harvesting fruit.
One of its biggest features, Weber says, is the pass-through bin management system. Once bins are prepositioned in a row, the machine picks them up and brings each bin to the center just underneath the platform.
QUESTIONS REMAIN: Daniel Weber, horticulture Extension educator with Penn State Extension, says machines like the DBR Bandit Cyclone are promising, but only if they can improve on picking time and other factors for growers to justify buying them.
Instead of picking behind a guardrail, workers are harnessed to the machine wearing a vacuum pack that takes the picked apples into the bin below. The fruit travels into the bin via rotating rubber paddles that are designed to evenly fill the bin with as little damage to the apples as possible. As it fills up, the bin lowers until it's completely full.
Once full, the driver stops the machine, the bin is ejected out the back and the rear platform lifts up to get out of its way.
An entire bin can be filled in 13 minutes, a 40% improvement over using just ladders and buckets, Weber says.
A closer look
Last year, Weber and several other researchers got grant funding with the goal of getting the machine to Pennsylvania for testing.
But technical difficulties delayed its shipment. So, Weber and the researchers traveled to Michigan to see a prototype in action at Riverridge Orchard in Sparta. The machine was compared to workers using just ladders and buckets.
Workers picked apples in the front and rear of the platform. In the rear, the workers picked everything between 6 feet and 10 feet while in the front the workers picked fruit that was 10 feet or higher. Apples in the lower canopy were already picked.
Quicker picking
Since mechanized platforms cost thousands of dollars, they must improve on picking time and other factors for growers to justify spending that kind of money.
In the conventional system, Weber says that it took workers, on average, about 55 seconds to fill a bucket, climb down a ladder and empty the apples into a bin. Of that it took an average 30 seconds for workers to walk from the ladder to empty the buckets into the bin and another 11 seconds to set the ladders up in other spots to start the process over again.
"It comes out to about 57% to 58% of the time picking. The rest is nonharvest-related activities," he says, such as repositioning, and walking up and down each ladder.
Or in other words, "If you're paying somebody $15 an hour, you're actually paying them $6.75 to just be walking back and forth," he says.
It took 21 minutes, on average, for workers to fill one bin in the conventional system. That's compared to just 13 minutes to fill a bin using the vacuum platform. Once you factor in the time to get a new bin into the machine, the platform was 30% more efficient, he says.
BIG PLATFORM: The machine, which is 25-feet long, takes at least four minutes to make a full turn and go into another row, according to Weber. This might be an issue for orchards with short rows as turns will be more frequent and take more time.
Weber says it took about 1.7 seconds for a worker to pick apples on ladders, about the same time as on the platform. One interesting difference, though, was that workers in the front of the platform picked at a much faster pace than workers in the back. One reason for this, he says, is that workers in the front overpicked fruits that were easy to get while workers in the back picked more hard-to-get fruit.
The rear platform was also placed a little bit higher, he says, resulting in workers having to bend over a lot more.
Still, once the issues were fixed, Weber says that picking from the platform increased picking speed by 20% on average.
Questions remain
One season of evaluation doesn't mean the machine is ready for primetime.
Along with the cost, Weber says that workers much be trained to pick in certain zones for maximum efficiency.
The bin swapping time is also not productive, he says, because it can take minutes for a bin to be swapped out. One positive is that this gives workers some downtime.
"Working on a platform is a lot like factory work. So, you're moving along and constantly doing one thing. They need a break occasionally," he says.
Platforms are also designed to have a certain number of people at one time, so if someone must take a break overall performance will take a hit.
It also takes at least four minutes for the platform, which is 25-feet long, to make a full turn and go into another row. This will likely be an issue for orchards with short rows as turns will be more frequent and take more time.
Having talked to workers at the orchard, Weber says most preferred the new system over the old system, though many said the vacuum was too loud and that they had to wear noise-cancelling headphones.
The workers also preferred the harness system to picking over a railing.
What works in Michigan may not work in Pennsylvania, though, as the terrain in Adams County is hilly and very steep in some places. Weber says that another grant will look at if the machine can handle the unique terrain of Pennsylvania's apple belt. He expects one of these machines to be brought to the state by spring.
Subscribe to receive top agriculture news
Be informed daily with these free e-newsletters
You May Also Like
---