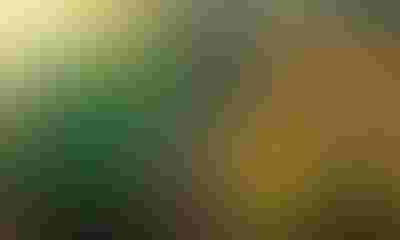 As owner of Iowa-based Van Wall Equipment — one of the Midwest's largest and most successful John Deere dealers — Don Van Houweling has his finger on the pulse of both evolving equipment technology and the evolving of needs of growers. Every so often that pulse gets a little out of sync — and when he spots a disconnect between available technology and the needs of his customers, he makes it his mission to find a better solution.

Goodyear LSW800/55R46 tires are now available on John Deere 9000-series tractors, offering the ability to significantly reduce soil compaction, road lope and power hop versus standard 800/70R38s duals.
"Today's tractors, sprayers and combines are amazing machines, capable of doing more work in less time and with greater efficiency than ever before," says Van Houweling. "But along with the increased weight comes increased concerns over soil compaction, as well as ride quality. And a lot of the standard tire options out there just weren't giving my customers the performance they needed."
Many Van Wall customers were starting to voice an increased interest in track machines — especially during recent rainy years — not only because of a better footprint, but because standard tires weren't providing the traction needed to work in extremely wet field conditions.
"The problem with tracks is that they are very expensive, and they can also pose some problems if you have to travel long distances between fields, but that's the sacrifice a lot of my customers were considering, so I wanted to find a better solution," says Van Houweling. "I had heard some promising things about Goodyear Low Sidewall tires, so I looked into it."
Van Houweling has seen his fair share of passing fads and understands the importance of proven-in-the-field technology, which is why he took it upon himself to investigate the claims of Low Sidewall (LSW) technology's performance. He enlisted his team to conduct side-by-side field-testing, taking videos to document the results. What he found was that not only did they outperform standard tires, but they held their own against tracks — at a much lower cost.
"LSW Technology® proved itself as superior to any default factory setup, and even tracks, because of the ability to apply torque to the field in full influence — and with less of a footprint. Even in extremely wet conditions, there is nothing comparable to the traction and stability of an LSW setup," he says. "I knew John Deere would be hesitant to add the LSW option without more endurance testing, but after additional testing and our field results, we agreed that there were indeed opportunities with LSW."
John Deere now offers the following LSW options on new equipment purchases — each providing significant improvements to footprint, lower inflation pressures, improved traction, and reduction of road lope and power hop.
Combines (John Deere S660, S670, S680, S690)
·   Front: Goodyear LSW 1250/35R46 or LSW 1100/45R46
·   Rear: Goodyear LSW 710/60R30
Tractors (John Deere 9370R, 9420R, 9470R, 9520R, 9570R 9620R)
·   Duals: Goodyear LSW 800/55R46
 Sprayers (John Deere R4045, R4940, R4920, R4830)
·   Flotation option: Goodyear LSW 800/55R46
While Van Houweling sees these LSW listings as excellent progress, he says his work isn't done yet.
"More than 60 percent of my customers using John Deere 8000 series tractors are using them in non-row crop applications — yet the majority of these models are coming factory-equipped with a narrow dual setup," explains Van Houweling. "For these 60 percent, they should really by running the Goodyear Extreme Flotation setup with LSW 1000/40R32 fronts and 1100/45R46 rears. That gets a grower a 20 percent improvement in footprint, resulting in better traction and ride quality, as well as reduced soil compaction. That's my next mission — to get those listed in the books as well."
For more information on the ride, stability and reduced compaction benefits of LSW technology, visit lswadvantage.com. 
Subscribe to receive top agriculture news
Be informed daily with these free e-newsletters
You May Also Like
---