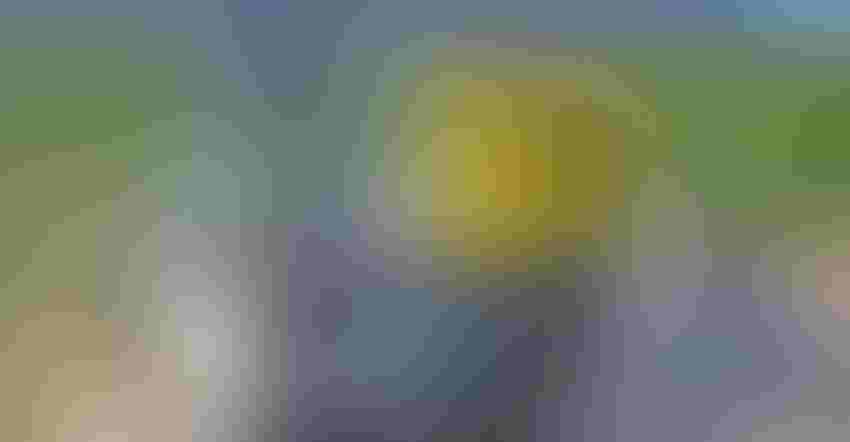 POWER OF WATER: T-L's in-line turbine technology allows producers to irrigate remote locations where it may be too costly or impossible to bring in power sources.
Courtesy of T-L Irrigation Co.
Where there's water, there's a way.
That alone helped David Kimble of Cortez, Colo., make the decision to have two hydropowered pivots from T-L Irrigation Co. installed this past year to replace three side-roll units. Kimble worked with his local T-L dealer, Jake Gordanier of Innovative Irrigation, on the installation of the two systems.
Neal Schlautman, engineering manager with T-L Irrigation Co. in Hastings, Neb., says an elevated water source drives these in-line turbine systems.
Schlautman says the system requires a minimum of 65-pounds-per-square-inch water pressure, "and that pressure is going to be split between the turbine and the pivot. So, it will first run through the turbine, and use about half of that pressure, and then you have the remaining pressure available to pressurize the pivot to irrigate with."
The turbine systems require at least 300 gallons per minute of water flow, he explains. "With those minimums, we can run a pivot system, and anything above that will just be able to produce more power to run a longer system with more towers or a faster speed," Schlautman says.
Given the 65 psi and 300 gallons per minute, Schlautman says a producer should be able to run a four- or five-tower pivot system, but if they have a larger field, or maybe want to run nine towers, they will need more pressure and more flow to irrigate it properly.
It takes 2.31 feet of head (drop in elevation) to generate 1 psi, according to the company's specifications, so a minimum of 150 feet of head is necessary. Kimble's 150 acres of grass hay benefit from a water source that provides a head of about 200 feet. He raises horses for team roping and barrel racing, as well as a few roping steers.
Beating cost of power
Schlautman says the company's in-line turbine units shine in remote areas where it may be difficult to get fuel to operate the pivots, or there may be no electrical service to power units. As long as the minimum water requirements are met, the system will operate.
"The rising cost of electricity and the cost to extend power lines to a rural field site make turbine systems appealing," Schlautman says.
Farmers are looking for a more economical way to supply water to these isolated areas. And while these newer systems require a little more money into the upfront fixed costs, he notes, they can be spread out over several years.
Where hydropower is an option, T-L pivots also work nicely. Schlautman explains when paired with a T-L pivot, the producer simply turns on the valve at the pivot main line, water starts moving through the turbine generating power, and the T-L hydraulic pump starts turning to create hydraulic power and pressure.
Using T-L's exclusive 80% efficient planetary gears minimizes power requirements as compared to the 40% efficient worm gears of an electric drive pivot.
"Turbines operate best with steady, constant demand for speed and water flow — making them a perfect match for the steady forward movement of hydrostatically powered T-L pivots," Schlautman says.
The start-and-stop of electric pivots requires regulating the turbine with special valves to keep the electric generator consistently at 1,800 rpm for 60-hertz power. A hydrostatic T-L system can handle variations of 1,500 to 2,200 rpms without issue.
Although the power supply is not an issue at Kimble's Colorado location, he says "the cost of operation, the fact that I had enough pressure to run them off of the same water they were sprinkling with was a no-brainer for me."
He also sees labor savings of about two hours a day, and there was little standing water. He adds that "it was the first time I've had water all year in the past five or six years," with the qualifier that the Cortez area did have the luxury of receiving "long, heavy rains" June through August of last year.
Water reliability with the two hydropowered pivots from T-L Irrigation allows Kimble to realize a more consistent volume of hay across the entire 150 acres.
About the Author(s)
Subscribe to receive top agriculture news
Be informed daily with these free e-newsletters
You May Also Like
---