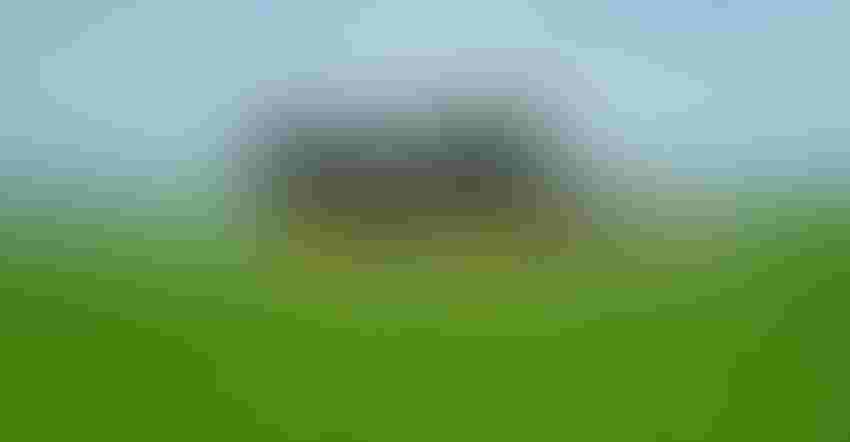 LOOK AHEAD: "In general, the key to a sprayer purchase is taking a good look at what your spray needs are this season and the next four or five years afterwards," advises Clarke McGrath. Looking for used equipment is always an option, but doing research on what you're potentially buying is important.
It's been a challenging fall with the wet weather and a long harvest time frame, so to start thinking about next spring is asking a lot. But many farmers already are. This summer and fall I've had a record number telling me they are considering upgrading sprayers.
Apparently it's not just my customers thinking about this; search traffic for self-propelled sprayers on one machinery site was up nearly 40% recently. After several years of sagging sales that left dealers with a lot of late-model used units, sales are picking up speed.
What is driving demand?
A number of factors are behind the increased interest in sprayers, but I hear some of the same primary reasons pretty often. Getting acres covered at the right times is challenge No. 1. With one of our primary soybean weed control systems (Xtend) having significant label changes, we'll probably face further challenges with getting over our acres.
A few highlights that applicators are taking note of: the minimum gallons per acre increased from 10 up to 15; allowable wind speeds dropped from zero to 15 mph to a tighter range of 3 to 10 mph; and spraying is now must be between sunrise and sunset. The new label requirements should help reduce off-target movement. It also seems they are helping sprayer sales.
Growers and ag retailers both say that the new labels mean fewer hours available that are fit to spray, so they are looking for more sprayer capacity to try to keep up. And while these regulations do shrink the time we have for spraying dicamba on our soybeans, applicators don't see the new label as the only reason to increase capacity. With our weeds — herbicide resistant or not — needing to be treated in such tight windows (4 inches is the upper end of many herbicide labels) we have to be timelier than ever, regardless of what program we are using.
Purchase new or used?
People debate the "new vs. used" equipment issue quite often, and it seems we could go round and round with no clear answer. It's hard to predict frequency, duration and cost of downtime for a used sprayer; there are some good ones that will be nearly as reliable as new. There will also be some that will singlehandedly keep service technicians and welding shops in business. Some of the reliability (or lack thereof) can be inherent in certain makes and models. Experience with a lot of used rigs as a co-op manager leads me to think that how well previous owners cared for the machines also has a large role in keeping them in the field and out of the shop.
New rigs may have some occasional issues, but get the nod for initial reliability. Does that offset the increased cost of "new"? It depends on what the new vs. used price difference is; frequency and cost of repairs; availability of a backup plan; timing of the breakdowns; and a lot of other factors specific to each operation.
I typically lean toward "lightly used," as that can often mean more sprayer capacity for the money. Another perspective is that we can see how various sprayers' drivetrains and spray system components have worked out in rigs with some hours on them. With technology that has been on the market a year or two, we have a better idea if it worked well, if there were some issues and they've worked the bugs out, or if something was particularly troublesome and needs to flat-out be avoided.
On the other hand, we may be missing out on some great new sprayer technology by going with a used rig. See how this argument goes round and round? Another complicating factor is that as the used sprayer market has heated up, the price gap between late model used vs. new in comparable rigs has narrowed.
Do some research on your own
Some other thoughts on buying used: Ask other farmers and custom applicators for their recommendations. Do a little research on brands you may be interested in and look for their track record, ease of repair and availability of parts. I learned a hard lesson when we had a fairly new rig with a blown wheel motor. It turned out that each wheel took a different model of motor, and being expensive, inventory was low and scattered around the Midwest. Hopefully, some background work will save you sitting for days during peak season waiting on hard-to-find replacement parts, or an overnight trip to a parts warehouse.
There is a wide range of "tender loving care" given (or not given) to sprayers depending on the operators and terrain in their history. A high-hour machine that spent its life cruising around in the long, smooth rows of one region may be a better value than a low-hour rig from an area with lots of short rows, starts and stops, sharp turns, and slopes, with potential bouncing through ditches, ruts and other obstacles. Then again, depending on the operator and maintenance, the exact opposite could be true.
When you are shopping, don't hesitate to inspect and test anything remotely in your price range — good, bad and everything in between. That's how you'll get a good eye for what kind of life the sprayer had (and has left).
How much sprayer do you need?
There are all sorts of formulas and opinions on how wide a boom and how big a tank you need to fit your operation. Using those as a rough guide, I vote for buying as much quality and capacity as your budget is comfortable with. A strategy I often see is prioritizing quality over capacity and filling in capacity with custom application if needed.
Another tact some growers are taking is to join forces and buy more sprayer quality and capacity in a partnership.
What sprayer options should you buy? The options are endless when it comes to sprayers. Look at your farming or custom spraying operation and see what adds the most value for you.
• Do you spray with a variety of products, so you need to clean the sprayer often? Stainless steel tanks and plumbing are typically easier to clean; direct chemical injection systems help with this, too.
• Automatic boom section controls (or even more precise individual nozzle controls) can save time, reduce operator fatigue, save on excess chemical costs and reduce the risk of crop injury or skips. Depending on field shapes, sizes and obstacles, this can all really add up.
• Autosteer guidance can help with operator fatigue and efficiency.
• A good suspension system is a must if you plan on doing much spraying in rough ground.
• Plenty of power is essential; no sprayer operator has ever said "that's too much power."
• Lighting system; you can get by without high-end lights, but if you have them, you'll appreciate them. Just don't use them to spray dicamba after sunset.
• Boom height and leveling systems are almost a "must have" item now, given the increasing number of herbicides mandating specific maximum boom heights above the crop (for example, dicamba is 24 inches).
Good luck if you are in the market for a new sprayer, and remember when you are getting that new (or slightly used) rig loaded with chemicals and ready to hit the field — always read and follow label directions!
McGrath is the On-Farm Research and Extension coordinator for the Iowa Soybean Research Center at ISU. Contact him at [email protected].
Subscribe to receive top agriculture news
Be informed daily with these free e-newsletters
You May Also Like
---