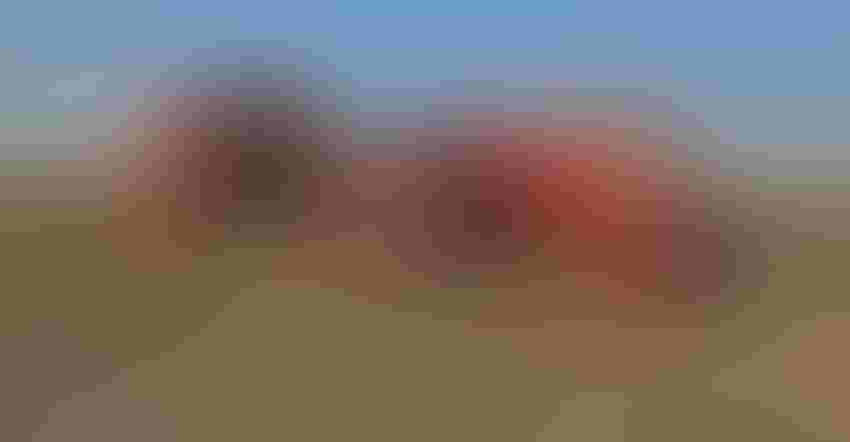 VINTAGE EQUIPMENT: You will see equipment like this tractor and combine combo, the pride and joy of the late Darius Harms, working at the Half Century of Progress Show.
Lee Klancher
Max Amstrong didn't start the Half Century of Progress Show, but he worked closely with the people who did. Armstrong, originally from Princeton, is a longtime farm broadcaster whom you will likely find wherever there are large groups of antique tractors and farm machinery, and the people who operate them, assembled in one spot.
"My main job has been to help publicize the shows and spread the word about what is going on," Armstrong says. "One of the key people who helped organize the show and keep it going was the late Darius Harms from St. Joseph, Ill."
Harms passed away in July 2016, but the Half Century of Progress Show will go on as planned this year, Aug. 24-27, on the old air base near Rantoul, Ill., Armstrong says.
History
The first Half Century of Progress Show was held on the weekend before the 50th anniversary Farm Progress Show near Henning, Ill., in 2003. The show was a hit. Unfortunately, rain forced cancellation of the last two days of the actual Farm Progress Show. That spurred movement to a permanent site and new rotation. The Farm Progress Show now rotates between permanent sites at Decatur, Ill., and Boone, Iowa. When it's held at Decatur in the odd-numbered years, the Half Century of Progress Show is held the weekend before the show, also at a permanent site.
"Every year there are rumors that the show won't be held anymore, and every time it's held it just gets bigger and better," Armstrong quips. He is confident the 2017 show won't be any different.
"The old runways with all that concrete make a great place to stage a show," Armstrong says. "There are close to 300 acres of farmland also used by the show. That's what makes it special. People bring their older machinery and work in the field each day of the show."
According to information provided by Half Century of Progress, anyone can bring a tractor and equipment and display it, and even work in the field. They are required to register on-site and follow specific rules, include attending safety training offered on-site. Demonstrations are similar to Farm Progress Show demonstrations. Everyone gets a chance to make at least a pass or two with visitors watching.
Frequent questions
Learn everything you need to know if you want to attend, either as a visitor or a participant, at halfcenturyofprogress.com. Here are three frequently asked questions taken from the website.
• What hours are the gates open? They're open from 7 a.m. CDT to dusk. On Thursday and Saturday nights, gates close after tractor pulls conclude.
• What does it cost to attend? The admission price for adults is $15 per day, or $30 for a four-day pass. Children 12 and under are admitted free.
• What about transportation on the grounds? You can bring your own golf cart or all-terrain vehicle, but there is a $30 tag fee, good for all four days. You can also rent a golf cart. Call ahead at 866-275-2742. Drivers of golf carts and tractors must be 16 years old or older. No bicycles, mopeds or motorcycles are permitted on the grounds.
Subscribe to receive top agriculture news
Be informed daily with these free e-newsletters
You May Also Like
---