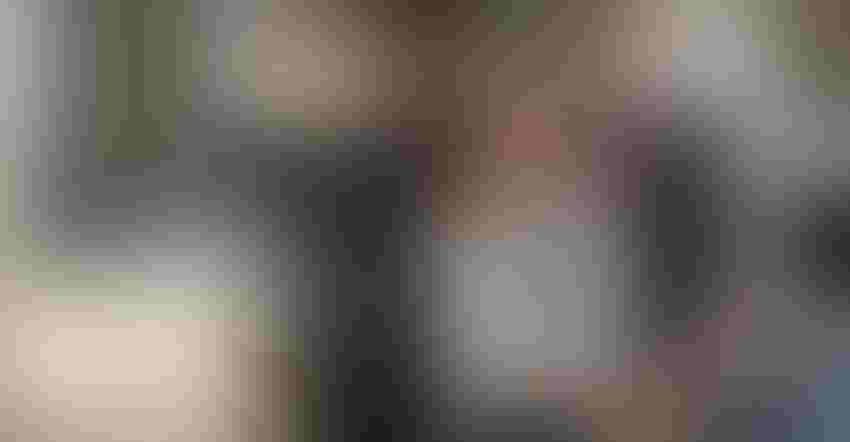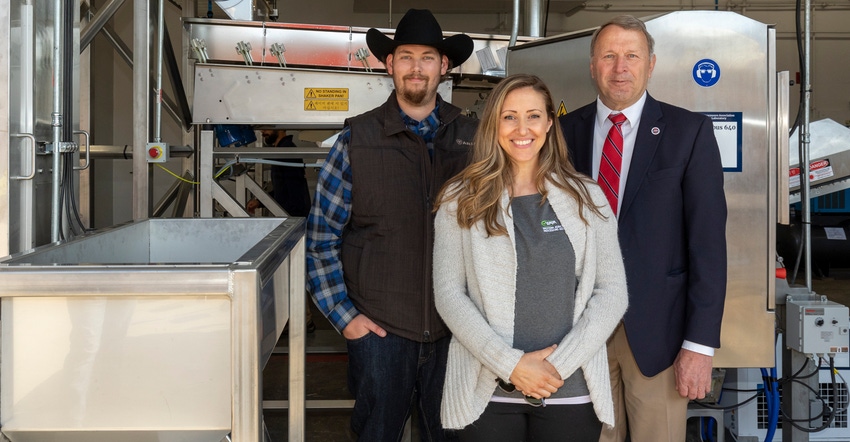 Fresno State students like Bailey Dunn, left, will benefit from a new tree nut processing lab donated to Fresno State by various companies. The collaboration between industry leaders like WAPA Chairperson Kim Keyawa-Musselman and university officials such as Dennis Nef, dean, Jordan College of Agricultural Sciences and Technology at Fresno State, will aid in the creation of a skilled workforce within the California tree nut industry.
Todd Fitchette
More than a dozen companies donated nearly $800,000 in equipment and services to build a tree nut processing lab at Fresno State University. The lab provides students hands-on experience necessary to transition quickly from commencement to the workplace.
The tree nut lab within the Department of Industrial Technology features advanced processing equipment that can hull and shell almonds, pistachios, walnuts, and pecans to industry standards, according to a statement from Fresno State.
Industry leaders say the lab is needed to meet the growing need for well-trained employees who can operate and repair the high-tech equipment used in a modern processing facility.
"One of the biggest requests we get from our 178 members is we need people," said Roger Isom, president of Western Agricultural Processors Association (WAPA). "We need people with knowledge and experience to work in our processing plants."
Isom said the lab is just one of several steps to assist the industry. Discussions are under way to create a certificate program where existing nut company employees can take a two-week intensive course to bolster their skills. Another idea includes encouraging applied research through the university.
"We'd like to do some research here, whether its on food safety or food quality, or production issues; we want to bring in additional equipment," Isom continued. "We want to put this university to work. They're very good at doing applied research and they're right here in the valley."
What partnership looks like
The need for high-caliber employees with a technological acumen was not lost on WAPA Board Chairperson Kim Keyawa-Musselman, who made the long drive from Keyawa Orchards and Tri-Counties Walnut Hulling Operation in northern California to view what a partnership between agricultural processors and Fresno State can look like.
"Our latest farm manager is a graduate from Chico State," she said. "We wanted to make sure we made the trip here in hopes that we could start something like this at some of the other ag colleges."
University officials recognized the important role a practical lab like this can play in a quality agricultural education, particularly in the San Joaquin Valley, where students prefer to remain once they complete their classes at Fresno State.
"Over 80% of our students will remain and work in the Valley," said Alex Alexandrou, chair of the Department of Industrial Technology at Fresno State.
The need for such an education and experience fills a legitimate need across the San Joaquin Valley, as food processors employ tens of thousands of people from Bakersfield to Sacramento to process food with high tech equipment.
"Food processing, packaging and the agricultural industry in general is the driving force behind our regional economy," Alexandrou said.
Campus officials showcased the lab for industry leaders in early April, capping the four-year process to cobble together the commercial equipment and install it in a small space once used for automotive repairs.
Strategic collaborations
Fresno State continues to look for strategic collaborations with the agricultural industry, according to Dennis Nef, dean of Fresno State's Jordan College of Agricultural Sciences and Technology. He pointed to the donation of citrus packing line equipment by Bee Sweet Citrus several years ago and other collaborative projects between the university and agricultural companies in the region as stepping stones for students wanting to work with agricultural employers in the San Joaquin Valley.
The campus is home to a 1,000-acre farm where students manage orchard crops, livestock, field crops, vineyards, and a horticulture nursery. The campus also boasts having the nation's first and largest commercial winery on a college campus.
"We've been able to be a leader in this area because of the support we get from our community," Nef said.
Michael Kelley, president, and CEO of the Central California Almond Growers Association (CCAGA) said the access to students with a quality work ethic and acumen for new technology has helped his association. CCAGA is a grower-owned almond huller and sheller cooperative.
Andy Barahate is a recent graduate of Fresno State University who now works for CCAGA as a process engineer. After graduating from Fresno State, Barahate went to work for a nut processor in northern California, where he was given quality hands-on experience with technical systems involved with hulling and shelling tree nuts.
Barahate was later recruited to work for CCAGA. Kelley said hiring Barahate four years ago brought added value to his association.
"It was a win-win because he wanted to come back to Fresno to be closer to his alma mater, and he really helped us on some of the needs that we had on some of the technical applications that we implemented," Kelley said.
Tree nut production in California is a multi-billion industry, with gross receipts of almonds, pistachios and walnuts topping nearly $10 million in 2020. Nut processing across the state adds billions more in economic benefits to local economies and is credited for billions of dollars' worth of exports from California.
Subscribe to receive top agriculture news
Be informed daily with these free e-newsletters
You May Also Like
---