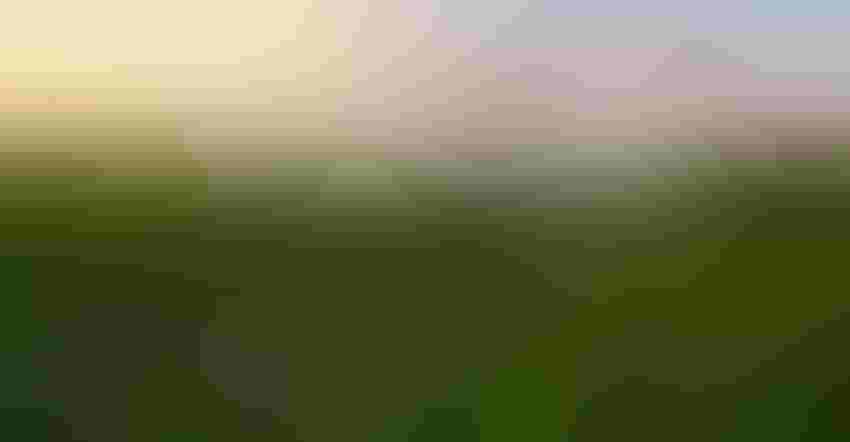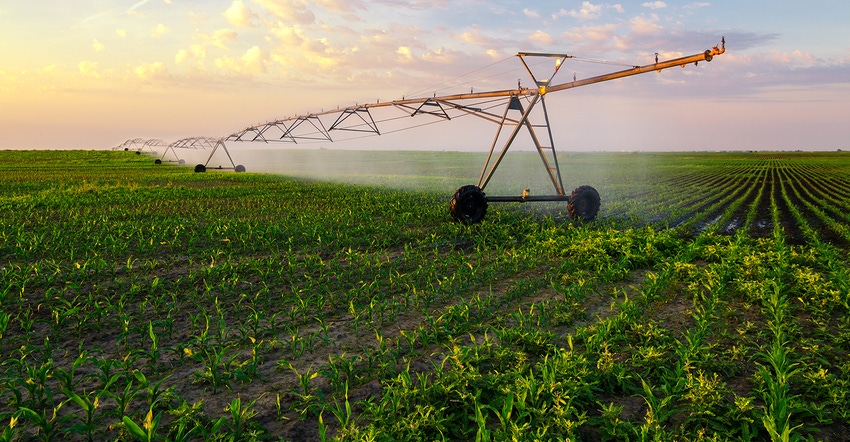 TALKING VRI PAYBACK: To maximize variable-rate irrigation, farmers need to pull in a range of information. Objective evaluation of potential yield impact is critical.
prudkov/Getty Images
Variable-rate irrigation isn't a new idea, but putting it to work in a specific operation isn't always a simple task. During the Irrigation Show earlier this month, Jake LaRue, Valmont Irrigation, walked a visitor through recent work he did in evaluating VRI, and the potential payback from different approaches.
"I think this is one of the challenges, from a manufacturer's standpoint: to work with dealers to help them think through the question of VRI," LaRue said during his presentation at the Long Beach, Calif., event.
LaRue has been looking at VRI and its many approaches for several years. There's an opportunity for VRI to improve efficiency of water use or increase yield from water applied, based on a number of factors. However, he acknowledged that the cost-effectiveness of VRI needs further exploration.
LaRue noted that the potential values of VRI commonly considered include saving water, saving energy and improving yield, but he added that the focus should be on overall field profitability.
The key is field variability, and the potential to skip over "no-crop" areas to maximize water efficiency. "If you have a uniform field that's relatively flat and mostly of the same soil type, with little variability, why talk about variable-rate irrigation?" he asked. "As a manufacturer, we have to ask if [VRI] makes sense for that field."
During his presentation he offered up a couple other examples. There is a field with variable soils from sand to clay to fine sand. In a second field, he shared areas of the field where the farmer didn't want to apply water, where there was no crop planted. "There's always talk that VRI will save water; but in some fields, you can use more water with VRI — and if you're not restricted in water use and your efficiency improves, why not?" he said.
Looking at profitability
Yet LaRue said that for VRI installations, it still comes down to profitability. "You can lose sight of that," he observed. "I suggest that in looking at VRI you have a process." He noted that you want to look at what you want to accomplish, who you're working with, what data you have available, and then determine how you will analyze all the information you gather. From that, you can develop a VRI "go" or "no-go" approach.
He offered a look at some case studies of different fields and their potential paybacks.
In a "troublesome field" with variable soils, you need to pull together a range of information about the soils. LaRue talked about using yield data and electrical conductivity to measure soil texture and soil type. The yield maps are important, because you want to know if variation in the field is caused by water availability or hybrid response.
The focus should be on soil, LaRue said. Getting a productivity rating for soils on your fields — which is available in some states, but not in others — is a start. "You can assume the difference in yields between clay loam soils and fine sandy soils are due to water. That's not totally fair, but you have to start someplace," he noted.
In this case study, LaRue assumed that the field's water use would not be limited — you could pump all you need. He determined that in sandy loam soils, which would be about 78 acres of the case study field, there would be a yield increase of 33 bushels per acre based on the soil survey, if the right water was available.
For VRI you have three approaches to VRI — speed control, zone control and individual sprinkler control. In his payback analysis for the variable-soil field LaRue offered the following:
Speed control. Assuming you have to replace your panel to gain control, the payback with that yield increase would be 2.9 years.
Zone control. Assuming you have the right panel and you only need to add the VRI software for control, the payback for that yield increase would be 3.3 years.
Individual sprinkler control. Assuming you have the correct sprinklers and you only need to add the VRI software, the payback would be 4.6 years.
Note: The need to update or upgrade hardware does impact the payback scenario for this difficult field.
"With that payback, it makes sense to go ahead and proceed to install VRI," LaRue added.
He offered an example where the payback wouldn't work. It was a field where the analyzed benefit of VRI would boost yield by 12 bushels per acre on 21 acres of a given field. Using $3.50 per bushel for corn on that field, LaRue noted that "$882 of added income per year — gross — for that field won't cut it. There are better ways to spend money. If [the farmer] was concerned about that patch, he could do some variable-speed control." He added that speed control wouldn't be perfect, but it would accomplish most of what the farmer may want — with a much lower investment.
Figuring payback on VRI requires getting the right information and evaluating it objectively. It's not always easy, but there are clear cases where it can offer value, as LaRue demonstrated.
About the Author(s)
Subscribe to receive top agriculture news
Be informed daily with these free e-newsletters
You May Also Like
---