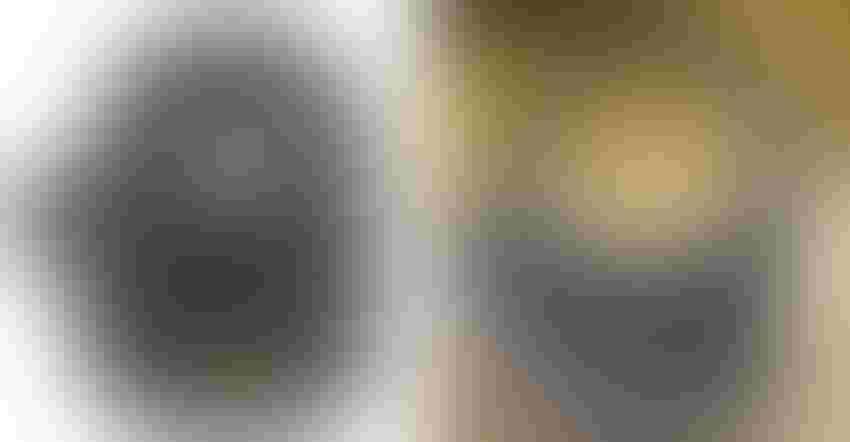 TAKING CONTROL: The Wheelman product line offers a lower-cost way to bring autosteering to more machines. Both work with the AgJunction Whirl app. The Wheelman Pro, left, links permanently to the machine. The Wheelman Flex, right, can be moved from machine to machine.
Autosteering is a much-talked about feature that may sound ubiquitous in agriculture, but is, in fact, not on every machine. And Jeff Morris wants to offer farmers a chance to go hands-free. Morris is with AgJunction, a name that may not be familiar to a lot of farmers.
The firm has been doing autosteering for farm equipment for 25 years with names like Novariant, BeeLine and Paradyne. The company even owned the Outback system, which it recently sold to Hemisphere.
Morris is senior vice president, AgJunction, and he explained that the company has software and technology that's now included in the systems offered by more than 30 original equipment manufacturers in the market. "We have 130 patents today," he said. But there's opportunity out there.
He noted that globally, there are many more farms than farmers with autosteering systems. "If you look at farms over 1,000 acres or greater, there are about 200,000 potential customers," he noted. "In that market, more than 80% are using autosteering."
But the leaders at AgJunction are looking farther afield. They see that smaller farmers, those having 1,000 acres or fewer, could benefit from this technology as well. "At that level, less than 6% are using autosteering," he explained. "That's a large opportunity."
He pointed out that USDA information shows as much as a $15-per-acre savings from using autosteering, and that savings "scales," he says, from 1 acre to 100,000 acres — it's the same savings for all sizes of farms. But for smaller farms, the investment in autosteering has been prohibitive, complex and costly, Morris noted.
"For a smaller farm, the $15,000 investment in an autosteering system makes generating a return on investment complex," he said. "For 25 years, autosteering has been costly and complex."
Moving to simple
For AgJunction, the idea was to create a new way past the concept of complex to make a simple, affordable autosteering system for "everyone else." In the case of many small farmers, that tech could help the user, since many also have off-farm jobs to support their families. Tools like autosteering boost efficiency, and then there are the soft costs of fatigue elimination that are harder to quantify.
From Morris' perspective, the answer is the new Wheelman autosteering system that, he explained, is simple and affordable. "For less than $4,000, the system includes everything the user needs," he said. "And we get that question when people hear the price. They ask, 'What else do I have to buy?' The answer is nothing."
The Wheelman package includes the wheel, antenna and all the hardware you need. In addition, there's an app — the Whirl App. This app powers both versions of the Wheelman — the Wheelman Pro and the Wheelman Flex.
For $3,995, the Wheelman Pro provides a user all the tools needed to add autosteering to a machine. The system replaces your steering wheel with a motorized, GPS-controlled steering system. It has high torque for quick response, even with older equipment. "The system is designed as a do-it-yourself project that's easy to install," Morris said. "And calibration takes just 10 minutes with our app."
The Pro uses a spline design that links to the steering system. Flex uses a kit that attaches to the steering wheel, which is designed to be moved.
Both Wheelman versions use the Wide Area Augmentation System for correction. This longtime service is free as a correction signal for the GPS, and Morris said with Wheelman, it provides 4- to 6-inch accuracy consistently. "There's no subscription with that system, and our autosteering system works with more than 850 makes and models of equipment," he said.
The Wheelman Flex, for $4,495, is designed to be easily moved from machine to machine, since the steering collar can be moved. Calibration using the Whirl app takes a few minutes, Morris said.
If you've got older equipment and have wanted to move to autosteering, AgJunction's Wheelman product might be right for your business. You can learn more at agjunction.com.
Subscribe to receive top agriculture news
Be informed daily with these free e-newsletters
You May Also Like
---