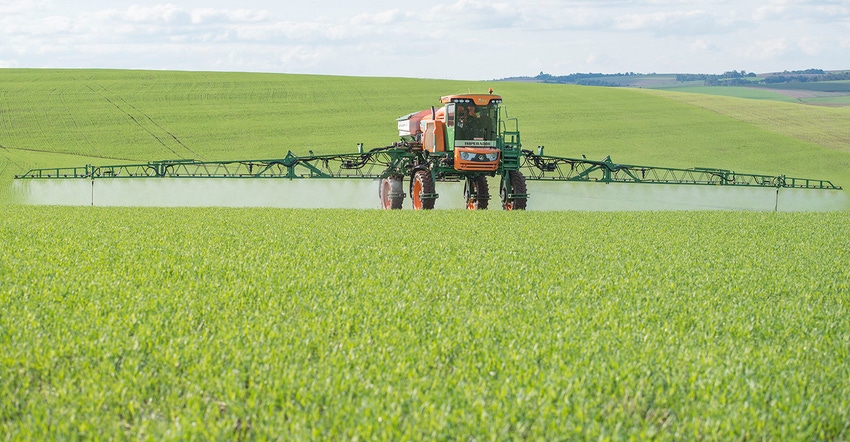 COVERING GROUND: With adjustable-height spray booms in the middle of the machine, the Imperador 3.0 by Stara maneuvers quickly across all terrains, even those seen here in Argentina.
Courtesy of Stara
It's a sprayer. No, it's a spreader. Wait, it's a seeder. Actually, it is all three. Just one machine from Brazilian farm equipment company Stara can complete all three farm tasks.
The orange and green Imperador 3.0 was a showstopper at the Agrishow in Brazil. It has been around since late 2016 as a fusion of the company's popular sprayer — the Imperador — and its spreader, the Hercules. But this year, Stara upped its game.

CONSTANT EVOLUTION: Stara prides itself on improving equipment farmers already use. This year the company added a pneumatic seeder for farmers wanting to plant cover crops.
The Imperador 3.0 is now a self-propelled unit consisting of a sprayer with central bars, a spreader with variable-rate technology and a pneumatic seeder. But what stood out was its ability to adjust not only the spray-boom height, but also the entire chassis, allowing farmers to address season-long crop needs.
Upward mobility
The Imperador boom system is mounted in the center of the machine, allowing for better weight distribution. Given the location of the solution tank and the booms, there is a 50-50 weight distribution when spraying. Company representatives say boom location allows spraying to follow the contour of the land.
Farmers can choose from roughly 90- to 100-foot boom lengths. With a touch a button in the cab, application height with the shorter boom adjusts from 23 to 80 inches; with the longer, it lifts from 31 to 89 inches. Farmers wanting a little more clearance can opt for Stara's Up and Down System.

CROP CLEARANCE: With Stara's Up and Down System, farmers can precisely adjust how far off the crop they want to spray — and the center boom system keeps it mirroring the terrain. With U.S. dicamba application spray-height requirements, this could be something farmers look to in the future. (Photo courtesy of Stara)
This feature increases ground clearance 16 more inches. Through its Topper 550 touch-screen control system, the Up and Down System lifts the entire chassis higher. This allows producers to make late-season application of nitrogen in taller corn, or deliver post-chemical control of late-season pests. The additional ground clearance also allows for seeding cover crops into standing crops.
Interesting features
While the Imperador is in South America, Europe and Africa, the latest version with the seeder just launched in 2018 and can be purchased as an add-on. The Stara 3-in-1 machine has not made its way to the United States. However, company officials continue to look at expanding and say the U.S. may be an option if the interest is there.
Here are a few other features of the Imperador 3.0:
* Four-by-four. A four-wheel-drive hydrostatic transmission is nothing new. But when you look at the traction of this machine, it can cover some unique terrain. The Imperador has the highest ramp capacity in its class, working on hillsides with a slope of close to 32%. Now that is some hill ground.
• Pump power. The supply pump is rated at roughly 290 gallons per minute and is mounted on the machine. The tank fills up in less than three minutes.
• Washer. There is an external system to wash chemical bottles without opening the cap.
• Spray tank. The tank is made of polyethylene, and it can hold up to 635 gallons.  
• Spreader tank The stainless-steel tank has a load capacity of up to 3 tons.
• Spreader disks. The spreaders disks have an adjustment system allowing for an application range of 88 feet.
For more specifics on Stara's Imperador 3.0, visit\ stara.com/br/en.
Below is a video of the system:
About the Author(s) Editor, Missouri Ruralist
Mindy resides on a small farm just outside of Holstein, Mo, about 80 miles southwest of St. Louis.
After graduating from the University of Missouri-Columbia with a bachelor's degree in agricultural journalism, she worked briefly at a public relations firm in Kansas City. Her husband's career led the couple north to Minnesota.
There, she reported on large-scale production of corn, soybeans, sugar beets, and dairy, as well as, biofuels for The Land. After 10 years, the couple returned to Missouri and she began covering agriculture in the Show-Me State.
"In all my 15 years of writing about agriculture, I have found some of the most progressive thinkers are farmers," she says. "They are constantly searching for ways to do more with less, improve their land and leave their legacy to the next generation."
Mindy and her husband, Stacy, together with their daughters, Elisa and Cassidy, operate Showtime Farms in southern Warren County. The family spends a great deal of time caring for and showing Dorset, Oxford and crossbred sheep.
Subscribe to receive top agriculture news
Be informed daily with these free e-newsletters
You May Also Like
---