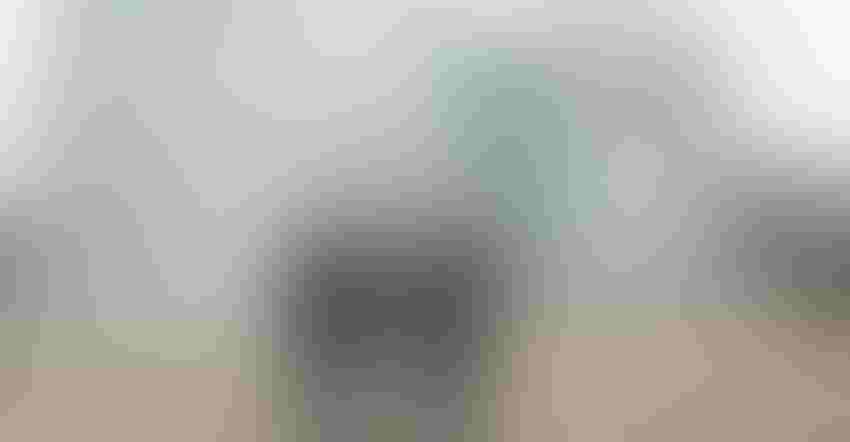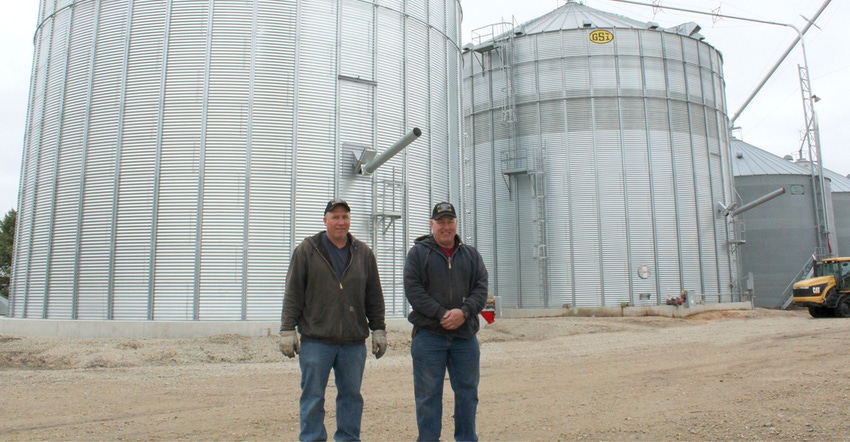 BIGGER BIN: Alex (left) and Paul Schutjer are in front of a new 120,000-bushel dry storage bin (far left) that's part of a large expansion of their grain system.
The Schutjer brothers' farming operation in Kossuth County in northern Iowa was all set to add a new grain storage bin in 2018. But then, like a quarterback calling an audible at the line of scrimmage, they suddenly decided on a more ambitious grain system expansion to significantly increase capacity and efficiency.
Their corn and soybean operation includes two farm locations: one just west of Buffalo Center, the site of the expansion project, and the main farmstead about 15 miles away in Titonka. Three generations of the Schutjer family are involved in the business: brothers Wendal, Reginald and Denny; Wendal's son, Paul, and grandson, Dan Irwin; and Reginald's son, Alex, who manages the Buffalo Center farm. 
The original plan was to simply replace a wet grain holding bin with a new unit that would have provided a modest increase in capacity. Their goal was to run their combine for longer periods during harvest and keep their existing grain dryer operating around the clock, rather than having to shut it down when the wet bin ran out of grain. 
But a problem arose. They couldn't find the right auger size for the larger wet bin, and there wasn't enough room within the layout of the existing system to make things flow without the components being too spread out. On top of that, the farmers were getting close to having to reach a decision because a price discount for their new grain equipment was about to expire.
Deciding to expand
That's when the Schutjers decided to go bigger. Working with GSI dealer Ag Advantage Systems, based in Thompson, Iowa, they adopted a more aggressive grain system expansion to not only address the immediate challenges, but also help meet their longer-term needs.
The new plan was drawn up by the following day, which project designer Adam Abels displayed using mixed-reality technology that simulates in 3D what the finished project will look like. "Adam is really good at drawing up plans on his computer, showing right down to the inch where everything is going to be," Paul Schutjer says.
Instead of adding a new wet bin, the farm's existing 50,000-bushel dry bin was converted for wet grain storage, increasing capacity by five times. A new 120,000-bushel dry bin was installed, doubling their dry storage capacity.
"We wanted to keep growing," Schutjer explains. "At that time, we knew we eventually wanted to go from an eight-row combine corn head to 12-row, which we're actually going to do this fall. That's why we needed extra storage capacity."
To address the layout issue, a new 10,000-bushel-per-hour grain leg was added, which not only increased capacity, but also opened up the site. That's because the grain leg can "bucket" corn vertically, so it can be placed closer to the bin. As a result, its overall footprint is smaller compared to the farm's portable auger that was much longer and farther from the bin, taking up more space.
Design offers multiple benefits
In addition to being able to run their combine for longer periods to store and dry more grain, Schutjer says their new GSI system has provided other important benefits.
It also offers a hedge against wet weather, he notes, as was the case during the 2018 harvest. With more wet grain holding capacity, the Schutjers were able to stockpile grain when rain was forecast and keep the dryer operating even when it was too wet to run the combine.
Another advantage is that keeping their dryer running for longer periods of time makes it more efficient by not having to reheat the grain at startup, which can happen if the wet bin runs out of grain overnight and the corn in the dryer drops below a certain level, causing it to automatically shut off.

EXPANSION: The Schutjer brothers' grain system expansion in 2018 included a new 120,000-bushel dry storage bin (far left), a 50,000-bushel wet storage bin converted from an existing dry storage bin (third from left), and a new grain leg inside the tower structure.
"Our new grain handling system also enables our trucks to unload more quickly and get back to the field for their next load," Schutjer says. In addition, he notes there is no longer the need for workers to physically climb in and out of a tractor to turn on and off an auger. The unloading equipment is all controlled with the push of a button, which helps avoid additional fatigue during long harvest hours.
Expanded system aids marketing
Schutjer says the family is pleased with the expansion, which is expected to meet their needs for the near future. "It's worked out really well. We can keep rolling all day and get as much done as we can. The way we handle grain now is a lot simpler and makes life easier," he says.
Abels, the designer of this system, also points out a grain marketing benefit. "More on-farm storage opens the doors to more marketing possibilities, both for the timing of selling the grain and where they choose to sell it to maximize their return," he says. "It also means not having to wait in lines at elevators to deliver grain during the fall, freeing up trucks and drivers."
And while changing a grain system plan at the last minute may not be typical, Abels says it can turn out for the best. "The Schutjers' project shows that it can pay to think both inside and outside the box, and explore all the options to make sure you are sizing the expansion for not only your current situation, but future needs as well."
For more information on planning or expanding a grain handling system, contact your local GSI dealer, or visit grainsystems.com.
Sources: GSI; Rod Swoboda
Subscribe to receive top agriculture news
Be informed daily with these free e-newsletters
You May Also Like
---