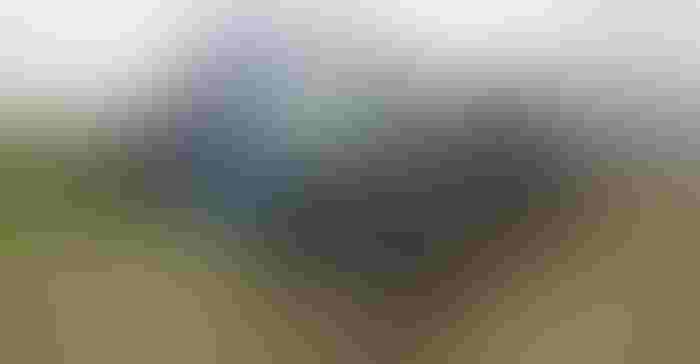 The goal for Brad Stackhouse and his son, Kyle, Plymouth, Ind., is to do the best job they can on each crop acre. "We're looking to increase profitability on a per-acre basis," Brad Stackhouse says.
Part of the secret to doing the best job they can and unlocking maximum profitability is minimizing soil compaction. One way they accomplish this is by relying on tracks vs. tires when it makes sense.
"This farm as a whole is a big believer in tracks and reducing soil compaction," Stackhouse says. "We have planters, tractors, the combine, a grain cart and manure application equipment on tracks."
One challenge they ran into three years ago was how to get their 24-row Kinze 3800 model corn planter on tracks. They were concerned because they carry a lot of weight in starter fertilizer and seed on the planter, especially in the center. Several farmers over the past few seasons have expressed concerns about the pinch-row effect on center rows on corn planters carrying lots of weight in the center section. Switching to tracks vs. tires is one thing several have tried to reduce soil compaction, especially the direct impact on the center four rows.
Search for solution
Stackhouse says the problem was they couldn't find anyone to build tracks that would work on their Kinze planter. Determined to find a solution, they decided to tackle the job themselves.
That meant buying individual components and putting them together. They sought assistance from a local machine shop to help shape the brackets and assemble everything. As Stackhouse recalls, the task wasn't that difficult — it was just time-consuming.
They made a few tweaks so the tracks would fit properly on their planter. One tweak was going with narrower gauge wheels on rows next to the tracks to provide more clearance.
"We've run it for three years now, and we feel we've seen a tremendous difference through less soil compaction," Stackhouse says. "We're very happy with the results."
One plus for the Kinze planter is that it has its own transport wheels for road travel. The tracks don't run on the road and are only used when the planter is in the field planting, Stackhouse explains. That means less wear on the tracks.
Other measures
Adding center tracks to their corn planter isn't the only thing the Stackhouses have done to minimize soil compaction and get as much return from each acre as possible. They've opted away from four-wheel-drive tractors. The Case IH tractor pulling the corn planter has tracks on the rear and a single tire on each side in front.
They're finding the tractor with a rear track helps them stay on course better. Autosteer guided by RTK differential GPS also helps them stay on course when planting.
One of their grain carts is equipped with low sidewall tires instead of tracks. "We're impressed with the tire, the cost is less, and it seems to be a good middle-of-the-road concept between high-compaction tires and tracks," Stackhouse says.
They plant soybeans with a different planter, and they recently opted for a Case IH 40-foot, 20-inch-row bean planter. They purchased it with 24-inch tracks instead of tires. Because they apply starter fertilizer on soybeans, they still carry a sizable amount of weight, starting with 400 gallons of fertilizer when full.
Check out the slideshow to see photos of the Stackhouse equipment.
Subscribe to receive top agriculture news
Be informed daily with these free e-newsletters
You May Also Like
---