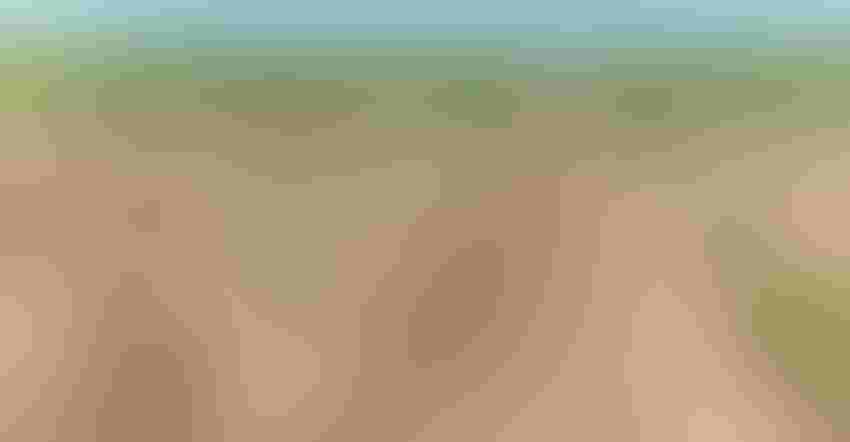 MANAGE COMPACTION: Smaller-footprint tractor tires can cause problems on farms, especially in wet weather. But there are other ways to manage soil compaction besides replacing the tires.
JJ Gouin/Getty Images
Fall harvest has started with remnants of Hurricane Ida and other storms dumping heavy rains all over the region, resulting in wet soil conditions for harvest.
Equipment can cause surface compaction and subsoil compaction. We make the difference because surface compaction has been shown to be primarily related to contact pressure — pounds per square inch — while subsoil compaction is primarily related to axle load, like tons per axle or per wheel.
Soil compaction management aims to eliminate subsoil compaction and reduce surface compaction as much as possible. Implementing soil health practices such as no-till, maintaining living root systems throughout the year and building organic matter can help reduce soil compaction. But even healthy soils can only sustain so much, so farmers should do what they can to avoid causing compaction.
Here's six things to consider:
1. Harvest fields with lighter, drier soil first. For example, if you have sandy, shale and limestone soil, you could harvest the sandy and shaly fields first. Higher-laying fields or those on south-facing slopes would be the first candidates to be harvested because they dry out faster.
2. Reduce trafficked area. Try to create traffic lanes instead of running all over the field. Companies are coming out with new GPS software systems that can be used to manage field traffic better, such as Machine Sync or AutoTrac from John Deere. If possible, you should unload when the combine reaches the edge of the field where the truck is parked.
3. Watch PSI. Don't take dump trucks and tractor-trailers with road tires inflated between 95 and 105 psi. Instead, park them at the field edge. These vehicles have a very small footprint and cause high surface soil compaction.
4. Consider switching tires. The big selling point of modern farm tires is that they can be run at low inflation pressures, thus increasing their footprint and reducing the pounds-per-square inch contact stress that causes surface soil compaction. Goodyear LSW (low sidewall) tires can run as low as 6 psi at low speeds and 12 psi at 40 mph. Michelin Very-high Flexion (VF) Axiobib tires can run at similarly low pressures.
Michelin has a tire inflation tool that help you determine the correct inflation pressure for their tires.
You can also use tracks. Suspended track systems are now available for combines that can help reduce surface contact pressure. For example, the average ground pressure under an S780 John Deere combine with tracks is 14 psi with a full grain tank and 616C StalkMaster header. Nonetheless, the stress is not uniformly distributed underneath the trac.
5. Use four-wheel-drive. Use four-wheel drive instead of two-wheel-drive tractors and combines. This helps to improve traction and reduces slip that results in soil structure destruction and smearing.
6. Reduce axle loads. Consider this when it's wet. This can be achieved by using smaller dump trucks or grain carts, increasing the number of axles, or not loading the combine or cart as full. This may not be a viable option, but is just something to consider. Managing axle load is really the only way to reduce the threat of subsoil compaction.
Duiker is a professor of soil management and applied soil physics at Penn State.
Subscribe to receive top agriculture news
Be informed daily with these free e-newsletters
You May Also Like
---