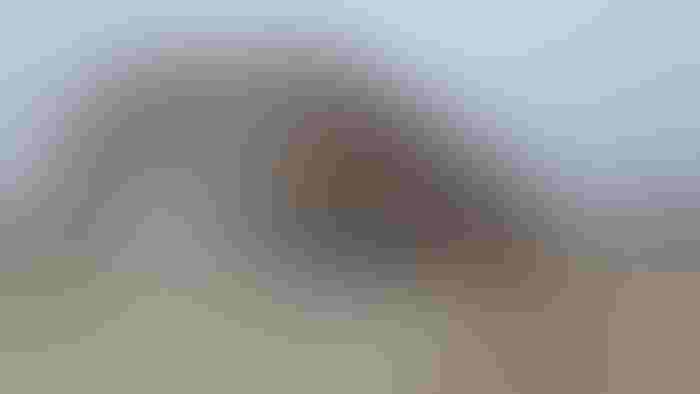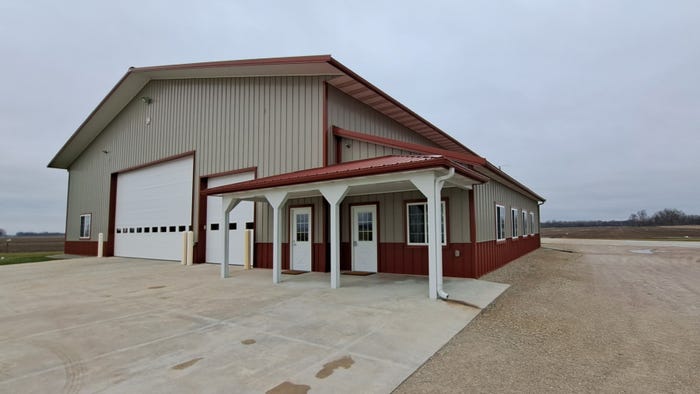 When John and Patty Morris married in 1981, they farmed near Hartland in Waukesha County, Wis., on the farm where John grew up. They dairy farmed with John's brother Dave until 1993, when much of their farmland was purchased by a housing developer. John and Patty decided to move their four children 30 miles west to Watertown in Jefferson County, Wis., where they bought a farm and started crop farming on 1,400 acres.
After graduating from Lake Mills High School in 2002 and the University of Wisconsin-Madison Farm and Industry Short Course in 2003, John and Patty's son Will joined them on the farm full time. The Morrises began renting more farmland. By 2010, they were farming between 2,800 and 3,000 owned and rented acres, which they continue to farm today.
In 2010, they decided it was time to build a machine shed 10 miles north of their main farm on land they own where their oldest son, Matt, lives.
"We had it in our mind for a long time that we would like to build two machine sheds and a farm shop," Will explains.
New farm shop
In 2012, widespread drought gripped much of Wisconsin and the Midwest, but thanks to timely rains and productive land, the Morrises' yields were not impacted. "We had great crops and great prices in 2012," Will says.
So, after building a 66-by-70-foot machine shed in 2011, the Morrises decided it was time to build a farm shop on the home farm where John and Patty live. They went on two or three Morton Buildings tours, and checked out their neighbors' farm shops for ideas of what features and what size shop they wanted to build.
In 2013, they hired Morton Buildings to build a state-of-the-art, 81-by-120-foot farm shop with a 20-foot ceiling. The custom-built shop features heated and polished cement floors, air conditioning, ventilation, office, bathroom, storage room and storage area for parts. It is fully insulated and heated. The 16-foot overhead door was built to accommodate their combine, planter, three semitrucks and four tractors, including two quads. Check out the video below.
"When the combine opens its top up, it's 18 feet high," Will explains. "I wanted to make sure it clears the lights and ceiling fans. We went a little higher to accommodate them. Our ceiling fans are 18½ feet, so we have clearance under the fans with our 2016 8240 Case IH combine. It fits, no problem."
Plenty big
The shop is four times bigger than the shop that was built on the farm 60 years ago, Will says.
The Morris family has held several weddings in the shop, including Will and wife Jena's wedding in 2016 and Matt's wedding in 2015.
"You can put 400 people in here with no problem," Will says. "A very good family friend is having her wedding here this summer. We had her sister's wedding here three years ago. Fortunately, we have air conditioning. It was hot the day of Matt's wedding, but we were cool in here with the air conditioning on."
In addition to weddings, the Morrises hold family gatherings in the farm shop every year, Will says. "We host my mom's side of the family in the farm shop," he says. "We have 40 to 50 people here and there is plenty of room."
Will and Jena live in a new house across the road from the farm shop. They have three children. Lorelai is 4½, and twins Eleanor and Theodore will be 3 years old in May. Will keeps the kids' bikes and ride-on toys in the shop. "We leave room between the equipment so they can ride around in here," he says.
An "extra" that Will is grateful his dad decided to purchase is a "Zamboni-like" T5 EC H2O floor scrubber.
"It really keeps the floor clean," Will says. "We finish changing oil and working on a tractor, and we clean the area that got messed up. We bring the Ranger and the pickups in here every day, and every day we spot wash the floor. It keeps everything looking clean and neat."
The shop features several ventilation fans, which allow the Morrises to run tractors, the combine and trucks inside and keep the air clear of smoke and fumes.
"Ventilation sucks the smoke out of the shop. Three ceiling fans run in the summer when the air conditioner is on, and it keeps it nice in here," Will says.
Parts are kept in storage bins upstairs in the shop.
"We have one bin for each piece of equipment," Will explains. "The bins keep it all organized and covered to keep out the dust. It does get dusty in here."
In the winter, after they finish combining, Will washes the combine, tractors semitrucks and other equipment outside.
"Then we bring it in, and my mom waxes it, and we store it all in the shop," Will says. "It's really nice to be able to work on equipment that is clean in a comfortable environment."
Extending equipment life
Will says most of their equipment is used. "We buy lightly used tractors," he says.
The Morrises have a new loader tractor and a new Ranger, a Case IH Farmall 100, and a 2011 31-row, 15-inch Kinze planter. Their quads are a 2009 535 Case IH and a 2014 500 Case IH. They also have a 2011 315 Magnum. Their combine is a 2016 8240 Case IH.
"That's the nice thing about having a farm shop — you can take care of and keep the equipment longer," Will says. "We don't have a lot of new equipment. It feels like we do because it's clean and shiny."
Even their semitrucks and farm trucks are "old." They have three Peterbilt semis that are 1997, 1999 and 2000 models.
Will says the price tag for the farm shop — including the groundwork, concrete, electrical, plumbing and the construction of the building — was $500,000 in 2012.
"Today, it would probably cost close to $1 million to build," Will estimates. "But it is worth it."
In the next three to five years, Will says they are planning to build a second machine shed with a wash bay to clean equipment inside.
"It's hard to wash trucks and equipment outside in the winter," he says.
If you have questions, you may email Will at [email protected].
Subscribe to receive top agriculture news
Be informed daily with these free e-newsletters
You May Also Like
---