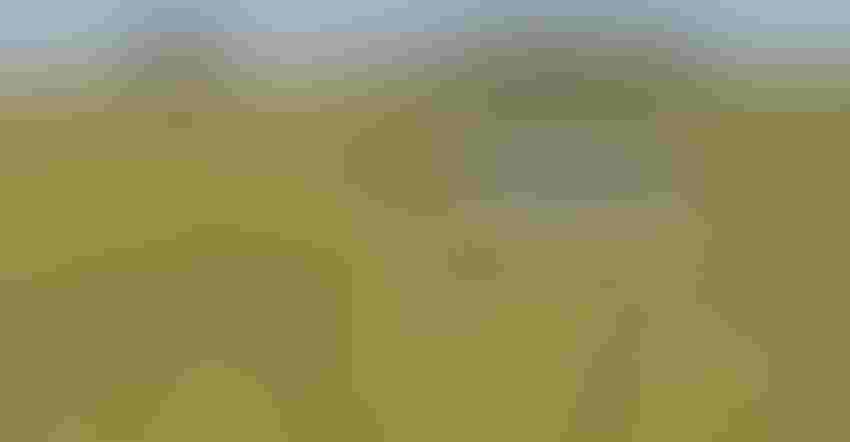 DERECHO DAMAGE: Debris from crumpled structures flew into fields as winds over 100 mph tore through a large area of Iowa. Crop loss and cleanup costs raise questions among landlords and tenants.
Farm Progress
Each month in Wallaces Farmer magazine, the Timely Tips panel answers questions sent by readers. Members of the Timely Tips panel are Alejandro Plastina and Wendong Zhang, Extension economists, Iowa State University; Leslie Miller, Marion County Savings Bank, Knoxville; and Rob Stout, Master Farmer, Washington, Iowa.
The derecho windstorm hit my cash-rented farm and scattered trees, parts of damaged grain bins, siding from buildings, etc., throughout the fields. My tenant cleaned up the debris. How best can I reimburse my tenant for the storm damage not covered by crop insurance? Should I give him a temporary break on the 2020 cash rent? Or perhaps on the 2021 lease?
Stout: Sounds like you have a good tenant who deserves to be reimbursed fairly. If it doesn't make a difference to you, I would give him the choice whether he wants the break on rent this year or in 2021, or split half and half. This makes it an advantageous solution for both of you. I applaud you for doing this.
Plastina: Although it is the tenant's duty to maintain the rented field in good condition, it is a great gesture on your side to give him a break on the lease. Your tenant would be the best person to ask about the most beneficial arrangement for him. I would strongly encourage you to discuss your intentions with your tax adviser before speaking with your tenant, and to make sure that you and your tenant sign an amendment to the corresponding lease agreement if both of you agree to proceed. He will surely appreciate the break.
Miller: The tenant was certainly not obligated to provide the cleanup. Instead, the landlord is responsible for providing land that is ready to be farmed. It could be argued that the tenant cleaned things up so that he would not be delayed trying to harvest the grain. However, he still needs to be compensated for time and expense related to the cleanup. Reach out to him to see how he would like to be compensated.
Know cost of production before renting land
Our neighbor is 74 and will retire this fall after he harvests his crops. He asked me if I would like to rent his land for $205 an acre. That's the average cash rent here in southeast Iowa for 2020, according to ISU's annual survey. I'm wondering if I should offer $175 an acre. Crop prices aren't going up, and I'm not sure how profitable growing corn and soybeans will be in 2021. What are your thoughts?
Zhang: It is important to note that ISU's annual cash rent survey doesn't set the rental rates, and the rental rate could also vary by soil quality. The ISU Ag Decision Maker File C2-20 has some resources on how to calculate rental rates, including using rent per CSR2 index multiplied with the CSR2 of the field. You should also consider the long-term value of having these acres in your farm operation. How would that impact your cost of production and cash flow?
In addition, if you don't pay what he asks, will he ask one of the other neighbors? You could calculate out your estimated cash costs and your total costs to see how the additional land might impact your cash flow and your overall profits. Every farmer has a different cost structure.
You should also calculate and estimate the possible outcomes with different yields and prices, and to evaluate your risk and potential return is. My ISU colleague, Chad Hart, provides daily projections on cash corn and soybean prices on the ISU Ag Decision Maker site. If you need additional help, you could talk with Charles Brown who is our ISU Extension farm management field specialist for southeast Iowa.
Stout: My guess is that if he's asking $205 per acre, a $175 offer isn't going to be high enough. Do your homework and estimate costs and revenues as best you can and determine a breakeven rent based on five-year average yields. If you can get a little closer to his asking price, you have a better shot at renting the land. Hopefully, you have a good relationship with him so that he is willing to negotiate. Another option is offering a flex lease with a base of $175, with a chance to go higher, possibly even higher than $205, with good yields and prices.
Miller: Before you make an offer, what do you know about the land? Do you have any idea if it is an "average" farm? How have the crops yielded in the last five years compared to the average yield in your county?
It might also be a good idea to look up the average CSR2 of the farm by using the Web Soil Survey program used by the Natural Resources Conservation Service. Then you can compare it to the average CSR2 on land generating the $205-pe- acre cash rent. Remember that soil productivity, ease of farming, and past fertility programs can have a tremendous impact on the fair rental rate of any farm.
If you know the yield history and can estimate your production costs for next year, you should be able to estimate how much rent you can pay for this farm. If $175 is affordable, then make that offer and share your estimates with the owner. If the owner desires more rent, then you can demonstrate how you can only afford a higher rent if prices or yields rise, which can lead to a discussion about a flexible lease agreement.
Subscribe to receive top agriculture news
Be informed daily with these free e-newsletters
You May Also Like
---