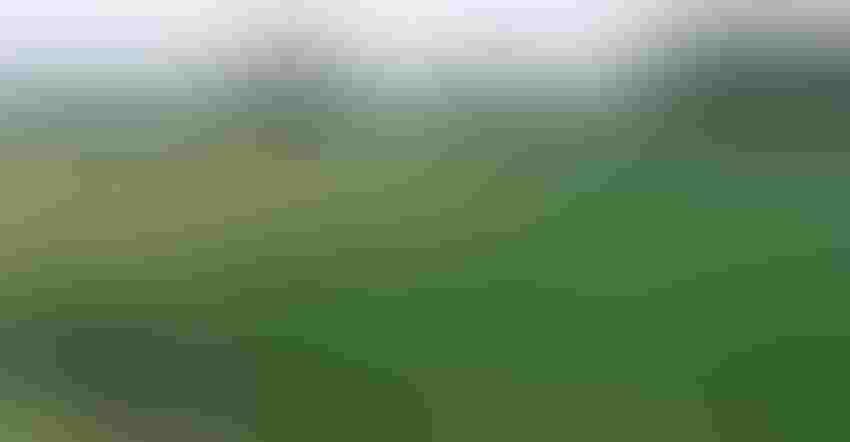 CLIMATE CHANGE: Weather variability is increasing and affecting ag production and food security worldwide, creating a need for technology to be used to improve farmers' resilience to changing climate.
Corteva Agriscience has announced a $500,000 commitment to create the Corteva Agriscience Climate Positive Challenge to foster a movement toward climate-positive agriculture. The grant program will be launched next year to reward efforts that offset carbon emissions and protect the environment while sustaining farms and farmers.
The challenge grants will provide financial rewards to farmers who are already advancing innovative climate-positive practices for collaborating with local environmental groups, universities, growers or others in the ag value chain to help scale the effort beyond their own acres. 
"We understand the challenges farmers around the world are facing as it relates to trade, policy and weather challenges," says James C. Collins, Jr., CEO of Corteva. "These reasons are our primary drivers for announcing this now, to provide incentives for those farmers that have a keen eye for scaling their practices."
Collins first introduced the concept of climate-positive agriculture at last year's World Food Prize symposium. Since then, the company has had meetings with farmers and organizations representing every facet of agriculture and food production on the forefront of advancing agricultural sustainability. The discussions explored what it would take to create a carbon-negative and climate-positive agriculture around the world.
"Clearly, there's a thirst and passion to collaborate and coordinate so that we can best tackle what is undoubtedly the biggest challenge of our lifetimes," says Collins, who led a panel discussion on climate change at this year's World Food Prize event in mid-October in Des Moines. "As weather patterns become more unreliable, farmers face growing uncertainty about actions they can take and practices they should use to maintain or maximize their production."
Corteva is already working toward creating market-driven financial incentives for farmers. The company's subsidiary, Granular, is collaborating with Nori, the world's leading carbon dioxide removal marketplace. The site connects buyers of carbon offsets with farmers who are applying sustainable farming practices and provides them with a viable carbon credit market that will generate revenue. "This is just the beginning," Collins says. "There's so much more we — all of us working together — can do."
Source: Corteva, which is responsible for the information provided and is wholly owned by source. Informa Business Media and subsidiaries aren't responsible for any of this content.
Need to accelerate ag productivity
A new report says accelerating global agricultural productivity growth is critical. The 2019 Global Ag Productivity Report, "Productivity Growth for Sustainable Diets, and More," was released at the 2019 World Food Prize symposium in Des Moines.
It shows ag productivity growth — increasing output of crops and livestock with existing or fewer inputs — is growing globally at an average annual rate of 1.63%. It says ag productivity needs to increase at an average annual rate of 1.73% to sustainably produce food, feed, fiber and bioenergy for an expected world population of 10 billion people in 2050.
Productivity growth is strong in China and South Asia but is slowing in the agricultural powerhouses of North America, Europe and Latin America. The GAP report calls attention to alarmingly low levels of productivity growth in low-income countries, where there also are high rates of food insecurity, malnutrition and rural poverty. Ag productivity growth in low-income countries is rising at an average annual rate of just 1%. The UN Sustainable Development Goals call for doubling the productivity of the lowest-income farmers by 2030.
The report calls for a strong focus on countries with high rates of population growth, persistent low levels of ag productivity, and significant shifts in consumption patterns — the primary drivers of unsustainable practices, such as converting forests to crop and rangeland.
These productivity gaps, if they persist, will have serious ramifications for environmental sustainability, the economic vitality of the ag sector, and the prospects for reducing poverty, malnutrition and obesity. The 2019 GAP report examines the pivotal role of ag productivity in achieving global goals for environmental sustainability, economic development and improved nutrition.
"Decades of research and experience tell us that by accelerating productivity growth, it is possible to improve environmental sustainability, while ensuring that consumers have access to the foods they need and want," says Tom Thompson, director of global programs for the Virginia Tech College of Ag. "Productivity growth is generated by such innovations as precision ag technology and improved seeds, and best practices for nutrient management and animal health. Attention to ecosystem services such as pollination and erosion prevention can increase and sustain productivity gains over time."
The GAP report looks at the powerful combination of ag technology, best farm management practices and attention to ecosystem services in supporting productivity growth, sustainability and resilience. Historically, productivity growth has been strongest in high-income countries, such as the U.S, with significant environmental benefits.
Due to widespread adoption of improved technologies and best farm management practices, especially in high-income countries, global agricultural output has increased by 60%, while global cropland has increased by just 5% during the past 40 years. Between 1980 and 2015, productivity gains led to a 41% decrease in the amount of land used in U.S. corn production, irrigation water use declined 46%, greenhouse gas emissions declined 31%, and soil erosion declined (tons of soil loss per acre) by 58%.
Animal agriculture in the U.S. has experienced similar productivity gains, dramatically reducing the environmental footprint of the livestock production. The report says if livestock production in the U.S. was eliminated, total U.S. greenhouse gas emissions would decline by only 2.9%.
The GAP Index tracks global progress toward sustainably producing food, feed, fiber and bioenergy for 10 billion people in 2050. In the absence of further productivity gains in Total Factor Productivity, more land and water will be needed to increase food and agriculture production, straining a natural resource base already threatened by climate change. Unable to afford higher-priced nutrient-dense foods, such as animal proteins and fruits and vegetables, consumers will rely on foods made from cheaper cereal grains for most of their calories, exacerbating skyrocketing obesity rates in adults and children.
The GAP report describes six strategies for accelerating productivity growth: investing in public agricultural R&D and Extension; embracing science- and information-based technologies; improving infrastructure and market access; cultivating partnerships for sustainable agriculture and nutrition; expanding regional and global trade; and reducing postharvest loss and food waste.
Productivity data for the GAP Index are provided by USDA Economic Research Service. The GAP report is available at globalagriculturalproductivity.org.
Source: World Food Prize, which is responsible for information provided and is wholly owned by source. Informa Business Media and subsidiaries aren't responsible for content.
Subscribe to receive top agriculture news
Be informed daily with these free e-newsletters
You May Also Like
---