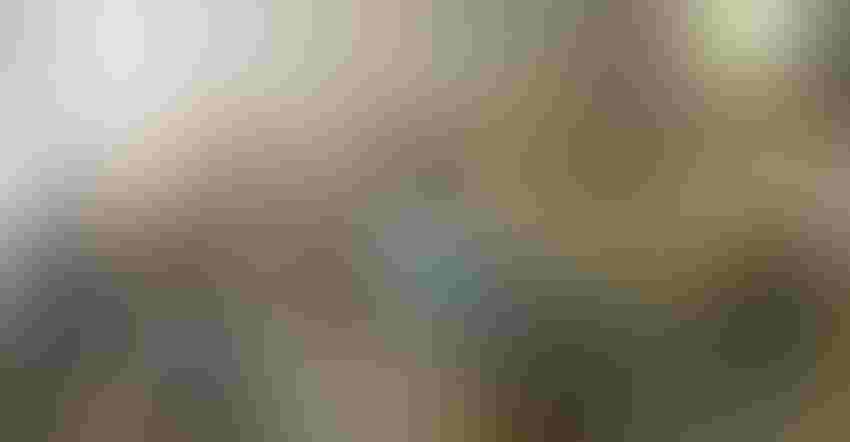 HELP AVAILABLE: Henry Rauch, NRCS soil conservationist (underneath blue birds on wall), leans on a table to explain how Spanish-speaking farmers can receive assistance with NRCS programs in Missouri.
With help from three Spanish-speaking employees of the USDA's Natural Resources Conservation Service, a community development specialist with University of Missouri Extension has been reaching out to Latino farmers and ranchers to inform them about available NRCS programs and technical assistance.
Eleazar Gonzalez, using a grant from the USDA Office of Advocacy and Outreach, conducted four workshops in Missouri — in Marshall, Sedalia, Carthage and Monett. The workshops attracted 40 Latino farmers, most of whom were not well-aware of programs that could help them and the natural resources on their farms.
"Forty farmers doesn't sound like a lot — but there are only 883 Latino farmers in the state, so it's good," Gonzalez says.
Types of farming
The 883 Latino farmers identified by the 2012 agricultural census are actually a 20% increase over the 736 Latino farmers identified by the 2007 census. The increase in Latino farmers compares to a 4% decrease overall in Missouri's farming population during the same time frame.
Gonzalez planned the workshops after first conducting face-to-face interviews with Latino farmers.
"I was interviewing to see how they perceive programs, and I found that NRCS programs were the ones they were most interested in," he says.
Gonzalez says that most of the Latino farmers he has worked with own 5 to 50 acres, where they produce specialty crops or raise cattle, sheep, goats and chickens. With that in mind, three bilingual NRCS employees volunteered to attend the Saturday afternoon workshops and explain in Spanish the programs that could help the farmers. Jorge Lugo-Camacho, a state soil scientist who works in the NRCS state office in Columbia, Mo., attended the workshop in Carthage; Ramon Salazar, a soil conservationist at Maryville, Mo., attended the workshops at Marshall and Sedalia; and Henry Rauch, a soil conservationist at Mount Vernon, Mo., attended the workshop at Monett.
"I was impressed with the participation," Lugo-Camacho says. "After my presentation, they asked a lot of questions. They had not been aware of all of the opportunities for assistance that NRCS can provide."
What's next
Gonzalez says he is following up with participants by visiting each of them in person to help them fill out applications for the programs. He said the applications can be confusing for the Latino farmers, some of whom are not used to the culture of maintaining records and some of the terminology used in the applications.
"It is an important goal of NRCS to ensure that the people who can benefit from our programs know about our programs," J.R. Flores, NRCS state conservationist, says. "Some groups are not as easy for us to reach because of cultural differences and language barriers. I am very thankful for University Extension's efforts in helping to inform potential customers of the services we can provide."
"I think the workshops were very good," Gonzalez says. "It's very important to have these partnerships."
Rahm is a public affairs officer for USDA NRCS in Columbia, Mo.
About the Author(s)
Subscribe to receive top agriculture news
Be informed daily with these free e-newsletters
You May Also Like
---