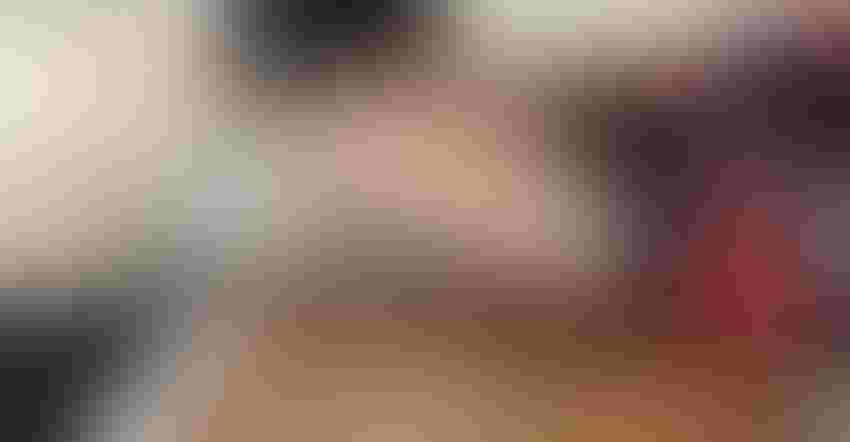 FIRST AMENDMENT RIGHT: Freedom of speech is protected by the First Amendment in the U.S. constitution. Writing letters or commentaries to newspapers and magazines is one way to exercise that right.
nd3000/Getty Images
Editor's Note: The Farmer editor Paula Mohr gave presentations to Class X of the Minnesota Agriculture and Rural Leadership in Marshall last December on communicating with the media and writing letters to print publications. The following letters, chosen for publication based on topic and/or state-widespread interest, were part of a class assignment and sent to Mohr for critique. This is the second collection of letters to be shared. Other letters appeared Jan. 28 on The Farmer's website.
"Get action"
To the Editor,
I feel it is imperative to take a moment to highlight and discuss the economy in our rural communities as we look down the gun barrel of what looks to be another problematic year in the ag sector. Finding profit in the past four years has become a challenge to say the least, and it has reached a point that has become far more than just uncomfortable for most involved in the ag industry.
No matter where you find yourself within rural America, the "squeeze" is on, and it is being felt throughout our rural communities from farm to factory. Outstate Minnesota relies heavily on a strong and vibrant ag economy. Long-term downturns, as we are now in, require us to step up and act to prevent losses from getting out of control. Over a century ago, a larger-than-life President Franklin D. Roosevelt called for Americans to "get action" and become involved in organizations that helped shape their future for the better.
Today, I am challenging all of us in rural communities throughout the state and nation to become active in your local organizations. Do not just pay the annual dues in hopes that one of your neighbors will help the cause for you. Attend the meetings and get to know personally who your local legislators are, and place a call to state representatives as well.
I am a Meeker County commissioner and treasurer for Meeker County Corn Growers, and we see the same faces in our meetings time after time, which means we hear the same voices, and this must change. "For things to change, you have to change" is a powerful quote that, when taken to action, can move mountains.
Most important, though, is the need for producers to understand how far removed the average consumer is from the farms that they remember as a child. Producers must realize also that educating the consumer about the health and safety of the product is only a portion of the equation. Producers need to evaluate their customers and market to them as would the end-user, such as Walmart, Coborns or Costco. These companies spend millions of dollars researching their customers before the products reach the shelves. As producers, we need to start to utilize this concept into an ever-changing marketplace. Traditional values will always be a common theme in rural Minnesota. However, thinking only in traditional products will lead to market peaks and valleys, leaving producers to weather the storm.
Becoming involved has put me into contact with many leaders in the agricultural industry and the legislature. As I meet, talk and email legislators, I have gained knowledge from these frequent interactions. Legislators pay attention when you take the time to visit them in St. Paul.
I can testify to the value and need for rural America to speak up. Become involved. "Get action."
Steve Schmitt,
Eden Valley
Internships key to attracting talent
Across the state, most companies are looking for workers. Not just highly qualified workers, but in many cases just people. Minnesota does not have enough people to fill the vacancies. Starting in the second quarter of 2017, the gap between vacancies and unemployed people continues to increase. There are currently .06 job-seekers for every vacancy. Fortunately, the state of Minnesota does a decent job of offering training and assistance for people entering the workforce. It could be better, but we are still one of the best states in the nation, led by numerous DEED training programs and a high-quality education system.
About 40% of vacancies are in out-state Minnesota, yet more than 70% of the people live in the metro area. To make matters worse, the out-state residents are older, and many of the jobs are in the agriculture industry, which to many are not attractive. Many people don't realize there are very good jobs related agriculture that are not on the farm. Farm jobs often come with the connotation as dirty, menial and labor intensive. However, there is demand for accountants, bankers, scientists, attorneys, sales, and many other high-paying professional positions. Food production facilities have become extremely clean and high-tech, with robots and assistive technologies that need a talented workforce.
To combat this job gap, out-state companies need to employ a number of tactics to attract and retain people, especially the talent needed to grow companies. Out-state companies need to increase pay and be creative with benefits to be competitive to metro salaries, while the communities need to work to display the quality of life opportunities.
Yet, the first and most important step in attraction is offering quality, paid internships. Think of it more as a long job interview. As a business professor at Minnesota State University, Mankato, I have seen urban students take internships at out-state companies and stay because those are the companies that get it. It takes work and development of our next generation to show them the opportunities in out-state.
Companies need to offer interns decent pay, good training, possibly housing and then engage them with others in the community. Mentor and make them feel at home — don't just treat them like interns. It is difficult to keep a 21-year-old from heading to the lights of the metro, but even if they do go, you can still plant a seed that out-state is a good place to return to in a few years.
Farmers know it takes cultivation and tending of the crop for a plentiful harvest.
Shane Bowyer,
Mankato
Frontenac, La Crescent, Marquette … Oh My!
Perhaps you have heard of Frontenac, La Crescent, and Marquette before … or maybe you have not, but these are names of a few cold-hardy grape varieties grown across the upper Midwest and in Minnesota.
The first record of grape growing in Minnesota dates all the way back to the late 1800s. However, it did not take off until the early 1940s when a Wisconsin dairy farmer named Elmer Swenson began breeding grapes by intercrossing French hybrid grapes with those grown natively. He released a number of popular varieties on his own — St. Pepin, La Crosse, Brianna, Sabrevois and Prairie Star — and also a couple jointly with the University of Minnesota.
In the mid-1980s, the University of Minnesota initiated a breeding program for wine grapes with the goal to develop high-quality, cold-hardy and disease-resistant grape cultivars. A few noted grapes varieties you may recognize from the university include Frontenac, Frontenac Gris, La Crescent and Marquette.
The result of the success in developing these cold-hardy grape varieties has supported growth in the grape growing and winery industry in Minnesota. A 2016 Status Summary of Vineyards and Wineries of Minnesota released by U-M Extension highlighted significant economic contributions from Minnesota's cold-hardy vineyards and wineries in 2015 with combined total of $80.3 million in economic activity.
The industry supported 10,500 jobs and paid $37.3 million in labor income. This was a 50% increase from the 2011 reported economic activity of $53.6 million. Drivers for this increase were linked to increases in the number of wineries and vineyards, winery tasting room visitors and vineyard labor expenditures.
The grape growing industry in Minnesota is exploding, and I encourage you to get to know your local growers and their cold-hardy varieties. And when you are traveling around the great state of Minnesota, be sure to visit a local winery. You never know what rustic oasis you may find or the personal connection you may enjoy of a locally grown fermented cold hardy grape in your glass.
Cheers!
Krista Kopperud,
Currie
Subscribe to receive top agriculture news
Be informed daily with these free e-newsletters
You May Also Like
---