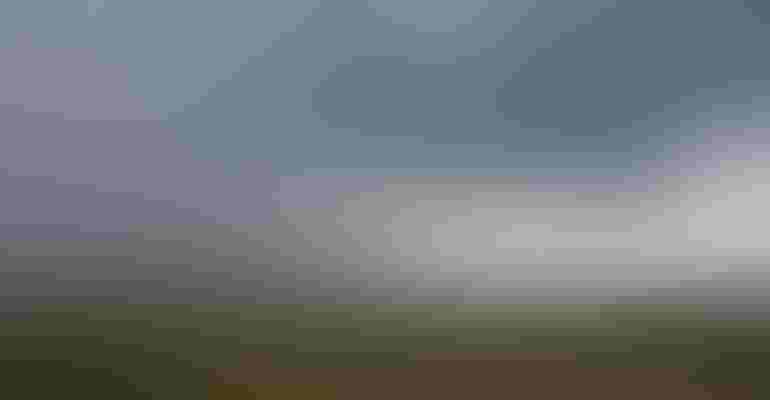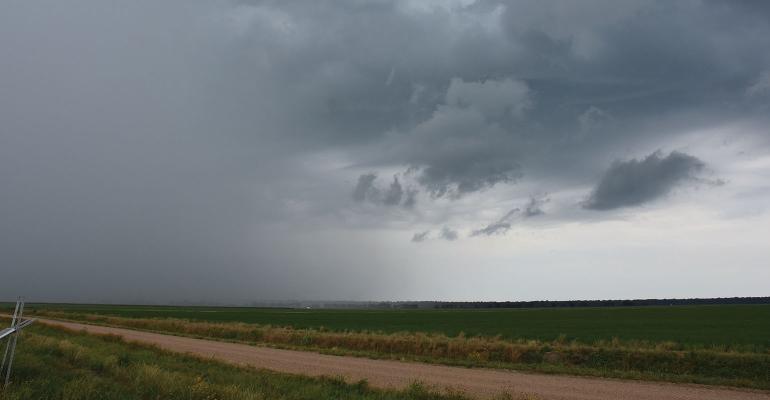 Rain falls on a rice field outside of Jonesboro, Ark.
Brent Murphree
No doubt, 2022 took us on a weather rollercoaster. Despite wild fluctuations, Arkansas managed to end the year with close to normal statewide precipitation averages. Autumn months brought significant precipitation advancements across the Midsouth, and experts look ahead at winter forecasts and what is in store for 2023.   
Joe Goudsward, senior forecaster with the National Weather Service Forecast Office in North Little Rock, Ark., discussed these weather trends at the recent 2022 Arkansas Harvest Recap held in Keo.
Fall precipitation fluctuations
The state rolled into autumn with an incredibly warm and dry September. Precipitation levels were 2.35 inches below the monthly average.
"We managed about 1.24 inches of precipitation across the entire state. It was the 10th driest September in Arkansas. history since records have been kept – going back to 1895," he said.
October rainfall made up for the deficit in many areas, with western Ark. receiving more than 5 inches of rain and the southern and eastern parts receiving around 2 inches.
Overall, November leveled out with close to seasonal averages, and the trend of good news continued. By mid-December, most of the state had received 4 – 5 inches of precipitation with more on the way.
Likewise, rainfall improved soil moisture conditions. Half of the state was considered dry at the end of October. By mid-December the entire state was back to normal soil moisture, and parts of western Ark. even ranked above average as 2022 closed.
Goudsward predicted these soil moisture levels to remain up as we head into the winter months of 2023.
Weakened La Niña persists into 2023
La Niña has returned for its third consecutive winter in the northern hemisphere. It has been over two decades since we have experienced a similar weather phenomenon, known as the "La Niña Triple Dip."
This is the fourth documented since reliable records have been kept beginning in 1950, and this current La Niña is unusually prolonged. Other triple dips occurred in years spanning 1998 – 2001, 1973 – 1976, and 1954 – 1956.
So, what does this mean for 2023?
A typical La Niña winter is characterized by above average temperatures and below average precipitation. However, that is not looking to be the case this coming winter – at least for precipitation.
"The current La Niña is weakening. Data shows above normal temperatures this winter while precipitation is trending wetter. These conditions are expected to continue into the early to middle parts of 2023 before returning to normal conditions," he said.
Goudsward shared temperature and precipitation models, generated by the North American Multi Model Ensemble (NMME) from the National Centers for Environmental Information, spanning three-month periods from Jan. through May of 2023.
The NMEE forecasts temperatures to be above average for the periods of Jan. – Mar. and Feb. – Apr., with temperatures slightly above average for Mar. – May.
Precipitation is forecasted slightly above average for each of the three models across the middle Mississippi River Valley eastward to the Ohio River Valley.
"Given this, and the declining ground water usage as vegetation goes dormant, the drought may be erased in parts of Arkansas," he said.
This encouraging expectation is echoed for states throughout the Delta. According to the U.S. Seasonal Drought Outlook released on Dec. 31, 2022, drought conditions are predicted to improve during the first quarter of 2023 for the majority of the eastern U.S.
La Niña and extreme weather events
Extreme weather events are more likely in La Niña years. So, with these above average forecasted temperatures and increased precipitation, how does this portend for the upcoming winter and spring?
Goudsward noted that strength matters, and as this La Niña weakens in 2023, so do the chances of severe weather events.
He referred to extreme weather in Arkansas, during years when La Niña was strongest – in 1999, 2008, and 2011. These years produced 107, 81, and 75 tornadoes respectively. In fact, the largest Arkansas tornado outbreak took place between Jan. 21 – 22, 1999 with 56 tornadoes.
"While historic winter storms and tornado outbreaks are more likely during La Niña years, the confidence in such events is lowered as this current La Niña slowly wanes," he noted.
With neutral conditions on the horizon, one can hope that 2023 will be less of a thrill ride than 2022. We can all rest assured that time will tell.
About the Author(s)
Subscribe to receive top agriculture news
Be informed daily with these free e-newsletters
You May Also Like
---