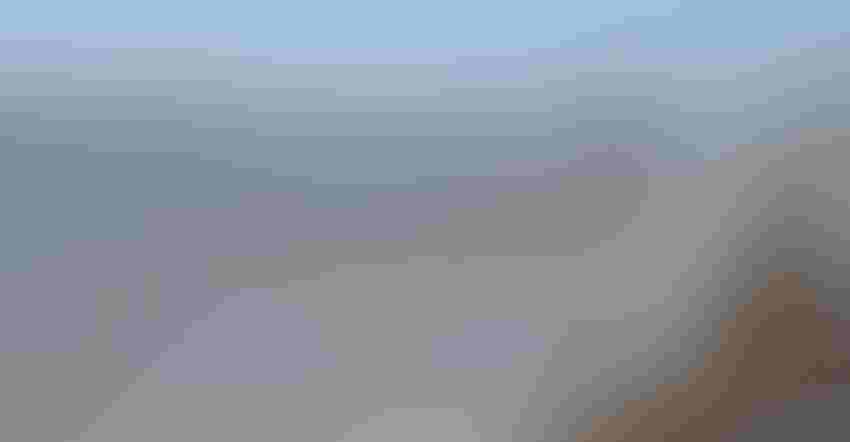 WEATHER WOES: Extreme winter and spring weather damaged cropland and grain in storage. Certain private crop insurance products may cover grain held in the first point of storage.
By Brad Lubben
The extreme weather and subsequent flooding in Nebraska this winter and spring has been devastating, disastrous and gut-wrenching.
The "bomb cyclone" storm brought dangerous blizzard conditions to parts of the state. A mix of rain and snow brought substantial moisture that fell on a deep, wet snowpack on top of a saturated, frozen landscape. Runoff ran down to frozen streams and rivers, lifting ice as well as creating ice floes and flooding that left devastation along the way.
At the same time, the response has been heartwarming and inspirational. Many Nebraskans and many others from across the country have helped with the emergency response; assisted with cleanup and repairs; delivered needed food, feed and supplies; or contributed in other ways.
In the midst of the disaster, with a focus on survival and critical tasks, it can be easy to put management plans and decisions aside. With some time to reflect, it is important to remember the need for risk management and the availability of policies and programs that can assist.
Production risk
For livestock producers, the storm and subsequent flooding meant losses in the cattle herd and feedlots, whether from the combination of snow, wind and cold, or from the flooding losses downstream. There were losses for other livestock producers where flooding overcame buildings and operations.
The death losses may be covered by the Livestock Indemnity Program, a part of the permanently authorized disaster programs contained in federal legislation and implemented by USDA's Farm Service Agency. LIP covers death losses due to adverse weather. Losses in excess of normal mortality for the year are covered at a rate of 75% of the market value of the livestock, as of the day before the weather event.
Livestock producers are also covered by the FSA's Emergency Livestock Assistance Program (ELAP), which can provide some assistance for feed losses due to the flooding. Whether hay or grain, lost inventory intended for feed use on eligible operations may be covered, but the coverage does not extend to commercial feedlots or inventory held for sale.
With muddy or flood conditions in existing livestock pens or pastures, FSA also authorized the use of Conservation Reserve Program ground to pasture cattle temporarily for a few weeks before the nesting season for birds on CRP ground begins in May.
Crop producers faced substantial production losses as well, due to the flooding. While crop insurance protects a crop from multiple perils during the growing season, the winter storm meant losses of some grain in storage, as well as damage to cropland. Certain private crop insurance products may cover grain held in the first point of storage on the farm, so if losses have occurred, it is important to check with your insurance agent.
A farm's property or casualty insurance often covers the structure but seldom covers the contents unless specifically included and paid for in the coverage. While ELAP may cover some crop losses when intended for feed use on the farm, the grain losses are generally not protected from loss unless Congress decides to include any assistance in pending federal disaster legislation, which was stalled in Congress as of early April.
For a farm facing storm or flood damage on cropland, the losses may range from basic cleanup to substantial rehabilitation to permanent loss of some acres. If the losses were to a fall-planted crop (wheat) or an existing forage crop, then any crop insurance coverage on that crop would apply.
If the flood damage and recovery efforts prevent timely planting of a spring-planted crop, the prevented planting provisions of the multi-peril crop insurance policy may come into play as producers debate whether to plant a crop late, or switch to a later crop, or decide against planting altogether.
For now, the official first planting date for crop insurance purposes is not until mid-April, so it is too early to declare prevented planting, but if cleanup or planting delays run well into May, the analysis will be important for producers.
There are no additional crop disaster assistance programs as there are with livestock disaster programs, given the widespread use of crop insurance. However, there have been repeated calls for crop disaster assistance, particularly for crops affected by recent hurricanes, so it may be possible yet to see some additional assistance implemented by Congress.
Financial risk
The production losses not covered by disaster assistance or insurance policies will definitely affect 2019 income prospects for producers. Additional losses to property, whether structures or land, will be a direct hit on a producer's assets and balance sheet. Here too, existing insurance policies and some disaster assistance programs may provide assistance.
The Emergency Conservation Program provides some cost-share assistance for restoring property and structures, such as fences for example, but it is important to apply and receive approval before work begins to ensure eligibility for assistance. Emergency loan programs may also provide some low-interest loan funding to help producers with recovery.
Human risk
While the production and property losses have been estimated in excess of $1 billion in Nebraska by some public and private sources, there has also been the tragic loss of life and the stress inflicted on on storm and flood victims, as well as disaster responders.
It is impossible to put a number value on these losses and challenges, but there is no doubt they are at least as significant and need everyone's attention. Managing your own situation and health, being willing to seek assistance, and offering support to others is every bit as important as making the management decisions about production and property. One resource with invaluable assistance that is just a call away is the Nebraska Farm Hotline and Rural Response Hotline at 800-464-0258.
The discussion above covers just some of the challenges and programs available to help producers and others affected by the storms and flooding. Knowing there is additional assistance from available programs and resources is helpful.
Many of the disaster assistance programs available from USDA are administered by FSA through local offices. Other information, programs and assistance are available from numerous state, local or private agencies, including Nebraska Extension. One particularly important resource is the website flood.unl.edu.
By all accounts, the impacts of the storm and flooding have been immense. The recovery process will likely be challenging and lengthy. Throughout the process, expect Nebraska Extension and other partners and programs to be there to provide useful information and assistance along the way.
Lubben is an Extension policy specialist at the University of Nebraska-Lincoln.
Subscribe to receive top agriculture news
Be informed daily with these free e-newsletters
You May Also Like
---