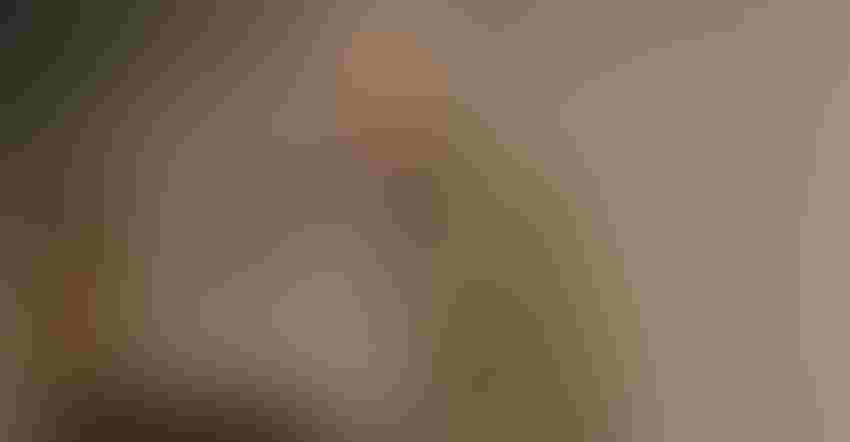 GOLDILOCKS PERIOD: W. Don Nelson said a big part of the challenge is the infrastructure was built with data from what he calls the "Goldilocks period" — when weather wasn't too hot or too cold, but just right.
Tyler Harris
When it comes to addressing volatile weather events and their history, W. Don Nelson prefers looking through a wide-angle lens. As he points out, the landmass of Nebraska is more than 1 billion years old — yet much of the state's (and the country's) agricultural and municipal infrastructure is built with data gathered in the past 100 years.
"Compounding the problem, much of that hundred years' worth of data was gathered in what I call the 'Goldilocks' period," Nelson said. "What I mean by the Goldilocks period is, not too hot, not too cold, just right. Now all of us have the advantage of spending our lives in that Goldilocks period, where before that period, things were less temperate than they are now. Moreover, the human mind is wired to view the world in terms of 'my lifetime.'"
Nelson — a federally appointed member of the Big Blue River Compact, a chief of staff to former Nebraska Gov. Bob Kerrey, Nebraska director to former Sen. Ben Nelson and publisher of Prairie Fire newspaper — addressed the issue of climate change, 100-year flood events and the associated infrastructure challenges at the recent Nebraska Water Resources Association and Nebraska State Irrigation Association joint convention.
In the aftermath of the 2019 flood, Nelson noted many homeowners and landowners with flood-damaged property had property that did not fall within the boundaries of a 100-year floodplain as designated by the Federal Emergency Management Agency, and they were not required to have flood insurance through the National Flood Insurance Program.
He also emphasized that despite a common misconception, a 100-year floodplain designation doesn't mean that after one flood event, the probability of a flood declines — but that every year, there's a 1% chance of a flood occurring.
And, Nelson said, the frequency of extreme weather events — including hurricanes and floods — has increased in recent years. In the 35-year period from 1980 to 2015, there were an average of five events per year that exceeded $1 billion in damage, but since 2016, there have been at least 10 of these events per year, according to statistics from the National Oceanic and Atmospheric Association's National Centers for Environmental Information.
With that in mind, Nelson said with more extreme flood events, the 100-year floodplain designation is in need of an update — and there's a need for improved communication, especially to homeowners and landowners, regarding the risks of owning property in these areas.
"Our laws of actuarial science are badly out of date, and they need to be adjusted dramatically to accurately take into consideration what we need to have a sustainable and robust flood insurance policy and program," he said. "We need a better understanding of the physics of water flows, particularly when it comes to bank stabilization projects, the strengthening of levees and the disconnecting of our rivers and creeks from their natural floodplains."
Along with rethinking traditional 100-year floodplain designations, Nelson emphasized the need to reevaluate municipal planning and infrastructure for communities located on or near floodplains.
"I think there may be a need to look at a lot of communities, a lot of water treatment plants, a lot of water purification facilities," he said. "It may be that the cure is complete relocation, but we need to come up with financing mechanisms to make sure the taxpayers are not completely overwhelmed at the thought of having to move."
Of course, Nebraska has ample resources and tools at its disposal to help in these endeavors. This includes the U.S. Geological Survey and its Earth Resources Observation and Science center in Sioux Falls, S.D.; the National Water Center in Lincoln; Nebraska's natural resources districts; and the College of Agricultural Sciences and Natural Resources at the University of Nebraska-Lincoln.
He also emphasized the need to step outside the limitations of a lifetime of observations, and exploring observations based on paleoclimate science.
"A lot of research is done on ice cores, well drilling and tree-ring studies that can tell us what the climate was like here on the Great Plains going back eons," he said. "We need to minimize the value of traditional floodplain delineations. I have the advantage of having been in and out of government five times in 50 years. I can't tell you the number of times I've waited anxiously for a so-called update of the floodplain maps. They didn't solve our problem."
Subscribe to receive top agriculture news
Be informed daily with these free e-newsletters
You May Also Like
---