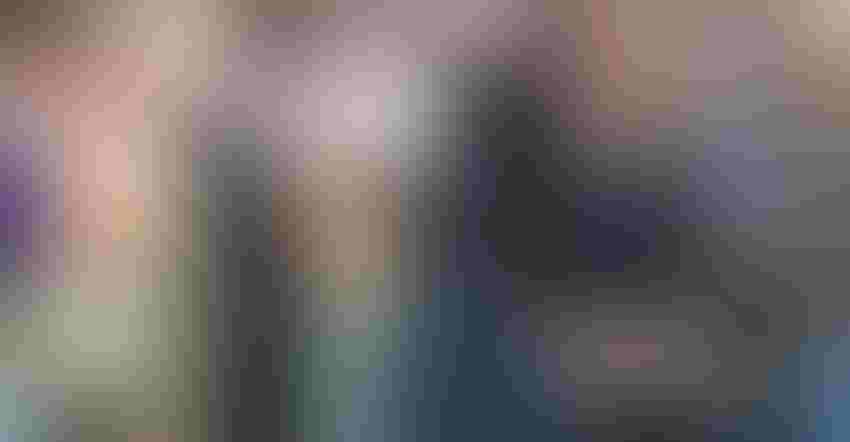 PACKED ARENA: The Bretz & Young Injury Lawyers Arena at the Kansas State Fairgrounds was packed for the gubernatorial debate on Saturday. Supporters of each candidate wore matching T-shirts, cheered wildly for their candidate and booed opponents.
Education, school funding, taxes, economic growth, infrastructure and more were on the table as the top three contenders for governor took to the stage in a raucous and contentious debate in the open-air arena of the Kansas State Fair.
The bleachers of the Bretz & Young Injury Lawyers Arena were packed with vocal supporters of the candidates, but the noisiest of the day were the white-shirted supporters of Democrat Laura Kelly, who was clearly energized by the vocal backup.
That is not to say that supporters of Independent Greg Orman, dressed in light blue shirts, and those backing Republican Kris Kobach, attired in dark blue shirts, were quiet. But time and time again they were outdone by Kelly supporters stomping their feet on the metal bleachers and chanting "Laura! Laura! Laura!"
One observer said after the debate that he found himself "amazed at how strong a speaker" Kelly had proved to be.
She was forceful throughout the debate and closed to wild applause when she said, "I am the only thing standing between Kris Kobach and the governor's office, and I ask for your vote."
Two uninvited candidates, Independent Rick Kloos and Libertarian Jeff Caldwell, stood on either side of the stage. Kloos had tape over his mouth, while Caldwell held up a lawn sign with a cannabis leaf, signifying his support for fully legalized marijuana. Radio station WIBW, sponsor of the debate, set the debate rules and required a candidate to have at least $50,000 in the bank to make the stage.
Opening statements
The candidates set the theme for their arguments during opening statements.
Orman, the child of a single mother raising six children who went on to become a multimillionaire businessman, promised to put those business skills to work revitalizing the Kansas economy, creating jobs and expanding opportunity by interconnecting the power grid, and improving access to technical education to help employers get the workers they need.
Kobach touted his record "doing what I say I will" as secretary of state. He pointed to his voter-ID law, reduction of office expenses, and tough stance on immigration, and he promised to deeply cut taxes and spending if voters chose him. He insisted that high income taxes, utility rates and property taxes are thwarting growth and vowed to cut them.
Kelly, whose supporters waved signs proclaiming her the "Education Candidate" and promising to "Slam the door on the Brownback experiment," said she lived all over the world as a child in a military family, but when it came time to raise a family of her own, she and her husband chose to live in Kansas. She said they chose the state for its great schools, friendly people and vibrant towns. She said that as governor, she would restore the quality of life from those days.
LAURA KELLY: Democratic candidate Laura Kelly held the edge when it came to the noisiest supporters. Kelly is a longtime legislative veteran and is currently serving in the state senate.
The ag economy
On improving the ag economy, the three candidates expressed solutions that mirrored their plans for the economy in general.
Kelly said she would invest in rural infrastructure and invited listeners to visit her website and read up on the details of her Rural Prosperity Plan. She said she would work with the Kansas Congressional delegation to make sure that Kansas interests were at the forefront in the farm bill and other programs. She also said her running mate, Lynn Rogers, has rural roots, and that she will use his experience and advice on ag issues.
Kobach said he would cut taxes for businesses to encourage growth, cap property taxes at 2% per year and do appraisals only every two to three years rather than every year. He said getting rid of regulations would also help farmers. His website does not have a rural Kansas detail under his Issues tab.
Orman, who has an All of Kansas section on the website, said he would rely on his running mate, John Doll of Garden City, to lead the effort to develop new enterprises to strengthen the ag economy. He said he would make investments in infrastructure and promote the legalization of industrial hemp.
Serving full term
When asked about their intentions to serve out a full term — something that neither of the two most recent governors did, both opting to leave for jobs in Washington — the candidates all responded that they would.
Kelly drew a laugh when she said, "I doubt Donald Trump is going to offer me a job," then went on to promise that if he does, "I will be sure to say 'no.'"
Kobach vowed to serve not just, but two terms. While he vowed not to leave the state for a Washington job, he did tout his relationship with President Donald Trump and said he has a "short line" to the White House should Kansas need it.
KRIS KOBACH: Republican candidate Kris Kobach is well-known for his hardline stance on immigration and voter-identification laws across the country. He is currently secretary of state for Kansas.
Fighting crime
On the issue of crime and a rising murder rate in Kansas, Kelly said that she would equip law enforcement with all the tools it needs, expand mental health access and fund services that have been reduced. She also said she would support the 2nd amendment, but would create sensible gun policy to help reduce violence as well.
Orman jumped on her comments, saying that she co-sponsored and supported Kansas's "concealed carry without training" law, and said he finds it absurd that you "have to have 1,000 hours of training to wax an eyebrow" but no training to concealed carry a gun. Orman said he would support law enforcement, address mental health but also work to grow the economy to provide opportunity to people who are "acting out of desperation" because of economic pain.
Kobach vowed that he would maintain Kansas's liberal gun laws and favors arming teachers to increase school safety. He repeated the National Rifle Association slogan, "The only way to stop a bad guy with a gun is a good guy with a gun."
In rebuttal, Kelly acknowledged that she did initially support loosening gun restrictions, but added, "I am someone who can recognize and acknowledge a mistake and move to correct it. If Sam Brownback had been willing to do that, we wouldn't be in the mess we are in."
Expanding Medicaid
To help struggling rural hospitals, Orman said he would favor expanding Medicaid in "a responsible way."
Kelly said she would expand Medicaid and reform the KanCare system.
Kobach said expanding Medicaid would cost the state an estimated $1.1 million a year and he would instead promote more "direct primary care," with patients paying a monthly fee for access to medical care, which caused Kelly to fire back that "concierge care is great until you get sick. That's when you find out it doesn't cover hospitals or chemo."
Legalizing marijuana
On legalized marijuana, Kelly said she favors legalizing medical marijuana, which has been shown to have wide-ranging benefits such as stopping seizures, relieving chronic pain and easing the side effects of chemotherapy. She said she doesn't think Kansas is "there yet" for recreational marijuana but would favor changing sentencing guidelines to make possession a "traffic fine" type of offense, rather than a crime.
Orman said he has seen the impact the access to medical marijuana can have on lives, citing a family that moved from Kansas to Colorado to help their child who suffered from up to 200 seizures a day. With medical marijuana, he said, the child had been seizure free for 23 months. He said he also favored de-criminalizing marijuana possession.
Kobach said a "CBD pill" (cannabidiol) is already out there, which proves that the pharmaceutical industry is prepared to provide answers, and there is no need to legalize anything more. "I will not support legal marijuana," he said, "but I do favor allowing industrial hemp."
GREG ORMAN: Orman, a Kansas City-area businessman, is a self-made multimillionaire running for governor as an independent candidate.
Funding schools
Kobach said that spending on public education has doubled in recent years but the money has been spent on administrative costs and not in the classroom. He said he would insist that 75 cents of every $1 spent on public education would be used to improve classrooms.
He would also set up a system to reward schools that succeed in improving student outcomes.
Orman said he believes the money is there to meet the needs of students, but he is concerned about parents having the income and time to make sure students come to school prepared.
"My focus would be to grow the economy, so parents can have one good-paying job and time to spend with their children," he said.
Kelly said Kansas once had great schools and some of the best performing students in the nation. "I want to get them back," she said. "I believe that we have the money coming in to adequately fund schools and we should spend first on education."
Immigration
Orman said Kansas needs tough, practical and fair immigration laws that ensure the state's employers can hire the workers they need.  "Undertaking a plan to deport all the immigrants in the state would be a disaster," he said.
Kelly said comprehensive immigration reform is needed, and Congress needs to have a "grown-up conversation" about how to undertake that job.
Kobach, nationally noted for his hardline immigration stance, said he wants to make sure that illegal immigrants are deported and that immigrants must not have access to in-state tuition, amnesty or other "hand-outs." He said he'd undertake a search to locate and deport any and all illegal immigrants and end a situation where, according to him, Kansas is a "sanctuary state."
Subscribe to receive top agriculture news
Be informed daily with these free e-newsletters
You May Also Like
---