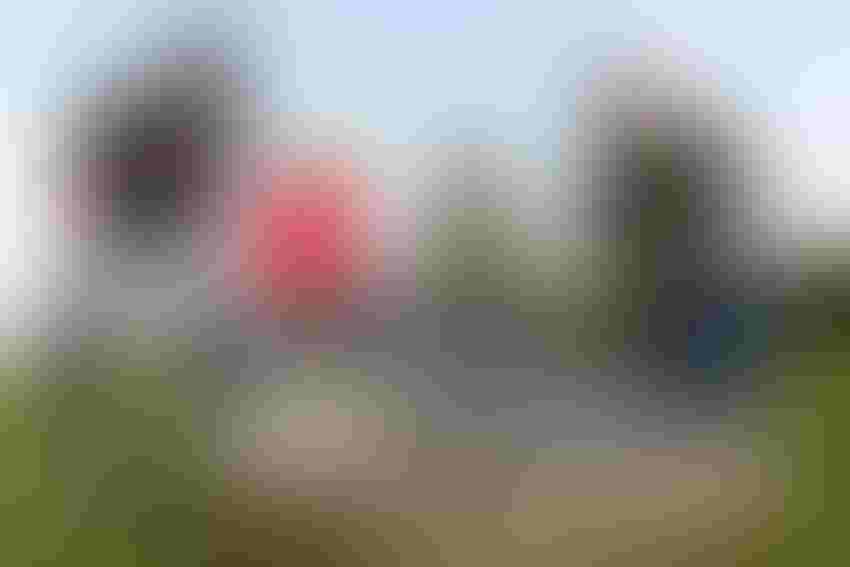 FINDING ANSWERS: Farmers Larry, Bob and Jay Lynch discuss nitrate loss reduction practices with ISU's Matt Helmers (second from left) at ISU's Ag Drainage Research site near Gilmore City.
Christopher Gannon
A farm just outside the north-central Iowa town of Gilmore City is home to Iowa State University's Ag Drainage Research and Demonstration site. The facility has focused on studying the effects of nitrogen management on crop production and tile drainage since 1989.
"We've been looking at these practices for a long time to identify how we can reduce nitrate loss from drainage systems and optimize crop production," says Matt Helmers, ISU Extension ag engineer and a member of the team that helped develop the Iowa Nutrient Reduction Strategy, introduced in 2013.
At the site, researchers are monitoring the effects of nitrogen management practices on water quality. Highlights from the ongoing studies were explained at the recent 2017 Nitrogen and Water Week field days held in late June at five ISU Research and Demonstration Farms across the state. Helmers was one of the presenters at the event at ISU's research farm near Boone.
What the research shows
Among the key findings from 21 years of research at Gilmore City is when nitrogen fertilizer is applied at economic N rates, the average concentration of nitrate-N in tile drainage ranged from 12 to 16 milligrams per liter (or parts per million), slightly more than the federal drinking water standard of 10 ppm.
When similar N application rates for corn are applied in a corn-soybean rotation and in a continuous corn rotation, similar nitrate-N concentrations are observed in tile drainage. When an additional 50 pounds N per acre are applied to continuous corn, however, nitrate-N concentrations are about 25% greater than the corn-soybean system.
A fertilization rate of 120 to 160 pounds N per acre for a corn-soybean rotation allowed the corn to reach its yield potential. In a corn-soybean rotation with no N fertilizer applied, there was still a 15 to 20 pounds loss of N per acre through tile drains at nitrate-N concentrations of 6 to 8 ppm. In general, the concentration of nitrate in tile drainage was similar for corn and soybean phases of the corn-bean rotation. 
The nitrate concentration in tile drainage from plots fertilized with liquid swine manure was similar to those treated with equal amounts of commercial fertilizer. Generally, yields were improved using swine manure.
Cover crops can reduce nitrate concentration in drainage water. Perennial land use (orchardgrass and clover mix) can dramatically reduce nitrate-N concentrations in drainage water.
Overall, long-term research has shown that nitrate-N concentrations generally exceeded 10 ppm in a corn-soybean rotation when fertilized at common rates; even when no fertilizer is applied, there is loss of nitrate. Based on these studies, high nitrate levels in drainage water are less about mismanagement of N-fertilizer and more a result of land use and cropping systems. A series of five new bulletins summarizing drainage water quality impacts of various in-field nutrient management practices is available from the ISU Extension online store. Gilmore City research site results can be found online.
Subscribe to receive top agriculture news
Be informed daily with these free e-newsletters
You May Also Like
---