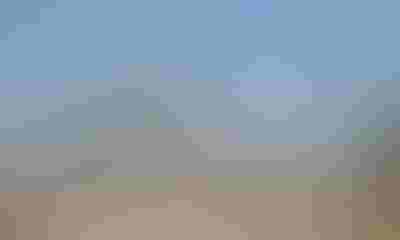 As the year-end nears, producers will be looking back on 2016 results and looking ahead to 2017 decisions with a recognition of the substantial risks inherent in agriculture. Analyzing and managing those risks will be critical to success for the year ahead.

LOOKING AHEAD: With shrinking farm program support projected in the years to come, farmers and ranchers will have to increasingly adjust their production, marketing and management decisions to adapt to the current economic outlook. (Shutterstock image)
Price risk is obvious, not just for the substantial drop in commodity prices over the past three years, but also for the stickiness in input prices and costs, leading to the challenge of managing tighter operating margins. Considering production risk, operations in most parts of the state saw favorable growing conditions in 2016 and higher yields to partially buffer lower prices. Although, some regions suffered production losses in 2016, and all regions will have to look anew at production prospects and risks in 2017. The financial results of 2016 will show the challenges ahead for producers in terms of profitability, cash flow and financial position.
Producers will clearly have to continue managing costs and finances carefully with lower crop and livestock revenue that is not projected to rebound much or quickly. Farm income in Nebraska could hover around $4 billion to $4.5 billion over the next three years under assumptions of modest growth in crop and livestock revenues, treading below the 10-year average of $4.5 billion in 2006-15, and down sharply from the $6.6 billion average of the recent peak years in 2011-13.
Government program payments have helped cushion the drop in farm income thus far, as government payments to Nebraska producers have exceeded $600 million per year since 2013 and are projected at about $800 million for 2016. But the support from farm programs will quickly diminish from this point forward as projected payments shrink for the Agriculture Risk Coverage (ARC) program, the chosen commodity program for more than 90% of the corn and soybean program acres in the state. As designed in the 2014 Farm Bill, the ARC program protects 86% of a benchmark revenue level calculated from the five-year Olympic average national market-year average price and the five-year Olympic average yield per planted acre for every covered crop, county and practice (irrigated and nonirrigated) in the state.
Looking at corn and soybeans as an illustration, the corn benchmark price was $5.29 per bushel for both the 2014 and 2015 crop. At average yields, the effective revenue protection kicked in at 86% of the benchmark, or $4.55 per bushel. For soybeans, the benchmark price was $12.27 per bushel for the 2014 and 2015 crop, with effective revenue protection starting at $10.55 per bushel given average yields. Both provided strong revenue protection to producers and resulted in large ARC payments to all producers due to falling prices except for those with individual or county yields substantially higher than average.
However, for the 2016 crop, the benchmark prices for corn and soybeans begin to drop as multiple lower price years are included in the five-year Olympic average. For corn, the benchmark price falls to $4.79 per bushel for 2016 and would fall to the minimum benchmark level of $3.70 per bushel by 2018 if prices don't rebound much from current levels. At average yields, the effective revenue protection starts at $4.12 for the 2016 crop just harvested, but falls to $3.18 for the 2018 crop. For soybeans, the benchmark price would fall from $11.87 for the 2016 crop to $9.39 for the 2018 crop, based on relatively flat price projections going forward. That would provide effective revenue protection starting at $10.21 for the 2016 crop, but only $8.07 for the 2018 crop at average yields.
In sum, the ARC program has provided short-term revenue protection for producers from the sharply falling prices of the last three years. But as an average revenue safety net, it will move with the market and by 2018 would appear to provide relatively little protection from current price and revenue levels. In that regard, ARC is more a shock absorber than a safety net, slowing the decline and allowing producers time to adjust, but not providing a high safety net that indefinitely insulates producers from market conditions. In contrast, the Price Loss Coverage (PLC) program provides the traditional price-based safety net with a fixed reference price and continuous support as long as prices average below the reference levels, but it is currently a much smaller contributor to farm income in Nebraska. PLC was more popular with grain sorghum and wheat producers in the state, given protection levels and price projections at the time of program enrollment. But the total enrolled acreage and projected payments across all crops are much smaller as compared to current ARC payments.
Coming back to a focus on farm income and farm finance, farm program payments have definitely helped buffer Nebraska farm income over the past few years, but an expected decline of nearly $500 million in farm program payments over the next three years due largely to the changing protection levels under the ARC program means Nebraska producers will not have much more time to adjust to changing market and economic conditions before the farm program safety net provides relatively little protection.
Managing farm income and farm finance in the current farm economy is certainly the primary issue for producers looking forward. And with shrinking farm program support projected, producers will have to increasingly adjust their production, marketing and management decisions to adapt to the current economic outlook. Putting together the right information, the right tools and the right decisions will be critical to positioning the farm or ranch for success in 2017 and beyond. Gathering that information from the current round of ag economic outlook meetings in Nebraska at marketjournal.unl.edu/roadshow or from numerous Nebraska Extension or other organizations' education programs to come should be a priority for producers to plan for the coming year.
Lubben is an Extension policy specialist at the University of Nebraska-Lincoln.
Subscribe to receive top agriculture news
Be informed daily with these free e-newsletters
You May Also Like
---